"If You Want to Be a Creator, You've Got to Go On a Whole Different Journey": Albert Cummings Talks Blues
With his new album, 'Ten', the Strat-slinger is keeping the blues alive and well – and down to earth.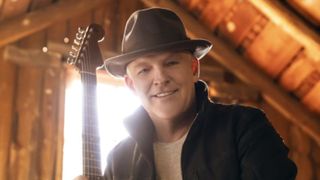 (Image credit: Albert Cummings)
Albert Cummings is an electric blues powerhouse. Having shared stages with guitar masters of the sheer caliber of B.B. King, Buddy Guy and Johnny Winter, among many others, he is known today as one of the greatest players on the contemporary blues guitar circuit.
Cummings arrived at the blues party later in life than you might expect, given his natural ability to stun audiences with a seemingly effortless display of jaw-dropping technique.
In fact, he was 27 years old when he first played with a band. At an age when some of the world's greatest musicians checked out, Cummings was just checking in.
"It was a couple of years after that when Double Trouble had me come down to Austin," he tells Guitar Player. "Then I met B.B. King and Buddy Guy and Johnny Winter. It happened quickly. I was doing all that and still building houses."
Yep. You heard him right: He was still building houses. And with one foot onstage and the other in the construction business, he's still building houses today.
"There's a song on the new album, Ten, called 'Two Hands,'" the guitarist explains. "It's one of my favorites, and it tells the tale of a working man. I think a lot of people are going to relate to that song."
Relatable, open and honest, Cummings is a guitar player with whom anyone can connect.
Now, with more than two decades' worth of solo releases under his belt, his recorded body of work catalogs a guitarist who has gone from strength to strength.
We caught up with the man himself to talk about the art of blues guitar following the release of Ten (Ivy Music Corporation), a ripper of an album recorded in Peter Frampton's Phenix Studios in Nashville with legendary engineer/producer Chuck Ainlay.
You're currently endorsed by Fender, but what was your first guitar?
I just inherited an old acoustic guitar that was hanging around that my father had. I remember it was an Aria jumbo. I wish I could find one again. It was fancy looking. I remember it had stars on the pickguard. But the action was just terrible! I mean you could park a truck under the strings. [laughs]
But really, whatever you have to learn on is good. Seriously, if you're learning to play guitar, that's great. You know, at the end of the day, it's a piece of wood with some metal tied onto it.
You're known for performing wild, improvisational stage shows. How did you develop that sort of approach to playing?
My father played guitar a little bit, but he had given up performing in a band just about the time I was born. I never really got to see him play regular shows, although he would get together with his old band whenever one of the sons or daughters of the band members got married. They'd always be the house band and play the wedding. So I'd get to see them do it then.
My father was really good at improvising, but only around certain solos. He'd play the melodies perfectly and then he'd stretch out a little bit. That was what got me thinking about improvising and playing something that's not exactly the same, so you're not just repeating yourself all the time.
How do you grab an audience's attention?
I've been to shows where I've seen the guitarist come out and just widdle away, but where are the feelings? That's what you see on social media all the time. Tommy Shannon [of Double Trouble] is a good friend of mine – you know, Stevie Ray Vaughan's bass player – and we talk about this a lot.
He's been in music stores where he's heard bass players that are scary good, but if you put them in a band setting, they just can't groove. They can't make the audience stop talking. When everybody's talking, it's often because there's nothing going on onstage.
What are you looking to achieve when you pick up a guitar and perform?
I'm looking to make somebody's life better. Especially in the world today, people need something. I've cried playing. I've laughed playing. My guitar is my communicator when I'm not singing. It's my way of communicating with people. It all sounds kind of crazy, but I love connecting with people.
What advice would you give to people learning how to play blues?
You know, when kids come to the show, I'll give them a pick and I'll tell the parents, "Make sure he or she is understanding there are so many greats."
But like B.B. King told me, "Just borrow something from the ones you like." It's like if you go to a farmers market and you've got your little basket that you're going to put your vegetables in: Pick the ones you like and bring it home. It's just endless.
Who are some of your favorite guitarists working today?
Tommy Emmanuel is one of the greatest I've ever seen. I've never seen him play live, but I've watched his videos. He's completely amazing. I love it when I can't even understand what a guitarist is doing because they're so advanced.
Redd Volkaert is another guy like that. He played guitar for Merle Haggard, and I think he's probably partly responsible for helping Brad Paisley learn a few things. Redd is one of those guys who you watch and go, "I don't even know what he's doing – is it even in the same tuning?" Because he's just so advanced.
I love players like that because everything they're playing has something unique to them. That's what I like.
What about Stevie Ray?
It was his "take no prisoners" approach that I loved so much. You know, it's a freight train and you're not going to stop it. Stevie Ray was the first guy that really made me stop in my tracks to listen.
When I first heard Stevie Ray, I was like, "There's no way that's real. Nobody plays like that!" I thought it was two guitars: one hitting rhythm and one playing lead.
Early on, when I was in college, I went to see Stevie by myself, and I just remember thinking how incredible it was. I just didn't know anybody could play like that.
That experience was so inspiring, it set me on a mission to move more toward that way of playing. It was just so powerful. And relentless. He let you see his spirit – who he was. That was Stevie Ray.
What does the blues mean to you?
To me, blues is an expression of feelings. And if you're not willing to expose your belly and let people know how you feel through that instrument, then you're not really revealing yourself. You're not being yourself. No matter how good you get or what you've learned, you're hiding something.
It's a state of mind.
Exactly. And it's very hard to teach that. I mean there's no music school in the world that can teach that. You can say, "Here's a chord pattern, here are the notes, charts, learn this, read this," et cetera.
And that's great, if you want to be a performer. But if you want to be a creator, you've got to go on a whole different journey. As a true creator, you don't have a trail to follow and there's nobody in front of you, because there's nobody like you. You're on your own path.
Order Ten by Albert Cummings here.
All the latest guitar news, interviews, lessons, reviews, deals and more, direct to your inbox!
Rod Brakes is a music journalist with an expertise in guitars. Having spent many years at the coalface as a guitar dealer and tech, Rod's more recent work as a writer covering artists, industry pros and gear includes contributions for leading publications and websites such as Guitarist, Total Guitar, Guitar World, Guitar Player and MusicRadar in addition to specialist music books, blogs and social media. He is also a lifelong musician.