If Hooks Could Kill, This Holy Grail Album Would Be On America's Most Wanted List
One of the rare jazz masters who actually played a Jazzmaster, Roy Lanham slayed listeners the old-fashioned way: with his bare hands.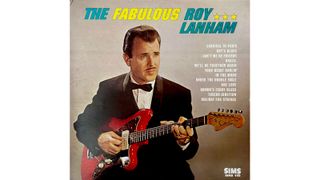 (Image credit: Sims)
Back in the early '90s when I'd frequent the Emeryville, California, Sunday morning Record Swap Meet, I discovered a copy of The Fabulous Roy Lanham in a seller's milk crate.
Finding this type of rare-bird LP was the reason I set my alarm to wake up at the crack of dawn, but paying a whopping (then personal record) high of $40 for an LP was a little unsettling.
That was a ton of money to me back then, but, kind readers, I made the plunge and had no regrets whatsoever.
This holy grail album showcased a tremendous electric guitar player, and its cover photo gives one the impression Roy Lanham could be a double for Robert Goulet.
How could anyone regret this?
The Fabulous Roy Lanham was originally released on the Sims label in 1963 and reissued on CD by Bear Family in 1993.
The reissue included some great tracks from Lanham's solo 1961 album, The Most Exciting Guitar, on the Dolton label.
This Vinyl Treasures will focus on the original Sims 1963 vinyl release.
Roy Lanham was born in Corbin, Kentucky, in 1923, and went on to play guitar with the Delmore Brothers and the Sons of the Pioneers for almost three decades.
Barney Kessel would tell Roy, "Take off your boots and hat and you can be a great jazz player," but I'm grateful that he kept wearing them.
If my arm were twisted to describe Roy's style by genre, I would probably say he's a jazz guitar player, but he also had a big spoonful of something that, to my ears, is delightfully indescribable.
Imagine Chet Atkins throwing away his thumb pick and becoming a flat-picking fiend, exhibiting steroidal chops and shredding to his heart's content. This might be my best shot at describing Mr. Lanham to the uninitiated.
Roy came from an era of guitar that preceded folks obsessing on the "perfect killer tone."
I might understand paying $5,000 for a Klon Centuar, but one might ask themselves, "Can I play a nylon-string guitar to make folks happy?"
Roy Lanham made people very happy by getting the most out of his right and left hands. He employed right-hand muting, sweep picking, raking toward destination notes, superb phrasing and Django-like trills, typically all packed into one performance.
Sure, I might also suggest this record occasionally flirts with sounding corny, but that's no diss. It would be corny in the Neil LeVang tradition, which is great corny.
To me, this is high-level, strategized craftsmanship that perfectly complements his moments of jaw-dropping brilliance.
The first example of Roy's virtuosity is side one's "Holiday for Strings." He goes through rapid-fire chord work and rips through key changes while sounding relaxed throughout.
This is followed by one of my personal favorites, "Roy's Blues." Here he plays a style that brings to mind Johnny Smith trying to sound like a pedal-steel guitar.
Another stand-out track is "Brazil," a tune that swings so smoothly it almost melts.
Lanham's version of the song became my gold medal winner, unseating Les Paul's great version to a second-place tier silver medal.
"Under the Double Eagle" and "Brown's Ferry Blues" are absolute stunners, with the latter laying the way for Roy's opportunity to exhibit his Jimmy Bryant chops, while giving the sonic impression he's never close to breaking a sweat.
"One Love" shows his ability to play a straighter, traditional jazz, yet somehow Roy manages to sound totally original.
We would be missing the point by attributing this to his Fender Jazzmaster sound; his virtuosity and choices are always distinctive, and his pyrotechnics always sound effortless.
Side two ends with the show-stopper "Can't We Be Friends," where Roy and the group – Dusty Rhodes on rhythm guitar, Red Wooten on bass and Muddy Berry on drums – throw in the kitchen sink, beckoning the listener to turn the album over to side one and experience The Fabulous Roy Lanham one more time.
Fabulous!
While writing this column, I did a quick Discogs search for The Fabulous Roy Lanham. Two copies were available, with each seller asking around $200.
Evidently, aside from being a timeless, bad-ass guitar player, Roy Lanham proved that wearing a tux and having a Robert Goulet mustache can be a very good thing.
All the latest guitar news, interviews, lessons, reviews, deals and more, direct to your inbox!
Jim Campilongo has 14 critically acclaimed instrumental records available on vinyl, CD and digital download here.