"I Try to Do Things That Aren't Going to Interfere With the Song": Chris Scruggs and Craig Smith Explore the Licks That Make Jim Lauderdale's New Album 'Game Changer' a Winner
How Lauderdale's latest two players put in the extra innings to make the record shine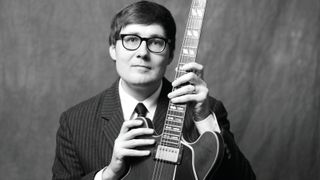 (Image credit: JARED MANZO)
The guitar bullpen on a Jim Lauderdale album is stacked with talent, including Tele wizard Kenny Vaughan – on loan from playing in Marty Stuart's Fabulous Superlatives – plus steel players Russ Pahl, Steve Hinson and Will Van Horn, and auxiliary guys like Frank Rische and Wes L'Anglois.
While all of the above contributed to Game Changer, Lauderdale's latest two players in particular put in the extra innings to make the record shine: Chris Scruggs, a grandson of Earl Scruggs whose mother, Gail Davies, was the first female music producer in Nashville; and Craig Smith, a 10-year veteran of Lauderdale's band who also plays with Suzy Boggess.
"Jim is one of the last true and great writers in this town," says Scruggs, a multi-instrumentalist who also played with BR549 and holds down the bass in the Fabulous Superlatives.
"He's had a lot of success, but he's always written with his own language, his own Jim Lauderdale way of describing the world around him. It encourages me as a musician to play as myself and not to think about playing licks that sound like other session players."
Scruggs plays the signature fleet-fingered licks on "I've Heard of That," a bouncy country-rock tune on Game Changer.
"I was playing a Telecaster on the bridge pickup with the treble a lot higher than it should have been," Scruggs says, "and then I double-tracked it to give it an otherworldly kind of sound. That tune makes me smile a little bit more than anything else on the record."
Smith takes the lead on songs like the funky "You're Hoggin' My Mind," which features a solo he shares with Hinson on steel. "We did a harmony between the steel and electric guitar, and then I did this fast double-time lick, and then I did it an octave lower. It's a real frantic, fast lick."
For the title track, he makes use of an extended solo section by peppering it with major-seven bends from a B-Bender.
Scruggs and Smith share a rapport that goes back to 2007, when they met on tour, and their chemistry as friends and co-guitarists in the studio shines throughout their work with Lauderdale.
"We did a recording maybe six or seven months ago – I don't think it's on an album yet, because we record so much with Jim," Smith says. "But it was a boogie-woogie thing, and we were playing in harmony with some slap-back delay. We were playing a third apart, and we did the whole thing like that for the end."
In Nashville, those relationships between musicians are crucial to making it work.
For Scruggs, a devotee of Nashville legend Grady Martin's understated playing, knowing where and where not to play can make all the difference.
"When you listen to the majority of what Grady played on, if you took his part away, the backbone of the song would go away. The electric guitar in a country band sits in a spot where it's connected to everything else going on.
"I always try to do something that's not gonna get in the way," he adds. "I might harmonize a line with a bass walk-up, or find the spot where there's silence between two lines and just play one note, like the fifth in the scale.
"I try to do things that aren't going to interfere with the song."
Order Jim Lauderdale's Game Changer here.
All the latest guitar news, interviews, lessons, reviews, deals and more, direct to your inbox!
Jim Beaugez has written about music for Rolling Stone, Smithsonian, Guitar World, Guitar Player and many other publications. He created My Life in Five Riffs, a multimedia documentary series for Guitar Player that traces contemporary artists back to their sources of inspiration, and previously spent a decade in the musical instruments industry.