"I Think Metal Plays From the Waist up, and We Play From the Waist Down": Billy Duffy Reveals His Top Five Career-Defining Tracks
The Cult axeman tells the stories behind the tunes that made him an alt-rock guitar hero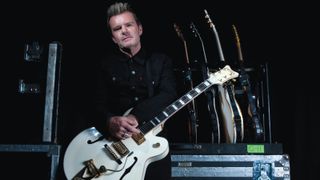 (Image credit: Future)
Billy Duffy has been cutting his own groove as a guitarist for more than 40 years now. He first came to prominence in U.K. post-goth favorites Theatre of Hate, who capitalized on a huge underground cult following in the early '80s to break into the mainstream with a string of hit singles and albums.
Duffy had previously worked at the über-hip Johnson's clothing store, where most of the era's coolest bands – including the Stray Cats and Adam Ant – bought their threads. "I took a huge pay cut to go on the road with Theatre of Hate," Duffy relates. "The first thing their manager said to me was that they didn't have per diems. I didn't even know what they were, but I soon found out. We'd be starving on the road, with no money for food!"
Duffy met Ian Astbury in 1984 and they hit it off so well that they formed a new band call Death Cult, which shortened its name to the Cult after recording a couple of singles. "We're actually going to be doing some Death Cult dates, as it's the 40th anniversary of that incarnation of the band, which was something that Ian really wanted to do," Duffy says. "We won't be playing anything newer then 'Rain.' It's excited me to listen to those early songs and think about doing them live after so many years."
Outside of his work with the Cult, Duffy has been collaborating with other musicians. "I really enjoy doing gigs like the one I just did with drummer Matt Sorum and Corey Taylor on vocals," he explains. "I've played with people like the Professionals [the English punk band formed by ex–Sex Pistols Steve Jones and Paul Cook] and done things with Velvet Revolver. I never used to accept these opportunities, but I'm enjoying collaborating with other musicians these days."
Duffy says Sorum was instrumental in helping him achieve a recent personal career highlight. "I had some music I recorded with Matt at his studio in Palm Springs, for his Kings of Chaos project [featuring members of Guns N' Roses, Def Leppard and other acts]," he reveals. "He got Paul Rodgers to sing on it, so I had the incredible privilege of sitting in a room listening to him sing lyrics that he'd written because he liked my music. For me, given what I grew up listening to before the punk days, that was just amazing. I've met a lot of my heroes, but that was a special one."
Duffy has always been a huge Gretsch fan, and he has recently acquired a couple of exceptional instruments. "Stephen Stern, the master luthier at Gretsch, hand-made two replicas of my original Falcon, aging them to perfection, and they are astoundingly good, so I've started to use one of those live," he says. "It just has an extra bit of mojo. I still use my signature Gretsches on the road as well. I could take one straight off the shelf in a store, with just the usual tweaking that everybody does to personalize a guitar to their own personal tastes.
"When I had my first Gretsches, the pickup output was so low that I eventually got Seymour Duncan to wind me some hotter pickups in the '80s. The signature models have a version of that pickup in them, but when you look at the quality of the TV Jones pickups that are in many Gretsch models now, they sound fantastic as well.
"I would never sell a guitar with my name on it that I couldn't use live. It's just not my style. The Falcon is still selling really well as a production guitar. It was only intended to be a limited run originally, but 11 years later, it's selling more than it ever has."
Duffy is unsure when there might be a new Cult album, but there is plenty going on with the band in the meantime. "There are a couple of tracks that we didn't release from the last album that will come out in some form later in 2023," he says. "They would have been on the record, but we wanted to make it a shorter album, which I think is a good idea these days, as everybody seems to have a shorter attention span.
"Our 40th anniversary is coming up in 2024, so we'll probably be touring on that basis. While I'm not a big lover of those kinds of things, I definitely think it is a significant landmark in the band's history, so we may as well embrace it. And I do think there's a reasonable chance we might get into the logistics of making an album sometime after 2024."
For now, Duffy is happy to be touring. "Our current lineup is fantastic, and that is really invigorating the process of touring," he says. "We've just added Charlie Jones on bass, and he's really helped to refresh the band. He's a fantastic guy, and the chemistry and interpersonal relationships in the Cult are brilliant at the moment.
"It's great to be in a band with people who are not only great musicians but also great human beings, although that isn't to diminish anybody who has been in previous lineups. It's just that things are in a particularly good place for us at the moment, and these are extraordinarily good times to be in the Cult."
"This was one of the first songs I wrote a guitar part on, and it seemed to morph into an Ennio Morricone spaghetti-western vibe. It was indicative of me beginning to think about making my mark with my own sound, with the Gretsch and reverb. There were a lot of great guitar players about in the early '80s and I felt like I needed to make my own space. This was the first time I'd been involved with a proper, cool band who'd been on the TV. [laughs] Kirk Brandon was the leader and main writer, but I'd started to contribute parts here and there.
"Truthfully, I didn't really like 'The Hop' that much. I still don't actually. There are many Theatre of Hate songs I prefer, but I've included it here because it was me beginning to find that cinematic feel. I will admit that it is a bit close to being a parody of Morricone at times. Visually, the band had a strong '50s, rockabilly vibe, but musically we were in a different place. I always looked like I should have been in this band before I joined.
"I actually knew Boy George at the time and he told me I should get in touch with Kirk, as he knew we'd be a great fit, and that was how we met. There was a big rockabilly revival and an interest in semi-acoustic guitars, particularly Gretsches, in London at this time, and I think I was feeling that spirit myself, but also finding my own unique space."
2. "Phoenix" by the Cult from 'Love' (1985)
"This was a riff I had that was turned into a song literally two days before we went into the studio to record it. We used to do preproduction, which was something that Steve Brown, the producer, got us into doing to save money, rather than work things out on expensive studio time.
"Drummer Mark Brzezicki came in for this album, and when I was playing this riff he came up with a kind of cool backward beat, which really started a great groove. This and 'Love' were the last two songs written for the album, and I think that if you took those off and put in what they replaced you'd have a very different record.
"'Phoenix' and 'Love' were pointing the way to where we were going to go next. I'm a big Stooges guy, and I can see that there are elements of 'I Wanna Be Your Dog' – that mantra-like, hypnotic vibe. The fact that there are literally three lead guitar tracks running through the whole song is cool. I mixed the three parts together at the desk, as Steve Brown said it made more sense for me to do that. I think it was quite a unique final product.
"We had some great backing singers that Steve had found from one of his previous sessions, and they brought a hint of gospel flavorings to the stew that made it taste right. Imagine if the Stooges were ever a psychedelic band rather than a band that took psychedelics. That's what we were unconsciously channeling."
3. "Wild Flower" by the Cult from 'Electric' (1987)
"It was actually our dissatisfaction with the first version of Electric, which we did with Steve Brown, that led us to bring Rick Rubin onboard to remake it. We did the original version at the Manor in Oxfordshire, a really opulent studio, and we'd mixed it at the Townhouse in London – all really high-end facilities – and it was just overlayered and overblown. We spent so much money going down the rabbit hole and nobody had the balls to pull the plug on it.
"We'd just toured America and we wanted to make a heavier record. We met Rick in New York, and he basically said, 'You like early AC/DC, Zeppelin and Aerosmith?' We said yes, and he said, 'Then let's make a great record together!' The record company, Beggars Banquet, thought that he was just going to remix the album that we'd recorded, but he insisted that we cut one track with him from the ground up, before he did the remix.
"We went to New York with no gear, as we were only going to cut one track, and we rented everything. Rick asked which song we hated most on the album, and I replied 'Peace Dog,' as I thought it was turgid. So he said let's start with that. Remaking that one song sparked something in us, and it made us decide that we were ripping the whole album up and starting again. We did the whole thing in 29 days, including Christmas Day.
"I just love the dumb simplicity of the 'Wild Flower' riff. It's hard to write a song as beautifully stupid as this. It's obviously very much an AC/DC song, but it existed in a form that sounded like the Cult long before that. All I'd say in my defense is that Angus Young once said to me, 'It's not as if we never borrowed anything from anybody ourselves.' [laughs] We rented two Les Pauls and they were all that I used – there's no Gretsch on the album at all. And I was always exclusively a Gretsch guy!"
4. "Fire Woman" by the Cult from 'Sonic Temple' (1989)
"This is a very difficult song for us to play live. It has a weird little pocket, and it takes everyone in the band to have their shit together to make it work. This was the first time that we worked with Bob Rock, although I should point out that Bob had only produced one band before us; he hadn't done Metallica and all those other big albums yet. I got drunk with Bob when we were on the Electric tour, and we really hit it off.
"After the success of Electric, Ian was wondering who we might get in to produce, and I suggested Bob. We were writing good songs and I wanted us to become a little more sophisticated. I saw Electric as a one-off – the minimalism, which was almost cartoon-like, with the whole AC/DC thing we had with Rick. I loved the album and I think it was necessary for us to get out of the caterpillar and into the butterfly – or the other way around depending on your opinion. [laughs] I thought it was an amazing record, but I didn't want to do it twice.
"Bob suggested we should aim for an album with elements of Love and Electric, and that was my take on where we should be going. I picked it because I think it has everything, from a guitar perspective. It was commercial, yet it had a bit of rock swagger.
"We've always been as mindful as we can be of the backbeat, which is why I think that to describe us as metal misses the point. I think metal plays from the waist up, and we play from the waist down. It had the big rock video and this was the single that made the album go Platinum. I, being the careerist in the band, knew that we could have more success with our next album after Electric, and I was determined that we would."
"This is probably the most complete guitar thing on the album. In the past we used to write songs, then record them, whereas these days we seem to write and record songs simultaneously. It means that it's sometimes a very fragmented process, as the songs are constructed. What it also means, actually, is that it's almost as if you make the record and then you learn how to play it.
"'Vendetta X' was done a little differently though. It has an organic, almost 'Don't Fear the Reaper' kind of Am-to-F progression that I came up with. The song is probably more Ian's than mine, but I felt inspired to put a lot of guitar on it. I think there's a real flow and structure to what I did on it. It's a great one to play live.
"Having said that, I think maybe if I made this list again tomorrow I might have picked a different song from this album. [laughs] Many people felt that this album marked a kind of return to the sound of the Cult in the Love era, which I would agree with, as there are certainly elements of what we were doing back then that are sprinkled through the album. So I guess it almost bookends what happened from Love through to now."
For more on Billy Duffy, visit his official website where you can find plenty of guitar pics, stories, tour info and more.
All the latest guitar news, interviews, lessons, reviews, deals and more, direct to your inbox!
Mark is a freelance writer with particular expertise in the fields of '70s glam, punk, rockabilly and classic '50s rock and roll. He sings and plays guitar in his own musical project, Star Studded Sham, which has been described as sounding like the hits of T. Rex and Slade as played by Johnny Thunders. He had several indie hits with his band, Private Sector and has worked with a host of UK punk luminaries. Mark also presents themed radio shows for Generating Steam Heat. He has just completed his first novel, The Bulletproof Truth, and is currently working on the sequel.