"It's the Greatest Accolade You Could Hope for": Guns N' Roses Guitarist Richard Fortus Champions Independent U.K. Boutique Builder Ivison Guitars
Talented British luthier Neil Ivison gives 'Guitar Player' the inside scoop on his now world-famous Dakota electric guitar played by Guns N' Roses' longest-serving guitarist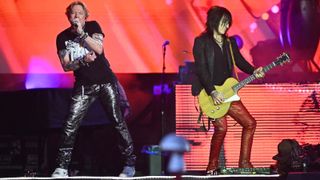 (Image credit: Leon Neal/Getty Images)
Neil Ivison knows what makes a great guitar. As a vintage guitar collector he has owned over a dozen 1950s Gibson Les Pauls and has studied the specs of his beloved instruments in fine detail. It's an interest that has not only enhanced his knowledge and skills as a guitar tech but has also complimented his professional career as a guitarist. Having performed in various touring bands over the years he currently plays with Ginger Wildheart & the Sinners.
"I worked as a guitar tech for Towers of London, which was wild," Neil tells Guitar Player. "On a good night they were a really incendiary band, like Guns N' Roses. I hold the record as the only person in the crew, management or band who didn't get punched. They would fight the audience, themselves, anyone they could fight with!
"Towers of London went out on tour with Guns N' Roses a couple of times, but I didn't meet Richard Fortus back then because we were kept well out of the way. Towers of London were notorious for trouble, so we were told to keep our distance. [laughs] But they were great gigs!"
It would be years later – the day before Guns N' Roses' Glastonbury 2023 headline show – when Neil finally met fellow guitar aficionado Richard Fortus. In recent times, Ivison Guitars has steadily gained a reputation as one of the best boutique builders in the U.K., And, as it turns out, Ivison had been on the Guns N' Roses guitarist's radar for a while.
Although Neil started out creating replicas of Les Paul Juniors and Specials, Gibson's Play Authentic campaign inspired him to pursue some more unique designs, beginning with the Hurricane. While Neil describes the Hurricane as "my interpretation of a Junior, Special and 'Burst rolled into one," you can add "Firebird" to the mix when it comes to Ivison's Dakota models.
Carving by hand, Neil bases Ivison neck profiles on the 1956 Gibsons he's played and measured. "They all had a very handmade thing about them, whereas nowadays they're very consistent because of CNC technology," he explains. "I wanted to make a modern guitar that felt like the old Juniors I loved and owned. That's always been the ethos: to make them feel like my old Gibsons."
How did the idea of building a guitar for Richard Fortus come about?
He got in touch with me on Instagram. He commented on my builds and was very complimentary, so we just started chatting. It was immediately obvious he was very knowledgeable about guitars. We were soon into guitar geek territory (and I was in my element!) Richard knows what he's talking about. We chatted for a while, and he suggested doing a Korina Dakota with a single Firebird pickup in the bridge position. I said, "leave it with me."
I finished the Fortus-spec build a couple of weeks ago and sent Richard a picture of it. He really wanted to try it out so, of course, I told him he was more than welcome. As Guns N' Roses were due to headline Glastonbury and Hyde Park, they flew into Bristol airport and were staying in Bath, which isn't too far from where I'm based in Worcestershire. [pronounced WUH-stuh-shuh]
On my way down to Bath to meet Richard at Vintage 'n' Rare Guitars, he told me Guitar Player would also be there, plus the lads from V 'n' R, so the pressure was on! I was thinking, I hope I soldered it properly. [laughs] All I needed then was for Slash to walk in! [Slash did, in fact, visit Vintage 'n' Rare Guitars the following day where he bought a 'Burst recommended to him by Richard Fortus]
Where did the concept of the Ivison Guitars Dakota originate?
The story goes back to ATB Guitars [vintage guitar dealer in Cheltenham, U.K.] I've done their repairs for years. They were the first to stock Ivison guitars. They once had a beautiful Cardinal Red Firebird III in there and I thought it sounded great. As we were talking, it slipped off my lap but, thankfully, I grabbed it before the headstock hit the floor. When I looked at the price tag, I saw it was 30 grand! That was my best save ever. So I thought, There must be a way to get this sound but in a more ergonomic package.
Coincidentally, Stuart Robson from Sunbear Pickups then asked me what I thought about Firebird pickups as he'd just done his version and wanted to send me a pair. Using the Hurricane shape as a platform, I tweaked the design and brought up the center section as a nod to the Firebird and installed the Sunbear Firebird-style pickups in the style of a Les Paul Special. I sent it to a few people, and they really loved it.
Richard Fortus's Dakota has one Firebird pickup; what makes single-pickup guitars so appealing?
I love single-pickup guitars. That design brings so much life to a guitar. It's because there's only one magnet interacting with the strings. A neck pickup is often positioned around the middle of the strings, so there's an additional magnetic pull around there. Hence guitars with a single [bridge] pickup can be a lot livelier as there's less pull. Personally, I favor a single P-90 but a lot of my guitars are twin pickups. It's down to personal preference.
The Dakota One is a Junior/Firebird I-style design. I've done those in mahogany with Firebird-, P-90- and PAF-style pickups. The Korina Dakota normally comes with dual PAFs and I wanted that to be more like the Flying V and Explorer in terms of sound. I always thought the '58 Vs were some of the best-sounding Gibsons I've ever heard. I also do a model with three pickups called the Dakota VII.
How does korina wood influence the sound of a guitar?
It imparts more top end. The clean, white korina is harder to get than the black limba which has more streaks. It varies greatly in terms of weight. Korina isn't necessarily light. I've had light stuff and I've also come across really heavy stuff which is unusable. But it is very resonant, and I find there's a greater top-end response than mahogany. There's a bit more sizzle in it. I really like it.
The guitar I made for Richard Fortus has a two-piece center-joint korina body and a one-piece korina neck. The neck profile is taken from a '56 Junior, as are all my necks (unless somebody requests another style).
The fretboard is Indian rosewood with Jescar 45100 frets. The pickup is a Sunbear SunBird wound to 8K. I did get one wound to 11K, but Richard recoiled in horror. I thought he was bound to want something hot, but he really wanted it more in line with the vintage spec.
Richard and I also chatted about a six-a-side [reverse] headstock because he loves that design. He says the extra length on the low E gives the guitar a different resonance. That's something I'm keen to explore.
What was your reaction when you saw Richard Fortus performing with your guitar on the BBC Glastonbury broadcast?
Before I left Bath on the Friday evening, Richard said, "I want to use it tomorrow," but I didn't just presume that he would. It seemed a little bit surreal. I mean, global rockstars don't usually message me out of the blue, take me to dinner, then use my guitars on the Pyramid Stage at Glastonbury the next day! [laughs] But he messaged me saying he'd given the guitar to his tech, Jim Survis.
I was sat at home watching the show live the following evening and during the second song of the set ["Bad Obsession"], the camera pans across and Richard's holding the Dakota! I was stood up in the living room with my head in my hands throughout the whole song. They filmed it perfectly too; the cameraman panned back from the crowd, across the Pyramid Stage, then straight onto the guitar. It was unbelievable!
Within 20 seconds, my phone started going. People were messaging me on text and on Instagram to tell me. It was so nice that people instantly recognized it as an Ivison guitar. Plus the fact it's being played by Richard Fortus, it's the greatest accolade you could hope for.
All the latest guitar news, interviews, lessons, reviews, deals and more, direct to your inbox!
Rod Brakes is a music journalist with an expertise in guitars. Having spent many years at the coalface as a guitar dealer and tech, Rod's more recent work as a writer covering artists, industry pros and gear includes contributions for leading publications and websites such as Guitarist, Total Guitar, Guitar World, Guitar Player and MusicRadar in addition to specialist music books, blogs and social media. He is also a lifelong musician.