Josh Klinghoffer Says Rick Rubin Was "Way More a Hindrance than a Help" When Recording With Red Hot Chili Peppers
The Pearl Jam touring guitarist argues that both his studio albums with RHCP were hampered by their producers.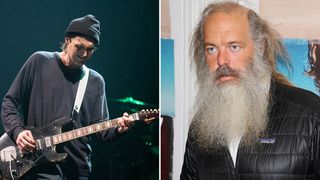 (Image credit: Jim Bennett/Getty Images; JB Lacroix/ Getty Images)
Josh Klinghoffer has been reflecting on his time with the Red Hot Chili Peppers and has argued that the two full-length albums he recorded with the the Californian stadium rockers were ill-served by their producers – naming Rick Rubin in particular as "more a hindrance than a help".
Speaking to VM Music, Klinghoffer, who played guitar on 2011's I'm With You and 2016's The Getaway, says the albums could have been great had they not been for the producers. The former was produced by Rubin, with Danger Mouse stepping in for the latter.
"I'm incredibly conflicted about my output with that band because I feel like, in both circumstances, producers got in the way of us truly making great music or a great record," Klinghoffer said. "I like almost all of the songs that we wrote together, but seldom did we capture them in the best way."
While he admitted that it was perhaps too soon to have the emotional distance to view his time with the band clearly, Klinghoffer was forthright in speaking about Rubin, who has been RHCP's go-to producer since tracking their breakout record, Blood Sugar Sex Magik, in 1991.
"I will say that in the case of I'm With You, I feel Rick Rubin was way more a hindrance than a help," Klinghoffer said. "He told me once, 'I just want to help the songs be the best they can be.' I should've said, 'Well, then get your driver to come and get you.'"
Klinghoffer is not the first artist to complain about Rubin's methods. Slipknot frontman Corey Taylor did not hold back in his criticism, though later admitted that Rubin's hands-off approach in producing the band's 2004 album, Vol. 3 (The Subliminal Verses), was simply not what he needed as a frontman at the time. Speaking to Apple Music in 2016, Taylor said that Greg Fidelman's attention was much more to his speed.
"All of Rick's engineers are essentially his surrogates," said Taylor. "You know that when you're working with him."
But this perception of Rubin as the sage with the hands-off, zen approach, sounds different to Klinghoffer's experience, who seems to suggest that there was too much Rubin in the control room.
Whatever Rubin is doing, it is working for the Chilis right now, with John Frusciante's return to the band coinciding with a creative surge in which have released one album, Unlimited Love, this year, with a follow-up, Return of the Dream Canteen scheduled for October 14. Both were tracked under Rubin.
As for Klinghoffer, he has more than enough to be getting on with. This year he released his third solo album under the Pluralone moniker, This Is the Show, while performing alongside Pearl Jam as touring guitarist, and with Eddie Vedder and RCHP drummer Chad Smith in the Earthlings.
All the latest guitar news, interviews, lessons, reviews, deals and more, direct to your inbox!