How KT Tunstall Rekindled Her Love of Guitars
The former folkie talks inspiration and musical reinvention.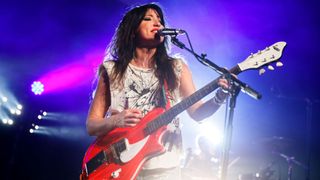 (Image credit: Burak Cingi/Redferns)
When singer-songwriter KT Tunstall was busking on street corners in her early 20s with acoustic guitar in hand, she surely imagined life as a successful musician would bring her happiness and make her feel energized. But several years ago, following the loss of her father and the collapse of her marriage, she began to add up the cost of success to her personal life.
The award-winning artist, whose acoustic guitar-driven pop records had made her a star around the world, was running on fumes and dangerously close to burning out. "I felt like I had stepped into the wrong version of reality," Tunstall told GP. "I'd been the sole architect of my existence and somehow had still managed to end up in a place where I was miserable."
Just when she felt like it was all collapsing in on her, Tunstall sold everything, cut ties with her London home and found a new start in bohemian Venice Beach, California. She gave up her hard-earned music career and began studying composing for film. Tunstall relished the challenge.
Then, one day while driving the Pacific Coast Highway, the wide-open Cali-rock hooks of Fleetwood Mac and Tom Petty reeled her back to her craft. Suddenly, it all made sense again. "I realized I was making very optimistic, positive music as the soundtrack to my own reinvention," she continues. "In the end, I felt it would be a good thing to release those songs."
To mark her return to the music scene, Tunstall conceived a trilogy of albums dealing with spirit, body and mind, starting with 2016's KIN. But writing 2018's album, WAX – the second in the set, which deals with themes of the body – drew her to the electric guitar in a bigger way than ever.
Cuts like "Little Red Thread," "Human Being" and "The Healer" stutter and slash their way to expansive pop choruses, while offerings such as "Dark Side" and the leadoff single, "The River," unite her newfound love for gritty riffs with the classic California pop-rock that inspired her creative second act.
A few years ago, GP caught up with Tunstall ahead of the release of WAX. Here's what she had to say…
You're often associated with acoustic guitar. Is that where you usually begin writing songs?
It's definitely where my roots lie – my beginnings playing open-mic nights and busking on the street, and also learning to use it as an all-in-one percussion instrument. Listening to where it sits with my favorite artists – Beck, Joni Mitchell, Fleetwood Mac, the Beatles, even Led Zeppelin and David Bowie – it all comes back to blues and folk music.
The acoustic guitar is this incredible, self-sufficient tool that can be taken anywhere and used to create such a memorable experience. It feels like an extension of my body at this point. The vast majority of my songs begin with me alone with an acoustic guitar.
Why did you gravitate to the electric guitar on WAX?
There is something about the electric guitar that conjures a heavy, visceral energy that comes naturally with its sound. It's sexy and sensual and powerful. You can wield it like a weapon, or you can create beautiful ethereal landscapes. There's just the most massive spectrum. I feel a warrior energy that comes with electric guitar, which was required for this particular album.
What role did your life in Venice Beach play in making this record?
Venice Beach kind of saved my life. My deeper identity had become hijacked by being a successful musician. Without playing and making records, I didn't really know who I was anymore. I sold everything, packed up and moved to California. It was one of the best things I've ever done. I totally cut myself off from the idea of making any more records, promoting [or] touring. I trained at the Sundance Film Institute's Composers Lab in Northern California, which was the most extraordinary learning curve.
You took that inspiration back to London. When did the songs start to come together for WAX?
I knew I needed to make the "body" record in a place that had some grit. I could feel it was going to be a rock record, my first proper rock record. There had been a great letting go during the process of making KIN, and I'm so excited that, more than ever, I'm in a place where I disregard judgment and feel free to make what I want to make.
Nick McCarthy [formerly of Franz Ferdinand] and I met through a mutual friend, and I just woke up one morning and knew that I had to make the album with him at his supercool vintage dub garage studio in East London. We had a week of preproduction planned last July, and we ended up spending the whole week writing new songs together. It was pure magic.
Did that collaborative songwriting experience extend to the tracking?
We recorded live as a three-piece: myself on guitar and vocals, Nick on bass and Denny Weston Jr. on drums. I'd often not wear headphones at all and just hear the bleed of everything into the main room. I loved the performance of it. It really felt so close to playing a gig. [Tunstall's main studio rig was a Supro Belmont Vibrato, a Supro Statesman combo amp, a Taylor Grand Symphony and a Gibson Dove.]
WAX isn't all amped-up riffs, though. What inspired some of the quieter moments?
I feel like it wouldn't be a proper KT Tunstall record without some balladry. It's a core part of what I do. The ballads on this album are interesting to me because they are more challenging in content matter. "Poison" is about asshole politicians. When Nick and I wrote "The Night That Bowie Died" together, we had to take a minute to get our shit together. We really poured our hearts and experiences of loss into that one. "The Mountain" is one of the most exciting moments on the album for me. It's a whole new kind of ballad for me, which is away from guitar and more into atmospherics – a more meditative experience over the course of the song.
Looking at WAX as a whole, do you see a natural, thematic arc?
"Human Being" is the track that describes the album as a whole. "The River" is like the reminder to be completely present. It's a front-loaded track listing, with heavy punches opening the record, but it's the way I felt it should be: youth and vigor leading to wisdom and contemplation, punctuated with rockers to keep the momentum.
Sounds like a life well lived!
Buy WAX here.
All the latest guitar news, interviews, lessons, reviews, deals and more, direct to your inbox!
Jim Beaugez has written about music for Rolling Stone, Smithsonian, Guitar World, Guitar Player and many other publications. He created My Life in Five Riffs, a multimedia documentary series for Guitar Player that traces contemporary artists back to their sources of inspiration, and previously spent a decade in the musical instruments industry.