"Guitar should be utilized for making a song really interesting": Dylan LeBlanc Talks Songwriting and Gear
The Louisianan maestro reveals the inspiration and the axes behind his latest long-player.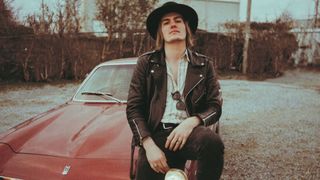 (Image credit: Alysse Gafkjen)
Lying awake under the moonlight in rural Acadian Louisiana, Dylan LeBlanc absorbed the nightly riot of sounds rising from the nearby swamps. Hooting owls, a chorus of insects and the eerie shriek of wild cats made up the evening soundtrack outside the wooden shack where he wrote much of 2019's Renegade, his fourth album and his first for ATO Records.
"It's so quiet out there, but the insects and the animals are very, very loud," he says. "I remember seeing a bobcat and hearing it scream, and just listening to the different sounds of nature."
You can hear the mystery and tension of bayou country all over Renegade, though not in the traditional sense. This is LeBlanc's least-Americana sounding album to date. Ethereal vocals float above drums awash in reverb. Keyboards shimmer, and guitars crackle on the verge of breaking up, then soar into scorching leads.
LeBlanc was biding his time between tours, living on a self-sustaining farm near Lafayette where he worked in exchange for a cottage to live in, when he began writing Renegade. The Shreveport, Louisiana, native often made the two-hour drive to New Orleans, soaking up life experiences that he poured into his songs. "A lot of the songs were other people's stories," he says. "You meet these characters who have seen things that you couldn't even imagine.
"When I wrote 'Bang Bang Bang,'" he says by way of illustration, "I had met a very old African-American man who in the Civil Rights era was married to a white woman and had a mixed child. And they were both shot in a riot. It caused so much hate in him. The song is about how long it took him to let that go and how hate breeds more hate and doesn't help anything."
LeBlanc brought his new songs and the eerie vibe of the swamp back to Nashville to cut his new album in three days, shedding his singer-songwriter skin and plugging in with his backing band, the Pollies. He and the group set up with producer Dave Cobb, put up some mics and let the licks fly.
"Dave wants it as live as possible, which was great, because I feel like we are a pretty good live band," LeBlanc says. "And we'd been playing a lot of those songs, at least half of them, for about six, seven, eight months on the road. So when we got in there, we were pretty well oiled and ready to smash it home."
I hear people like Tom Petty and Peter Buck in your playing. Who are your biggest guitar influences?
Lindsey Buckingham is one of my favorite guitar players. I just love the way he plays. It's so peaceful and melodic. George Harrison's another big one. Obviously, Mike Campbell is a big influence. Peter Buck is amazing. I love Django Reinhardt. I love Neil Young.
That's an eclectic group. What is it about them that you gravitate to?
They don't overplay. Guitar should be utilized for making a song really interesting. It should be enhancing a song sonically and making it more interesting. Mike Campbell, for instance, and Lindsey Buckingham, they play the hook. They come up with great hooks on their guitars, and that is really invaluable when it comes to songwriting.
That makes me think of Campbell's opening hook on "American Girl," which is just one jangling open chord.
Yeah, one chord. Everything about that song is a hook. The bass line's a hook. That was Tom Petty's best ability, musically, as far as I'm concerned. He wrote 10 different hooks in every single song.
Were you ever into more virtuosic players?
I like guys like Leo Kottke, Tommy Emmanuel – just great guitar players who do instrumental stuff. I never was into really fast players. At some certain point, guitar solos became uncool, so on my new album I tried to play as many different solos as I possibly could that were melodic and interesting.
What techniques or tricks did you pick up from those guys?
A lot of the things that I learned from them have to do with your right hand. Like how they switch back and forth from different picking patterns. I really pay attention to that more than I would pay attention to how fast they're playing, or whatever.
I had a conversation with Chris Wood from the Wood Brothers, who, to me, is one of the best bass players of our time. He and I were talking about how important rhythm is, and how there's rhythm in everything. There's rhythm in the lead part. You can't do anything without it.
We need to put it into young players' heads that they need to study rhythm more than they need to study anything else. And your right hand is where the rhythm is – unless you're left-handed.
There's a lot more electric guitar on Renegade than on your previous albums. What prompted you to pick up the electric?
I started playing acoustic guitar with this band called the Pollies, and they're just a really solid rock and roll band. But sonically, it just didn't get that edge that I was looking for. So I started writing songs geared to this band – songs that I knew we would be able to bring alive in a heavier, broader way that was bigger and more driving.
I wanted to create a live show that got people's energy up and hearts pumping. Make people move. I just thought, this is our moment to bring great, cool, melodic songs back in a really forceful way that makes people go, "Wow!"
On "Born Again," there's some interplay and harmony guitar parts that are straight out of Thin Lizzy.
We always loved that kind of what I call "guitarmony." [Pollies guitarist] Jay Burgess and I always did that growing up. We're from the South, and the Allman Brothers were a really big influence on us, as were Wilco and stuff like that. We listened to a lot of records where the guitarists harmonize their parts.
You get some cool atmospheric tones. What amps and pedals were you using?
I used a '65 Fender Deluxe Reverb. Jay used a '74 Princeton. There was a Super Reverb from the '60s that Cobb used on the electric guitar that he played. All the overdrive is an Electro-Harmonix LPB-1 Nano pedal. To me, it makes the amp sound like it's naturally breaking up. I'll use this other boost on my Box of Rock reverb pedal. I just leave that on, and then I hit the LPB-1 for the overdrive.
I pretty much just played a '61 Reissue SG the entire time. I played a 1960 Gibson J-200 on all the acoustic tracks and a 1945 000-15 Martin. It was amazing.
Any other favorites in your collection?
I have a Duesenberg Starplayer TV Fullerton that I play all the time. I also have a Gibson ES-390. it's a smaller-bodied hollowbody guitar based on the old 330. And then I have an ES-359, which is also a smaller-bodied Gibson Sunburst.
I usually carry about four electric guitars and two acoustics with me on the road, and they all have different tunings for different songs. I love them dearly.
Do they each have certain qualities that draw you to them?
Yeah. I love hollowbody guitars just because they're so warm. I never really liked a guitar that was too bright, especially for electric guitar. I like a neck pickup that has a very thick and warm tone to fill up space when you're playing rhythm and a bridge pickup that cuts through for when you want to play a lead or a solo. That's why I bought my Duesenberg, because it does that really well.
Dave Cobb has become the most in-demand producer in Nashville. What did you like about working with him?
He records everything. He's very much got that Rolling Stones mentality where he just hits "record" and you literally record everything all day. You don't turn the tape machine off. And it was just live, man. What you hear is what you get. It's just us playing and jamming in RCA Studio A, live as hell and just banging them out.
Buy Renegade here.
All the latest guitar news, interviews, lessons, reviews, deals and more, direct to your inbox!
Jim Beaugez has written about music for Rolling Stone, Smithsonian, Guitar World, Guitar Player and many other publications. He created My Life in Five Riffs, a multimedia documentary series for Guitar Player that traces contemporary artists back to their sources of inspiration, and previously spent a decade in the musical instruments industry.