'Everybody Digs Bill Evans' (and Every Guitarist Can Benefit From Listening to This Record!)
Here's why this 1959 jazz primer is a must-hear for guitar players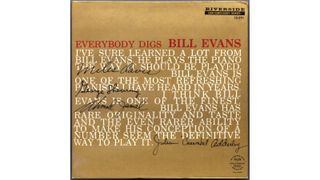 (Image credit: Riverside)
Back in the pre-Internet Stone Age of the 1970s and '80s, my connection to new music was the Bay Area's own KSAN radio. KSAN was the FM birth child of freeform radio pioneer Tom Donahue, an underground station where relaxed, understated DJs spun extended jams and strung together a gamut of musical styles that could segue from Link Wray to Ravi Shankar to the Ramones.
I felt like I was inside the brain of those radio personalities, broadcasters who included Richard Gossett, Ben Fong-Torres, Dusty Street and Bonnie Simmons. Every day was a learning experience, and I always heard something new and exciting.
KSAN radio introduced me to Muddy Waters, Lonnie Mack, Ravi Shankar, the Sex Pistols, the Police, the Pretenders, Devo and many other great artists that might have required an archeological dig if KSAN hadn't delivered their music to my home.
This is how I first heard Bill Evans' "Peace Piece," from his LP Everybody Digs Bill Evans.
Released in 1959 on the Riverside label, the album was the jazz pianist's second record as a leader and featured Sam Jones on bass and the great "Philly Joe" Jones on drums.
I was 13 years old at the time, and, admittedly, most high-calorie jazz playing might have been lost on me.
But "Peace Piece" was a great jazz primer for the uninitiated, and I was instantly in awe of Evans' musical mastery. The track is a six-minute vamp over a repetitive bass line, where Evans patiently and brilliantly takes us through a journey of melody and improvisation.
He plays everything from nursery-rhyme melodies and flat Lydian scales to discordant whole-tone and diminished block chords, all the while being simultaneously extroverted and introspective.
My young ears realized a solo can be a story with dramatic form, employing rising action, climax and resolution.
The great fringe benefit of Everybody Digs Bill Evans was being exposed to the album's other great, more traditional jazz performances, like "Tenderly," "Oleo" and, my favorite, "What Is There to Say?" Evans' phrasing on this track is absolutely sublime, and to this day, consciously or unconsciously, I try to employ it.
Any instrumentalist can benefit from hearing Evans play piano, and his influence was felt keenly by Lenny Breau. In trying to break through the guitar's limitations, Breau took picking-hand harmonics to a new level, escaping successfully into fully realized Bill Evans piano voicings.
I've always felt a sense of irony when seeing the cover of Everybody Digs Bill Evans and reading that line "I've sure learned a lot from Bill Evans..." Because, as I've gotten older, I've embraced the quirkiness and energy of Thelonious Monk, the playfulness of Erroll Garner and the craftsmanship of Duke Ellington.
But I will always have a sense of "home" with the music of Bill Evans and a great feeling of gratitude to KSAN "Jive 95" for playing me a gateway to jazz.
All the latest guitar news, interviews, lessons, reviews, deals and more, direct to your inbox!
Jim Campilongo has 14 critically acclaimed instrumental records available on vinyl, CD and digital download here.