Here's Why the Ramones' 'It's Alive' Is One of the Greatest Rock and Roll Records of All Time
Johnny Ramone's machine-like, all-downstrokes, no-minor-chords approach to guitar combines a ferocious wall of sound with brief barre-chord interludes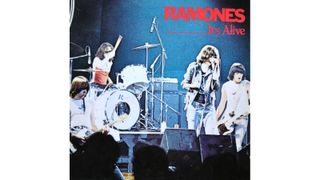 (Image credit: Sire)
Recorded at London's Rainbow Theatre on December 31, 1977, It's Alive captures the Ramones' genius at a time when they exhibited a vital energy and eyeballed a future full of opportunity.
The Ramones were a band of misfits from Queens, New York, who got their start in 1974. They adapted their band's name from Paul McCartney's pseudonym, Paul Ramon, which he used when attempting to travel incognito.
At their storefront rehearsal space, drummer and producer Thomas Erdelyi, a.k.a. Tommy Ramone, assigned each of the quartet's members their names and instruments: guitar for Johnny (born John William Cummings), bass for Dee Dee (Douglas Glenn Colvin) and vocals for Joey (Jeffrey Ross Hyman).
Turning a cold shoulder to the prevailing disco scene, the Ramones began formulating a unique brand of monolithic rock that combined the Beach Boys' melodicism, the innocent romanticism of doo-wop and a heavy dose of New York City attitude, all over a methodical chainsaw of raw energy.
In the process, they became the instigators of the newfangled punk-rock movement in the U.S.
Released as a double-record set in April 1979, It's Alive is a 28-song assault that chronicles the group's second visit to the U.K.
Johnny's machine-like, all-downstrokes, no-minor-chords approach to guitar combines a ferocious wall of sound with brief barre-chord interludes that, to me, sound like modern classical music.
He chose a Mosrite guitar because, unlike the Stratocaster and Les Paul, it wasn't identified with a rock icon; rather, it was the guitar of the Ventures, a surf-rock group with roots dating back to 1958.
With just his Mosrite, his Marshall and his hands, Johnny rocked it like no one else.
I constantly refer to his style. You can hear my humble attempts to capture its spirit on "Helen Keller," from Orange; on "Manic Depression," from Dream Dictionary; and on "Cock and Bull Story," from Live at Rockwood Music Hall NYC.
Though I love the voice leading of George Van Eps, the counterpoint of Ted Greene and the craftsmanship of Johnny Smith, there is a poignant joy in playing a major barre chord through a cranked amp that should never be abandoned or forgotten.
And that's why I love It's Alive: Because it captures the magic beginnings of Dee Dee, Joey, Johnny and Tommy, when the Ramones were brilliantly pioneering a timeless groove with a Queens, New York, point of view.
But also because it's a refreshing reminder of the beauty and importance of the humble barre chord.
All the latest guitar news, interviews, lessons, reviews, deals and more, direct to your inbox!
Jim Campilongo has 14 critically acclaimed instrumental records available on vinyl, CD and digital download here.