Discover Spain's King of Twang, El Twanguero
The Spanish-born guitar prodigy could be one of the greatest players you've never heard of.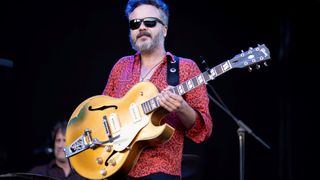 (Image credit: Atilano Garcia/SOPA Images/LightRocket via Getty Images)
In some circles, "Do you know El Twanguero?" is a secret handshake. Answering yes reveals you as a member of the small but growing club of followers of this underappreciated guitar master, born Diego Garcia.
To those who have heard Garcia play, his stage alias is the most appropriate nom de guitare ever. It's proven by records like The Brooklyn Session (2011), Argentina Songbook (2013), Pachuco (2015) and, his latest album, Electric Sunset (Cosmica Records), where Garcia uses his Bigsby-equipped Gibson ES-295 to inject dictionary-definition twang into an astonishing range of genres, including boogie, country, blues, jazz, rock, Argentinian, Mexican, Spanish and Gypsy.
The Spanish-born picker's prodigious technical ability comes from learning classical guitar in Valencia between the ages of six and 10. "I'm proud of that time, because studying at the conservatory shows you there is a discipline in music," Garcia says. That training and commitment proved useful when he put on a thumb pick to absorb the techniques of Chet Atkins and Jerry Reed, and simultaneously adopted a flat pick to mimic the Shadows and the Ventures.
"I am three guitarists in one," Garcia explains. "I play classical nylon-string with my fingers and artificial nails, I play with a thumb pick when I switch to the steel-string acoustic, and when I play the electric guitar, I play exclusively with a pick – no hybrid picking. I developed the three techniques in order to get the music right, and to express myself the way I want to."
Having mastered these styles, Garcia proceeded to employ them in unusual settings as part of his artistic evolution. "It developed naturally," he explains. "I played guitar for artists on tour for almost 18 years, but I was already El Twanguero. I played what I wanted. My heart was in Americana music, but my heritage was in Latin music. All that musical experience, and just living, contributed to my El Twanguero project. I needed to find a voice. It had to be different but still recall Jimmy Bryant, Chet Atkins and Paco de Lucia."
Garcia's ES-295 is a big contributor to the El Twanguero voice. Though his Atkins and Eddy background might suggest he should be shouldering a Gretsch, he has specific reasons for preferring the Gibson, and they have nothing to do with its historic association with Scotty Moore.
"I have a '56 Gretsch Duo Jet that sounds amazing, but I found it very 'soft' feeling," he says. "I understand why Chet used to play quietly and gently. I'm very aggressive when I play live, and the 295 is like a wild horse." Garcia tames the beast a little by using D'Addario .012–.054 strings, with an unwound .018 G. "When I'm at home or in the studio I play lighter, so I change them to .011s or even .010s," he adds.
And the inspiration behind his masterful use of the Bigsby? Surprisingly, Jeff Beck. "He is the king of expression," Garcia exclaims. "In the beginning I tried to imitate his style but then realized he had a Fender-style vibrato. I try to make the Jeff Beck sound with a Bigsby, but I rarely do bends. I think the last bend I did was 50 years ago. It's an artistic decision. Expression is everything, so I try to be expressive when using the whammy and while picking every single note."
Though Garcia's style has been consistent through his recent recordings, the sound he conjures from his 295 has varied. Argentina Songbook, for example, features more distorted tones than Pachuco or Electric Sunset. "I was listening a lot to Jeff Beck during that recording session," he says. "I met him when I was living in Argentina and he played the Luna Park Stadium. I realized that it's all in his right hand. I was playing through a Matchless I had at that time."
The stimulus for Garcia's current amp obsession comes from another member of the twang royal family. "I met Jim Campilongo a few years ago, and he was a big influence on my sound," Garcia says. "He has a couple of blackface Fender Princeton Reverbs. I'm using a '64 Princeton Reverb I bought through reverb.com. With the volume set on four or five, it's pure rock and roll. I like it, especially for the bigger band I'm doing now with conga, drum kit, bass and trumpet."
Garcia occasionally uses pedals for his distorted tones, like when he performs as a sideman. For those gigs, he raids his pedal stash, which includes a Fulltone Fulldrive, an original Ibanez TS808 Tube Screamer and a '70s ProCo Rat. "I use these pedals live, but not for my project, and never in the studio," he says. "If I need distortion on a session, I have a tweed amp in Spain, which is the same volume at two as on 10, but super heavy when you put it on 10. I prefer to use a good amp to get distortion, rather than a pedal."
While 295-style instruments have been Garcia's axes of choice since The Brooklyn Session, he isn't wedded to them. Check out the Jerry Reed–like workout "Boogie Man" to hear his Custom Shop Telecaster. "I use the 295 all the time, but I want to do the El Twanguero thing with a Telecaster for a while," he reveals. "I will try to do without a Bigsby and focus more on the quality of the sound of a single note, like classical guitarists, who don't have anything but their nails.
"I'm changing the way I'm playing. In the beginning I had a trio, so I had to do everything. Now I have a bigger band and I just need to play melodies, like Santana. It is interesting and artistic to focus on and develop one thing. I'm on my way to that."
In the meantime, he continues to enjoy the perks of his growing fan base. A card-carrying member of the El Twanguero club is Mike Voltz, who runs the Memphis Gibson factory. "We met several years ago in Germany, where I was doing demos for Gibson," Garcia says. "He told me, 'I'm going to make you a guitar. What kind would you like?' I said, 'I would like to have a lighter 295.'
Six months later at the NAMM show, Voltz brought Garcia the first example of the ES Les Paul Gold top P-90 with Bigsby VOS – virtually a 295 in Les Paul form. "The next year it became an official model," Garcia says. "Not the El Twanguero model, because I'm not Slash or Jeff Beck. But I can say I have the first one."
Visit the El Twanguero website for more information.
All the latest guitar news, interviews, lessons, reviews, deals and more, direct to your inbox!