Classic Gear: Fender Princeton Reverb Amp
Possibly the finest club and studio amp ever created.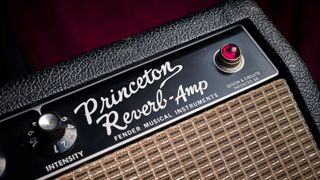 (Image credit: Future)
In the estimation of many great guitarists, the blackface Fender Princeton Reverb is the finest club and studio amp ever created. There's so much empirical evidence behind that claim that it's a tough one to knock off its perch. The combo was famously employed in the studio by Clarence White and Tommy Tedesco, who played the main guitar parts on several Beach Boys hits, among countless other recordings, and it is beloved by Telecaster virtuoso Jim Campilongo, whose devotion to it is near-religious.
Duane Allman is purported to have used a Princeton Reverb for his slide parts on Derek and the Dominos' "Layla," and the amp's iconic tone can be heard on a handful of seminal Steely Dan guitar solos. To put it simply, this petite powerhouse has long proved its ability to punch above its weight class.
It's easy to write off the Princeton Reverb as a smaller, less-overpowering Deluxe Reverb (a club classic in its own right), but there are several differences within the Princeton Reverb circuit that make it something entirely different.
Certainly, the amp has the classic blackface tone circuit, with treble and bass controls sandwiched between the two gain stages provided by its first preamp tube. This configuration is lauded for its ability to enhance a clear, shimmering tone when the amp is kept in the clean zone, and provide great bite and articulation when cranked up.
However, in the Princeton Reverb, the 7025 preamp tube (a rugged 12AX7 equivalent) that's responsible for those two stages is driven at lower DC voltages than the preamp tubes in larger Fender amps of the era. This lends it a slightly juicier, "browner" tonality and a more tactile response to pick attack, with a little less of the potentially overbearing glassiness of the blackface combos that produce 40 watts or more.
An equally significant splash of secret sauce is found in the Princeton Reverb's phase inverter, which follows the cathodyne (a.k.a. split-load) topology, with one half of a 12AX7 driving the signal while the second half splits it and inverts the phase of one leg to send it on to the dual 6V6GT output tubes. All other blackface Fenders of the era with two or more output tubes used the more advanced long-tailed-pair phase inverter, a more high-fidelity design, but one that lacked the preceding driver stage.
The Princeton Reverb's phase inverter, however, was a holdover from the classic tweed-era amps, all of which – aside from the Bassman and the high-powered Twin – featured it. Sonically, this phase inverter breaks up a little earlier than the later circuits and adds a certain textured, midrange-y thickness to the tone even when what we believe we are hearing is still "mostly clean."
Add together these and other Princeton Reverb peculiarities, push it all through a relatively low-powered output stage into a vintage 10-inch speaker, and you've got a guitar amp that's ready to sing and sustain and let you dig in on dynamic lead parts, all without having to be too loud for the room or the microphone that's capturing it.
Add the succulent reverb and tremolo, and factor in the convenience of being able to heft it single-handedly onto the subway or front seat of your Fiat 500, and this combo is perfect for any studio or club date.
It's worth noting that the reverb-less Princeton amp is also an extremely cool little combo in its own right, although the simpler circuit lacks one of the gain stages that its reverb-bearing sibling boasts, so it has to be pushed harder to achieve its meaty overdrive. When it gets there, though, it can sound glorious in its own slightly different and marginally more controlled way.
Essential Ingredients
Dual-6V6GT output tubes in fixed bias
12AX7, 12AT7 and 7025 preamp tubes
5U4GB rectifier tube
12 watts output
Single 10-inch Oxford 10L5 speaker
Tube-driven tremolo and reverb
Solid-pine cabinet
All the latest guitar news, interviews, lessons, reviews, deals and more, direct to your inbox!
Dave Hunter is a writer and consulting editor for Guitar Player magazine. His prolific output as author includes Fender 75 Years, The Guitar Amp Handbook, The British Amp Invasion, Ultimate Star Guitars, Guitar Effects Pedals, The Guitar Pickup Handbook, The Fender Telecaster and several other titles. Hunter is a former editor of The Guitar Magazine (UK), and a contributor to Vintage Guitar, Premier Guitar, The Connoisseur and other publications. A contributing essayist to the United States Library of Congress National Recording Preservation Board's Permanent Archive, he lives in Kittery, ME, with his wife and their two children and fronts the bands A Different Engine and The Stereo Field.