Dean DeLeo Names His Top Five Most Underrated Solos
The Stone Temple Pilots guitarist and songwriter shines some light on these lesser-known gems.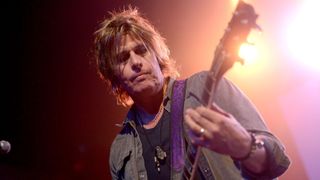 (Image credit: Scott Dudelson/Getty Images)
We recently asked some of the best-known players in the guitar world to name their favorite lesser-known solos. In other words: no Hendrix, Clapton, Gilmour, Page et cetera. It can be fascinating to learn where artists find inspiration and sometimes it comes from the most unlikely of places.
Here, Stone Temple Pilots' Dean DeLeo gives us his top five…
1) Trip the Witch | "Planet TD1" from 'Trip the Witch'
GUITARIST: Tom Bukovac
"Any type of guitar or anything Tom Bukovac plays is so pure and tasteful, with incredible feel. Absolutely beautiful. Check out his solo on 'Planet TD1' and buckle up."
2) Jimmy Bryant and Speedy West | "Bryant's Bounce"
GUITARIST: Jimmy Bryant
"Jimmy Bryan surely knew his way around a guitar. He cut a lot of great stuff with the great Speedy West."
3) Steely Dan | "Peg" from 'Aja'
GUITARIST: Jay Graydon
"That is a fine solo. The orchestration, the choice of notes and the feel – really great."
4) U.K. | "In the Dead of Night" from 'U.K.'
GUITARIST: Allan Holdsworth
"Allan Holdsworth on 'In the Dead of Night' off the U.K. record with Wetton, Bruford and Jobson. Brilliant playing by all on this record. Mr. Holdsworth is exceptional… unearthly."
5) Talking Heads | "The Great Curve" from 'Remain in Light'
GUITARIST: Adrian Belew
"I love this solo, and I love how Adrian approached guitar in general, whether in Zappa, Bowie, King Crimson or his solo stuff. Always great to hear."
Buy Trip the Witch's eponymous album featuring Dean DeLeo and Tom Bukovac here.
All the latest guitar news, interviews, lessons, reviews, deals and more, direct to your inbox!
Guitar Player is the world's most comprehensive, trusted and insightful guitar publication for passionate guitarists and active musicians of all ages. Guitar Player magazine is published 13 times a year in print and digital formats. The magazine was established in 1967 and is the world's oldest guitar magazine.
When "Guitar Player Staff" is credited as the author, it's usually because more than one author on the team has created the story.