Watch Stone Temple Pilots' Classic 'MTV Unplugged' "Big Empty" Performance with Scott Weiland
Remembering the late singer on his birthday as guitarist Dean DeLeo recalls his melancholic memories of the Dobro-infused 1994 hit single.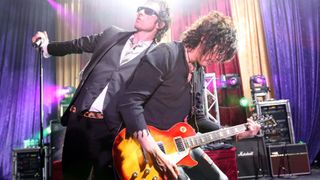 (Image credit: John Shearer/WireImage)
"Anytime I hear it, it takes me back to a special time," Stone Temple Pilots guitarist Dean DeLeo says about "Big Empty," the rousing country- and blues guitar-tinged alt-rock smash featured on both the soundtrack to the 1994 movie The Crow and Purple, the group's multi-Platinum album of the same year.
"I'll get in the car with my kids, and every now and then the song comes on. Right away I'm transported to a period that was so beautiful for the band and for each of us personally and professionally."
He adds thoughtfully, "And I'm reminded of Scott a lot," he says, referring to the group's late founding singer, Scott Weiland. "These great, melancholic memories come rushing over me. It's a pretty special song."
Weiland, who sadly passed away in 2015 from an accidental overdose, would have been 54 years old today.
Although Stone Temple Pilots recorded "Big Empty" in 1993, the song's origins date back to the 1970s, when a 16-year-old DeLeo wrote one of his first compositions, "Nothing But Alone."
"That song had an intro and a reprise. The chordings and the way I played them were very moody," he recalls. "Interestingly, they became the big rock chorus of 'Big Empty' years later. I sort of had that part of the song in my back pocket for a long time."
While on tour with STP to promote the band's first album, Core, DeLeo stumbled upon what would become the languid intro and verse sections for "Big Empty."
"I was in the back lounge of our bus, and as we pulled into Manhattan, I had an inkling of an idea," he says. "I grabbed an acoustic guitar and started playing what would make a nice verse."
Sometime later, when the band got off the road, DeLeo sat at home in Los Angeles and worked out how to glue the verse onto the parts of the song he had written a decade and a half earlier.
"I had the whole thing laid out. That's when I came up with the melody slide line. I knew I wanted to present some Dobro as a new tonal exploration for the band. We really hadn't touched on that yet."
The band booked time at the Record Plant in Los Angeles with their producer, Brendan O'Brien, to cut two songs in one weekend: a version of "Dancing Days" for the Led Zeppelin tribute album, Ecomium, and "Big Empty" for The Crow soundtrack.
DeLeo, his bassist brother, Robert, and drummer Eric Kretz ran through it several times as Weiland tried out different vocal melody ideas while writing lyrics.
"Things happened very quickly," DeLeo says. "Each guy knew what the other was going to do."
After cutting "Dancing Days," the band recorded three takes of "Big Empty" in relatively short order. For the basic tracks, DeLeo played a rented Gibson ES-335 ("I didn't own a hollow-body at the time") through a VHT Classic power amp and a Marshall 4x12. Later, he overdubbed a Telecaster through a Fender Princeton.
The stirring slide lines were played (in an open G tuning) on a rented Dobro, which the guitarist remembers was "painted yellow and beat to shit, but gosh, it sounded so damn good." DeLeo's only qualm at the time was after he played the opening lead line. "I wanted to redo it, and I said, 'I know I can beat that,'" he says. "But Brendan wouldn't allow it. He said, 'We got it, man.' That kind of thing happens all the time."
Months before it was released, STP previewed "Big Empty" on MTV Unplugged. While it could be surmised that the band knew they were sitting on a hit, DeLeo says they never talked about the song's commercial prospects and were pleasantly surprised when it reached the Top 10 on Billboard's Mainstream Rock and Modern Rock charts.
"We never really thought a song might be a hit," he says. "We were always our own worst critics."
Through the years, the song has been a fixture in the STP setlist, and interestingly, during their 2008 reunion tour, they used it as their show opener.
"Everybody always wants to come out guns a-blazing," he says. "It's like, 'What's the most hair-raising thing we can open a show with?'" I just thought it would be cool to start out with some restraint. And it worked. People really got into it.
"The moment you hear those first slide notes, it's like that old show Name That Tune. People are like, 'I can name that in three notes!'"
Purchase Purple by Stone Temple Pilots here.
All the latest guitar news, interviews, lessons, reviews, deals and more, direct to your inbox!
Joe is a freelance journalist who has, over the past few decades, interviewed hundreds of guitarists for Guitar World, Guitar Player, MusicRadar and Classic Rock. He is also a former editor of Guitar World, contributing writer for Guitar Aficionado and VP of A&R for Island Records. He's an enthusiastic guitarist, but he's nowhere near the likes of the people he interviews. Surprisingly, his skills are more suited to the drums. If you need a drummer for your Beatles tribute band, look him up.