David Grissom Spills His Tone Secrets and Explains Why He Took His Playing to New Extremes
'Trio Live 2020' sees David Grissom up the ante on his soloing - a risk, he explains, that was very much worth taking.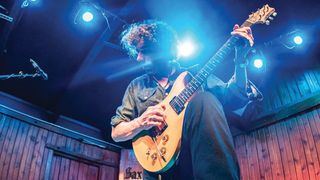 (Image credit: K T Yarbrough)
For those who see playing the guitar as a form of artistic expression, the highest goal is to develop a recognizable voice on the instrument.
When David Grissom appeared on Joe Ely's Live at Liberty Lunch album 30 years ago, he already possessed an extraordinary personal approach. He has since refined his seamless melding of rock, blues, country and jazz into one of the most distinctive styles in the world.
Grissom has brought that style into projects and tours with John Mellencamp, Lucinda Williams, Rodney Crowell, Storyville, the Allman Brothers Band, the Dixie Chicks, Robben Ford, Ringo Starr, Buddy Guy, John Mayall and a host of others, as well as to four solo records.
He's also a respected songwriter whose tunes have been cut by Trisha Yearwood, Lee Ann Womack and Mayall.
That split artistic personality - guitarist versus songwriter - led him to produce the scorching new album Trio Live 2020, which was recorded at Grissom's weekly gigs in Austin with drummer Bryan Austin and bassists Chris Marsh or Glenn Fukunaga. With it, Grissom places the focus squarely on his growth as a guitarist.
"My records are a bit schizophrenic, in that they have been half instrumental and half lyric-driven songs," Grissom says. "This one is an unabashed guitar record."
Oh boy, is it! After a quick, "How y'all doin'!" Grissom comes screaming out of the gate with "Lucy G," an instrumental from his first solo record, Loud Music. On the cut, his guitar is drenched in Leslie-like tones courtesy of his Arion Chorus.
"It's the version Bob Bradshaw told me about years ago," he reveals. "He said to go on eBay and get one for 25 bucks. It messes with the tone in bypass, so the XAct Tone guys in Nashville put a true-bypass switch in. The new ones sound good, but I love the richness in the original version. I also like that it's not exactly a Leslie. More like its own thing."
Effects aside, it's Grissom's go-for-broke performances on Trio Live 2020 that truly catch the ear and imagination. His playing has always had a searching element. He has a strong aversion to repeating himself and to cliché, even if it means going out on a limb. In that respect, the trio format serves him well.
"You're not boxed in," Grissom says of it. "Plus, we've played together for so long, there is an element of telepathy. There's the confidence you're not going to get lost. And even if you do, you'll find your way back. It's also fun to get lost, to let it percolate in the ether."
Which is exactly what happens when Grissom cuts into the blues chestnut "Crosscut Saw," exploring its familiar groove with ambiguous harmony, floating rhythms and extended soloing that moves from pedal-steel bends to bebop licks and Billy Gibbons-style grind.
It is all held together by the artist's vision and, my god, that tone! Of course, it begins in his fingers, but some of it certainly comes from his gear, and his approach to it.
"In Austin at least, I can put the amp master on 10 and run between five and six on the preamp," he explains. "When I have the guitar turned all the way up and hit it hard, it's going to crunch a little bit, with a hint of compression. But when I turn the guitar down to seven or eight and play a little lighter, it's a clean tone. It allows me to play a whole lot more dynamically."
From there, he considers pedals to be like putting hot sauce on a good taco, enhancing what's already there. "I'm mostly using an Xotic EP Booster and my Jetter signature pedal, because they both maintain the integrity of the amp tone," he explains.
"The secret to the EP Booster is to put [its internal DIP switches] into Vintage mode. Otherwise, it adds top end. Some people like that, but I'm always running away from top end."
A typical Grissom solo begins with just the EP Booster on and the Jetter going into it later for extra gain. If he does want some tonal color, he'll use the Psionic Audio Telos overdrive.
"That's more of the Tube Screamer blueprint - more midfocused, but musical," he says. "I'll use that if I'm doing a lot of low triads or chordal stuff and want it to be thick without being muddy.
"Another thing about that pedal is its buffer. Having that at the beginning of the chain and a Strymon El Capistan at the end in buffered bypass helps me maintain the integrity of the sound and feel. Everything else is true-bypass. Too many buffers and it gets a little trebly."
The core of Grissom's gear comes down to the PRS products that bear his name. His DGT guitar has become "a gateway drug into PRS," and his DG Custom 30 signature amp, designed in cooperation with Doug Sewell, may prove to be the same.
Recommended Listening: Trio Live 2020
• "Crosscut Saw"
• "Don't Lose Your Cool"
• "Boots Like to Boogie"
• "Lucy G"
"Initially, I told Doug I wanted the tight bottom of a 50-watt Plexi, the warm top of my [Fender] tweed Deluxe, the midrange of my favorite [Vox] AC30, reverb and a midrange control like my old 50-watt Hiwatt, going from scooped American to more British," he says.
"The compression thing is tricky. I wanted just enough to feel good. I've had amps that worked beautifully in the studio, but they sag too much live, and you can't hear them."
Grissom and Sewell tried a few prototypes, including a 50-watt version, but the guitarist eventually decided to go with 30 watts for his own amp. "Let's be realistic: I want to be able to turn the thing up, "he says. "I wanted to get the output stage working, but I thought we also needed a master volume that was musical and usable."
This is not your typical 30-watt Matchless or some variation of an AC30. The Grissom amp uses military-grade Russian EL84s (7189) tubes that handle much higher plate voltage and current than the ordinary ones.
"They sound glorious," he says. "They don't make them anymore, but there are still plenty out there. They're reasonably priced and last a long time, but eventually we're going to have to redesign the plate voltage. I'm already looking ahead to that."
Grissom spent countless hours with Sewell, who perfected the amp's tone by listening to the guitarist's tweed Deluxe, AC30 and Marshal JTM45 amps.
"At the end of a day, we would think we had nailed it, but we'd come back the next morning and realize we'd gone one step too far due to ear fatigue," he recalls. "So we would back it off a notch. We went through this for two years, until we landed in a place where it does everything you can reasonably expect a 30-watt amp to do. I take it to sessions with lots of other amps, and the engineer always picks that amp."
Combine Grissom's guitar, amp and pedals and you have a a tone fanatic's fantasy. How then to capture this sound off the floor for the record? The first challenge was getting a stereo image and instrument separation.
Due to less-than-ideal close miking, he had to use ambient mics in his mix. "I added a little reverb to spread it out," Grissom explains. "I also set a stereo delay plug-in at 100 milliseconds on one side and 200 milliseconds on the other, at about one percent wet. That made it jump around a little bit. It was almost all Universal Audio plug-ins.
"I put their Neve 1073 on it to shelve off everything below 50 Hertz. And, depending on the night, I might have added a dB at 3.2 or 4.8k, or cut a dB at 10k, to get everything to sound warm and consistent. I used a little compression from an 1176 plug-in.
"On live recordings, especially when you're set up right next to each other, any compression you add is going to make the bleed factor much worse. The processing is all very minimal. The main thing was to capture and convey the energy in the room."
Mission accomplished. Trio Live 2020 has enough separation to make everything audible, but not to the point that it no longer sounds like a live recording. You feel like you're in the club on a great-sounding night.
Still, there are many live recordings of great players with excellent tone. What sets Grissom's apart comes back to the daring with which he approaches the music - his willingness to take the audience to places they might not know they wish to go.
"This record is about taking it as far as I can, to this interesting junction where the element of risk is there but the groove doesn't go away," he says. "That way, if you know a lot about music, it goes to interesting places harmonically, but if you don't know anything about music, you can still relate to it on a visceral level.
"I write instrumentals and pick songs that allow me to cultivate the fearlessness even further. We're comfortable at this weekly residency knowing the audience is up for anything.
"The times I flounder, I'm able to laugh at myself, and the crowd digs it. They see the humanness. At this moment, I feel like I'm playing better than ever." Fortunately, Trio Live 2020 has documented it for the ages.
David Grissom's Trio Live 2020 is out now via Wide Lode.
All the latest guitar news, interviews, lessons, reviews, deals and more, direct to your inbox!