Bryan Adams' Guitarist Keith Scott Names His Top Five Career-Defining Tracks
The Canadian superstar's right-hand man of over 40 years knows the tales behind the best tracks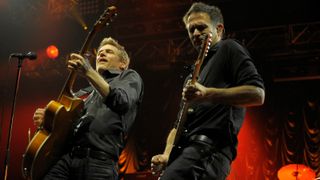 (Image credit: STEFAN M. PRAGER/REDFERNS/GETTY IMAGES)
Keith Scott's six-string skills and stylings have been an integral factor in Adams' illustrious music catalog and career. One listen to his emotionally charged guitar solo on Adams' "Native Son" perfectly encapsulates everything you need to know about Scott's guitar mastery.
Now 68, Scott first picked up the guitar at age 14 and learned to play by ear. It wasn't long before he was paying his dues playing in bands and performing on the club circuit in his native Vancouver. Scott met Adams by chance in 1976, but it wasn't until five years later that the singer-songwriter came calling and offered him a position in his band.
With over 40 years as Bryan Adams' guitarist, Keith Scott knows the tales behind the Songwriters Hall of Fame nominee's best tracks. "I didn't start working with Bryan until the fall of 1981," recalls the quietly spoken guitarist. "He had recorded the You Want It, You Got It (opens in new tab) album in early 1981 and soon after came to see me.
"I was playing with a club band at the time, and Bryan told me he had made this record in New York using these guys named Mickey Curry [drums], Tommy Mandel [keys] and Bob Clearmountain [producer/engineer]. He said he didn't have a budget, otherwise he'd have phoned me and got me in earlier. But Bryan was kind of selling me on what he was planning to do."
In late 1982, soon after Scott was ensconced within Adams' ranks, they began to work on Cuts Like a Knife (opens in new tab), Adams' third album. Released in the early part of the following year, it served as Adams' commercial breakthrough before its 1984 follow-up, Reckless (opens in new tab), shot him to worldwide fame and fortune.
"In my case, being offered the position to join Bryan came at the right time and under the right circumstances," Scott says. "I have enjoyed that experience for the most part and for a relatively considerable amount of time."
His long musical relationship with Adams has seen Scott's role segue from hired gun to brother in arms. "There is a certain family type aspect to it that still resonates or permeates," Scott says. "That is what is most apparent after 41 years.
"Not much goes unnoticed after so much time spent together, either on a professional or personal level. And I am grateful for the abundant quality time and opportunities."
1. "Cuts Like a Knife" from 'Cuts Like a Knife
(opens in new tab)

' (1983)

"Bryan played the main opening riff to the song. At the time we recorded the demo for the song in 1982, we hadn't toured a lot, but we had made some headway in the United States. When we went in to do the solo at the Power Station in New York, I made about 10 attempts before Bob [Clearmountain] had to go and take a phone call. Bryan told me, 'Forget about everything we just said and go for it,' and he pressed the record button.
"At that point I started the solo with that trill, and we got most of it in one take because I wasn't thinking about it. Sometimes that happens and you luck out. I always thought that if you manage to get a bit of the solo off the floor on the basic recording, it was such an amazing accomplishment, because you weren't thinking about the solo – you were thinking about getting the arrangement right so that you had the basic track covered. Every record that I did, if I managed to get a solo off the floor, I would consider it a major victory.
"I used my 'Beast' Strat through a rented Marshall, with a DOD Overdrive pedal. I picked the Beast up during my club days in the 1970s. I had gone into a music store and just picked a brand-new 1976 white Fender Strat with a maple neck off the wall. I rented it for a few months first before I finally bought it, as I had been playing a Les Paul Custom at that point and wanted to try something different.
"I was covering things like Jeff Beck's Blow by Blow in the clubs, which made me want to get a Strat again. For that matter, I had started out playing on a Strat. When Van Halen brought out their first record, the thing to do was take out the three-pickup arrangement and stick a single humbucker in the back, which is what I did too. I had that guitar until about the late '80s, and it was my main guitar on the road up to a point."
2. "Native Son" from 'Into the Fire
(opens in new tab)

' (1987)

"I have indigenous background in my family on my father's side, so there was a connection with this song, specifically in that regard. I came in when it was at the demo stage and did some of it as an outline, so I had a rough idea of where I was going when it came to recording the solo.

"Once Bob Clearmountain in his superb way dialed up a sound that was appropriate for the track, we went for it and got a couple of really great takes. And we did one other take where we added maybe one or two things, and that was it. I was really happy to be part of that. I had a lot to express from an emotional side because I loved the sentiment of what Bryan was saying in the song, and hopefully we did accomplish that.
"For this recording, I played Bryan's 1962 Strat through a 1960s Vox AC30 (opens in new tab). It was mainly clean, though I did use an Ibanez Tube Screamer to give it a bit of a kick on the front end. At that time, from the mid '80s through to the 1990s, we used that guitar a lot on our records, especially on Waking Up the Neighbours (opens in new tab).
"When I performed 'Native Son' live during the tour for the Into the Fire (opens in new tab) record, I used a custom Fender Tele (opens in new tab). It's a bit of a player's guitar, and it changed my playing a little to where I had to be a little bit more on top of it.
"The song is in A and the solo is in its relative minor key, F#. If I have to admit to an influence, I have to say it was Mark Knopfler. I had this similar hybrid picking thing going with the plectrum and fingers, where I would pick a note and the little finger would catch this grace note giving it this muted feel sound, due to the way I attacked the note. It's very simple playing but hopefully emotional in the way I used the vibrato and the sliding between the notes."
3. "Into the Fire" from 'Into the Fire
(opens in new tab)

' (1987)

"At the time that we made Into the Fire, Bryan and Jim Vallance, his longtime collaborator, were at their height, and Jim had also just got a new [E-mu] Emulator (opens in new tab) sampling keyboard. It was quite high-tech and had some interesting sounds and loops on it. When we recorded that song in 1986, U2 were really starting to make waves in the United States, and that whole Peter Gabriel/Sting type of emotional music was hitting the airwaves.
"They were also topical – they weren't singing about boy-and-girl things, like we were; they were singing about human rights and saving the world. The sentiment was quite serious, and Bryan and Jim caught that wave a little bit. The chord shapes of that song, with the open ringing strings and everything, kind of backed that up too, as it was a moody sound. The whole record was moody, from the music to the album sleeve.
"Lyrically and musically, this song is associated with a lot of great memories from that time, and it still holds weight for me. It still rings true. I really came to grips with it when we performed it at the Royal Albert Hall earlier this year [2022]. It was wonderful to be able to go back and play something from deep in the catalog, as it's really rare for us to go that far into those obscure tracks. It was a real treat, as you never know whether you'll ever get that opportunity to do that again.
"In terms of the guitar, we were definitely going for that single-coil, shimmering kind of Vox AC30 sound, with that beautiful midrange that they have. It was the right combination to use at that point. 'Into the Fire' is probably my best track we ever did as a band."
4. "Don't Drop That Bomb On Me" from 'Waking Up the Neighbours
(opens in new tab)

' (1991)

"We'd gone through that 'emotional record' period with Into the Fire. On Waking Up the Neighbours, we went back to nitty-gritty overdriven electric guitar blues again, which was a lot of fun. This song has some interesting chord patterns to it.
"[Producer] Mutt Lange played a big role in it. He had us walk through the song step by step, and he made suggestions right up until the tag at the end of the song, where Bryan interjected and said, 'Just let Keith go.' And that's what I did. I just played the tag, and we got some fun things out of it.
"At that point in our career, we had substantially more guitars to choose from, as we had been collecting a little bit along the way. There was an SG Junior (opens in new tab) that had a single Seymour Duncan in it instead of a P-90. It was okay, but it had a really thick neck and due to the setup, it was a nightmare to play. My fingers would bleed. But they said, 'Let Keith use that one!'
"After a couple days of us messing around, my fingers kind of hardened up and I got used to it, and that was the guitar I used on that solo. When I hear it now, I hear the amount of energy that went into that song, especially on the solo on the way out of the song."
5. "Fits Ya Good" from 'Unplugged
(opens in new tab)

' (1997)

"[Guitarist] Jamie Glaser played on the original recording [on You Want It, You Got It], but I played on the unplugged version and took a different approach from what I had been asked to give at that point. The whole idea of us going into an acoustic environment had its own challenges and I was looking forward to trying it. I thought playing instruments such as a nylon-string and a mandolin on a recording, was a good wakeup call for me to try things.
"Prior to the recording, we had a guy named Pat Leonard who was producing and arranging the material with us. The three of us were in Bryan's studio mapping out what we were going to do. This being a rock song, we had to completely rethink it, keeping in mind that we had the Juilliard string ensemble that Michael Kamen had arranged and conducted too.
"I chose that particular solo just because it demonstrates how to leave space. I open the solo with just a few notes, as minimal as possible, then let it develop, and by the end, I am doing this kind of arpeggiated run down on the guitar, which was played on a Martin acoustic flattop.
"That song and solo are an example of where I had to really rethink how I normally play with Bryan. I'm really proud of it, as it really helped me change the direction of what I was usually used to. I just love that moment."
Get the latest news, reviews and product advice straight to your inbox.
Thank you for signing up to The Pick. You will receive a verification email shortly.
There was a problem. Please refresh the page and try again.