Billy F. Gibbons Reveals How Jeff Beck Helped ZZ Top Score the First 110-volt Marshalls in America
The 'Burst-toting frontman tells the curious tale of the opening track from 'ZZ Top's First Album.'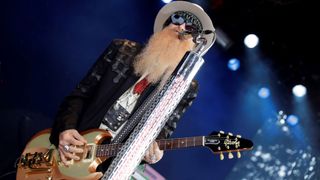 (Image credit: Brill/ullstein bild via Getty Image)
Celebrating its 50th anniversary this year, ZZ Top's First Album – the band's 1971 debut long-player – opens with the track "(Somebody Else Been) Shakin' Your Tree." It would be the album's only single and although it did not make it into the Billboard charts the song kicked off a legendary recording career that certainly has its fair share of entertaining stories.
We caught up with the one and only Billy F. Gibbons to talk 'Bursts, pedal steels, and how Jeff Beck managed to hook ZZ Top up with America's first 110-volt Marshalls…
"(Somebody Else Been) Shakin' Your Tree" was the only single released from your debut album. How did it come together?
That was an interesting song in that it was actually the first track that we tackled for the album. We wrote the music for that one down in Houston. We had a nifty little rehearsal space, which was right next to a cantina. [laughs]
So yeah, a good start. And I remember we drove up to Robin Hood Studios [in Tyler, Texas], and we got there late at night and hunkered down, because we realized we had polished the music track but we had not completed the lyrics.
We only had the title, which was kind of a bluesy, colloquial slogan: "You better watch out! Somebody's messing around with your girl." It was an entertaining twist of words. I remember staying up until the wee hours completing the verses.
What was your main electric guitar and amp on the song?
I was playing Pearly Gates, that '59 [Gibson Les Paul] sunburst. That was the standby in the studio and still is. And we had the very first wave of Marshall hundred-watts. It was a Super Lead 100, and those had been arranged for delivery through Jeff Beck.
I'd actually met Jeff in 1968. The Moving Sidewalks had played a few dates with him, and we got to be quite friendly. We were using Vox amps at the time, and I was eyeballing these big tall structures – Marshalls. Because the sound was fierce.
I said, "Jeff, what is this?" And Jeff said, "Well, if you really have an interest, I can call Jim Marshall and see if we can make arrangements for delivery here to the States." So we actually got the first 110-volt Marshalls. They landed in New York, and then they came to California, where we were living at the time. And, brother, plugging in that thing for the first time and cranking it to 10? Talk about having a blast!
This song is unique for its use of a pedal-steel guitar in the main melody. How did that come about?
I had been fooling around with the pedal steel, and we came to an interesting discussion within the studio. We were in the lounge, and I said, "Is this too country for a rock and roll song?" We tossed a coin in the air and it came out heads. So we headed in with this pedal steel, casting caution to the wind.
Were you an accomplished pedal-steel player at the time?
Not in the least! It was a four-pedal Emmons eight-string, and I had only gotten as far as learning the first two pedals, which took it from a C to an F. It was basically a one-and-four pedal combination. But I'd been toying around with the bottleneck so long that, you know, the steel in hand felt quite natural, so it wasn't a big challenge.
The big challenge was to learn how to get the one-and-four change and make sure I was hitting the proper three strings out of eight. But I think it came out okay!
Buy ZZ Top's First Album here.
All the latest guitar news, interviews, lessons, reviews, deals and more, direct to your inbox!
Rich is the co-author of the best-selling Nöthin' But a Good Time: The Uncensored History of the '80s Hard Rock Explosion. He is also a recording and performing musician, and a former editor of Guitar World magazine and executive editor of Guitar Aficionado magazine. He has authored several additional books, among them Kurt Cobain: Montage of Heck, the companion to the documentary of the same name.