Watch ZZ Top Perform Their First Show Since Dusty Hill's Death
As per – according to Billy Gibbons – Hill's wishes, the trio's longtime tech, Elwood Francis, took up low-end duties for the Tuscaloosa, Alabama performance.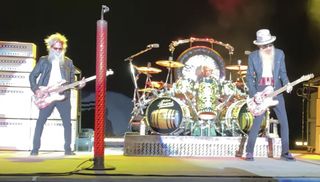 (Image credit: Logan James/YouTube)
Last week, the music world lost a true giant with the sudden death of ZZ Top's trusty bassist, Dusty Hill. A quiet but commanding low-end presence, Hill anchored the trio's bluesy, Texas-flavored boogie-rock sound for over 50 years.
Aside from writing some of the most charmingly endearing rock hits of the '70s and '80s and serving for almost half a century as one of rock's biggest concert draws, ZZ Top were also legendary for retaining the exact same lineup – Hill, guitarist Billy Gibbons, and drummer Frank Beard – from 1969 until Hill's death.
Despite this consistency though, ZZ Top have elected to continue with their North American tour plans, with the band's longtime guitar tech, Elwood Francis, taking Hill's place on bass. Francis had previously replaced Hill for three shows in July – in the days proceeding Hill's death – while the bassist battled health problems.
You can check out clips from the band's first performance since Hill's demise, a July 30 show at the Tuscaloosa Amphitheater in Tuscaloosa, Alabama, below.
In a new interview with Variety, Gibbons said that the decision to carry on with Francis was a "direct directive from Mr. Dusty Hill."
Gibbons went on to say, "When he grabbed my arm and said, 'I think I'm due to go visit the physician to see if I can bounce back,' he [Hill] said, 'In the meantime, I want you to grab our guitar technician, Mr. Elwood' – Elwood Francis – 'and take him out of that tech station and strap him up with my guitar and make him carry on with every single note.' And I said, 'Well, if that's your wishes, I'll respect that.' And sure enough, we've been very, very fortunate to have a stalwart standby to fill in."
Hill had played the first two shows of the band's current tour, before he "requested dismissing himself," Gibbons said, due to ongoing health issues.
"He said, 'Yeah, let me go check this out,'" Gibbons explained. "And of course I said, "Hey, man, health is number one. Go do your thing.' And I could tell through those first two valiant attempts, if he's not giving it 110 percent, he was the first one to kind of say, 'Gee whiz. Let's go take care of this.'"
No cause for Hill's death has yet been determined, but the bassist had endured hip replacement and shoulder surgeries in recent years, and more recently had been suffering from ulcers. He passed away in his sleep.
Francis, who has served as the Texas trio's tech for 30 years, had coincidentally grown a beard as long as Hill's and Gibbons' during the COVID-19 lockdown, so – from the looks and sounds of the band's performance last week – he fit right in both musically and visually.
"When he took the stage the other night, I was looking over the front row and everybody was kind of giving each other the elbow, and they were pointing up and said, 'Look, the ZZ Top circus still rolls on. There's another freak up there,'" Gibbons said.
"In fact, I had to stroll over and grab him by the chin to give him a yank, just to show the audience – I said, 'Folks, this is the real deal here.' [Laughs.] But he's honoring Dusty's wishes, and I know that, wherever Dusty may be, he's probably smiling, just knowing that all the notes are in place and that the fierceness rolls on."
All the latest guitar news, interviews, lessons, reviews, deals and more, direct to your inbox!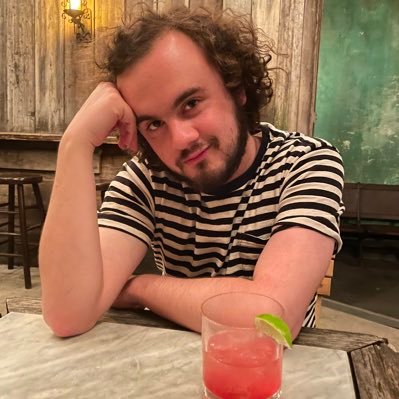 Associate Editor, GuitarWorld.com and GuitarPlayer.com
Jackson is an Associate Editor at GuitarWorld.com and GuitarPlayer.com. He's been writing and editing stories about new gear, technique and guitar-driven music both old and new since 2014, and has also written extensively on the same topics for Guitar Player. Elsewhere, his album reviews and essays have appeared in Louder and Unrecorded. Though open to music of all kinds, his greatest love has always been indie, and everything that falls under its massive umbrella. To that end, you can find him on Twitter crowing about whatever great new guitar band you need to drop everything to hear right now.