"Almost More Expressive Than the Human Voice": Jim Campilongo Waxes Lyrical About One of His All-Time Favorite Jazz Discs
Ben Webster's 'Warm Moods' LP is a searing lesson in melody and skillful phrasing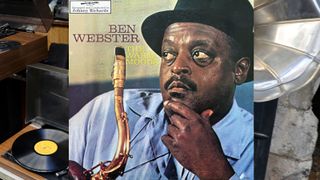 (Image credit: Reprise/JAAFAR ASHTIYEH / AFP) (Photo by JAAFAR ASHTIYEH/AFP via Getty Images)
This page usually focuses on electric guitar- and acoustic guitar-oriented records, for obvious reasons. That said, this is my third or fourth non-guitar record spanning almost one hundred columns.
To complicate matters even more, the few people who have heard tenor saxophonist Ben Webster's The Warm Moods playing at my house have asked, "Why are you listening to Muzak?" or said, "My father listened to stuff like this."
All I can say is, we agree to disagree. The Warm Moods is one of my all-time favorite jazz records, and it's a must-hear. I've transcribed many of its tunes with awe and humility, so I feel compelled to share this record, because I love it.
The Warm Moods was released in 1961 on Reprise Records, and every track has something special. The great supporting cast of pianist Don Trenner, bassist Don Bagley and drummer Frank Capp underwrite Webster flawlessly.
Arranger Johnny Richards does wonders melding a string quartet to the music. They seamlessly take center stage, then duck behind the curtain keeping the spotlight on Mr. Webster.
The MVP award goes to Trenner, who takes some lovely instrumental breaks that allow Ben to return as the sole melodic focus. Everyone involved here is a top-notch performer. Ben's phrasing on The Warm Moods is something to behold. It's simple, direct and lovely. He slurs, gives us purposeful delays and employs breath on the reed to create a sound almost more expressive than the human voice.
Even more significant is that he conveys the true meaning of the song instrumentally. For example, when I heard "Nancy (With the Laughing Face)" played instrumentally by John Coltrane on Ballads, I thought it was beautiful, but I assumed it was about loss.
Ben Webster's equally beautiful version of "Nancy" on Warm Moods conveys a positive aspect that's hard to explain. It's not swinging full Pollyanna, but somehow I knew it was a song of awed appreciation. As it turns out, "Nancy" is a father's perspective about his love for his daughter: Frank and young Nancy Sinatra, to be specific.
Additionally, "Stella by Starlight" is one of the many beautiful tracks on this LP. I always heard "Stella by Starlight" as a mandatory music school exploration. Ben's version introduced me to the song's romanticism.
"It's Easy to Remember" and "But Beautiful" are tutorials in phrasing and melody. Ben and his fellow musicians, combined with Johnny Richards' great arrangements, make these songs captivating and brimming with a high level of craftsmanship.
That said, I should offer a consumer warning: The Warm Moods has cello, viola and two violins and is highly arranged – but don't let that trip you up. Ben Webster's masterful ability to play a melody with intimacy is the star of the show, and The Warm Moods has shown me the "right" way to play a song: with simple melodic lines phrased skillfully, and deeply based in harmony, all while avoiding a flood of theory and scales. Ben Webster was a crooner, a storyteller who could sing torch songs through his instrument.
A few years back, the unforgettable New York City bassist Tim Luntzel couldn't make one of my gigs. Per musicians etiquette, he found a sub. The replacement was conscientiously a little confused about his role in the group. Tim said, "Oh, it's kind of a jazz gig, and Jim is the singer." That comes closer to describing my music than anything I've ever heard...maybe because I love the playing of Ben Webster.
Hear it for yourself…
All the latest guitar news, interviews, lessons, reviews, deals and more, direct to your inbox!
Jim Campilongo has 14 critically acclaimed instrumental records available on vinyl, CD and digital download here.