"The Concept Is Simple: Plug a Great Guitar Into a Great Amp, and Don't Let Anything Get in Between": Billy Squier Explains How He Honed His Tone on Five Classic Tracks
"I've always taken a tremendous amount of inspiration from the guitars I've played," says the chart-topping arena rocker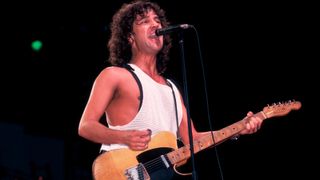 (Image credit: Paul Natkin/Getty Images)
As a guitarist and songwriter who brings pop melodicism to a bombastic rock template, Billy Squier was one of the 1980s' biggest rock stars. Far from hiding his influences, he wore his Led Zeppelin and Queen reverence proudly on his sleeve. In fact, Squier was described on several occasions as "a one-man Led Zeppelin," an appellation that Jimmy Page himself seemed to agree with. Squier tells GP about hanging with the Zep guitarist one night in New York City.
"We were at the China Club, talking about doing a project together, and he asked me about a song from my album Hear & Now," Squier recalls. "On the album, there's a song called 'Don't Say You Love Me,' which has this cool, funky riff that introduces the verses. Jimmy asked me, 'Who came up with that?' When I told him it was me, he turned his head away and muttered 'Fuck!' He was like, 'So this guy is not only a singer, but he's also doing my bits too – he's the guitar player and the singer'. And I will always remember that because it was the greatest compliment."
Squier first came to prominence in the late 1970s as vocalist and guitarist with pop-rockers Piper. After signing to A&M Records, the group released its self-titled debut in 1976 and its 1977 follow-up, Can't Wait, before splitting up soon after. In the aftermath, Squier kickstarted his solo career in earnest. His 1980 debut album, The Tale of the Tape, displayed his knack for writing hook-laden, guitar-heavy tunes that would bring him a mass audience via his 1981 follow-up, Don't Say No.
Featuring his calling card, "The Stroke," the album pushed Squier into commercial and artistic overdrive. A swath of additional hits and albums solidified his success through that decade, but a change in the musical landscape, a lack of record label support and his own disenchantment with the music scene saw Squier walk away from the industry after the release of 1993's Tell the Truth, his last album with a major label.
His 1998 acoustic outing, Happy Blue, was a huge musical departure and proved to be the last the public heard from Squier for some time. Away from the spotlight, he continued toiling away whenever the musical muse called, making sporadic appearances with his band and on his own. In 2006 and 2008, he did stints as a member of Ringo Starr's All-Starr Band touring group.
Then, in early 2023, Squier resurfaced with the gritty, blues-infused scorcher "Harder On a Woman," showing he hasn't lost his knack for writing great songs. The time away has been beneficial, as Squier sounds revitalized, inspired and firing on all cylinders, but he says the song was far from an attempt to get back in the game.
"I'm not doing this to start a comeback," he states. "I wrote it because the song was important for me to put out, and it gave me the chance to make my voice heard in a way I've been known for doing. It has brought me back to something which was near and dear to me for a long time but hadn't been a big part of my life in recent years. But when I did it, it all came back."
All things considered, this seemed the perfect time to catch up with Squier to discuss gems from his vault.
"This is a good example of the time I was really honing the Billy Squier guitar sound. The concept is simple: Plug a great guitar into a great amp, and don't let anything get in between. On 'Calley,' it's a 1960 Telecaster Custom through a Marshall Lead 100. On the Piper records, I had two great guitars; a '57 Fender Strat, and a '56 Gibson Les Paul Special, both of which I still have, and an early '70s Marshall Lead 100. I've always taken a tremendous amount of inspiration from the guitars I've played.
"I had a big breakthrough when I was in Piper when I met Frank Levi, who was a guitar-amp wizard working at S.I.R in New York City. I told him that I wanted to expand on the classic Marshall sound: I wanted more brilliance on the top end and more crunch on the bottom, but without losing any of the midrange characteristics. So after rehearsals, we would sit in the shop at S.I.R, and he'd tweak the components until we got what I wanted – a Marshall on steroids!
"The first channel emphasized the brilliant aspects of the sonic spectrum, and the second focused on the deep end. I'd jumper the two channels together, and it became a tremendous asset for me. If I was playing one of my Fenders, I might push the low-end channel, and with the Gibsons, I'd alter the balance to favor the first channel. The results were spectacular!
"On this song, I used a 1960 Fender Telecaster Custom. When the guitars come in, you can hear it's jangly and bright, but still fat. It doesn't sound like a Gibson, but it holds up against it. You can put that guitar against a Les Paul, play them together, and you'll have a really good dialog going. So 'Calley Oh' was a really good introduction for what I would become known for."
2. "In the Dark" from 'Don't Say No' (1981)
"A lot of this album is that Telecaster again. The difference was that, on this record, we started recording at the Power Station in New York, which had this spectacular, big wooden cathedral room with a sound that was unmatched for what I was doing, and you can hear it all over that record. I also had a phenomenal producer/engineer in Reinhold Mack.
"Originally, I wanted Brian May to produce the record, and Brian was keen, but Queen had gotten a bit over-extended on their recording and touring commitments, so in the end it wasn't possible, and Brian suggested I ask Mack.
"When I heard The Game, I knew I'd found my man. Before he produced Queen, he had engineered a lot of the ELO records. That drum sound on the ELO records was incredible, and the presence on Jeff Lynne's voice, that was Mack, too. And what Mack did for Queen on The Game, sound-wise, he opened everything up.
"So I got him over from Munich, and off we went. We had a great relationship that worked well together because his strength was more on the technical end, and mine was more on the writing and musical end, but we were able to switch roles when the situation called for it.
"This song is a great example of what I think I do best. Although I come from a pop background, I always wanted to rock. 'In the Dark' has a lot of swagger, a great riff at the beginning, great melodies and musical hooks. It's a pop-rock hybrid."
3. "The Stroke" from 'Don't Say No' (1981)
"Obviously, the biggest song of my career. I knew that it was special, musically, and that the title was going to be provocative and controversial. I also knew that the song had a deeper meaning that wasn't readily apparent on first listen. I was able to capitalize on the controversy and get a lot of attention while writing something that I was proud of from a lyrical standpoint.
"And the reverse-snare sound – that was something we came up with in the studio, not in pre-production. I suggested that we flip the tape and have [drummer] Bobby Chouinard play to the tape running backward. Mack heard it and immediately said, 'Do another track.' Bobby ended up playing it half a dozen times, and that's how we got that sound.
"I'm playing my '57 Strat through the Marshall. I always liked the 'Volga Boatmen' [Russian folk] song, and including that as a countermelody in the song's break was a bit of cinematography that I came up with. I actually recorded a guitar solo on the track, but I took it out when we mixed it, because I didn't think it was necessary."
4. "G.O.D" from 'Hear & Now' (1989)
"It's very unique. I hadn't done anything else like this before. When I was in the middle of doing Hear & Now, my production manager went out on the road with Def Leppard. They had just released Hysteria at the time, and he called me and said, 'Boss, they're stealing your shit!' Interesting observation from someone who knew me about as well as anybody. How's the saying go: 'Amateurs borrow, professionals steal'? We're all influenced by somebody.
"But after hearing that, I decided I was going to do something that none of these guys could do, that they couldn't steal if they tried, and that's what got me onto the expanded approach for the song. 'G.O.D' came about one morning when I woke up and something was bothering me, and I went, 'Oh God!' A light bulb went off in my head: How many times do we say, 'Oh God'? We're talking to God when we say that, aren't we? We're looking for some help, but he never talks back to us. And that's where the idea came from.
"It sounds more like a sensual, edgy rock song, but it's really about searching for answers and coming up empty – beseeching a higher power who remains elusive in the worst of times. Where is God when you need him?
"That song has so many bits and pieces to it. It's funky, it's got gospel, and it rocks like hell, along with a great solo, which I played on my '59 'Burst through that classic Marshall stack. The song takes you through a lot of changes. I wouldn't call it a pop song, but it's got a catchy chorus and a lot of hooks."
5. "Harder on a Woman" single (2023)
"The big difference between this song and what I've done before is that I wasn't concerned about sounding like Don't Say No or creating a lavish production. I wanted it to be all about the song. I wanted it to be in your face, like we were playing the song right in your living room. There's very minimal processing on it. We tracked in a small room using small amps. I'm playing through a fantastic Bluesbreaker-style amp that's made by Bob Reinhardt, who builds amps and racing cars.
"I didn't spend much time on the guitar sounds. We really went for the performance. Simon Kirke played drums, and I was very fortunate to grab my old bass player, Mark Clarke, when he was in town. Plus, I had G.E. Smith lurking in the wings. It's a no-frills recording, very simple and direct. Mike Chapman laid that approach on me when he produced Tell the Truth, my last full-blown rock record, in 1993. He got me into bringing everything more upfront and direct.
"There are at least three hooks in the song. The guitars, which are driving the song, are really playing as one. To me, it sounds almost like a Stones song in places. The guitar I used is a James Trussart resonator. I think it might have been the first one he ever did. It's basically got a steel guitar body with two pickups, like a standard two-pickup guitar, but also has a candy-box pickup in the guitar underneath the plate. It's got one volume control for the two pickups with a toggle switch, one volume control for the candy box, and one tone control for the lot.
"You can use it like a regular electric guitar, or you can use it as a resonator or both. I'm using it as a hybrid on this song. When I got the idea that I wanted to play this with a drop D tuning, I thought of that guitar right away. I'd never recorded with it before but had the feeling that it was going to do the job, so I brought it in and didn't play anything else.
"I did the six-note mini-solo with my '59 'Burst Number One, which I threw down upstairs in my carriage house, directly onto GarageBand as a demo so the guys could hear it, because we didn't have time to rehearse. I had a little Vox Brian May amp lying around, so I just plugged it in, turned it up a bit, and ran off the tracks.
"When I was in the studio getting ready to re-record the solo properly, we put up the demo and noticed that it had this unique sound to it that we might not beat using conventional means. The carriage house has a high ceiling, a wood floor, a bunch of glass and no damping, and it turned out to have a great live sound to it. It's a cool sound, and there was no way I was going to do it any better, so I just used the demo."
All the latest guitar news, interviews, lessons, reviews, deals and more, direct to your inbox!