"The keyboard player said 'Why are you just hitting random chords?' I said, 'You never know, I might get lucky!'" How Loverboy's Paul Dean wrote Working For The Weekend
How Loverboy made their floor-filling, meat-market moving, chart-topping, soundtrack favorite 1981 hit Working For The Weekend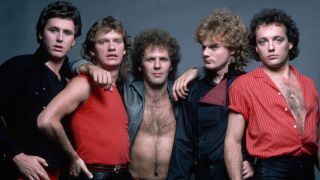 (Image credit: Lynn Goldsmith/Getty Images)
"It's totally a party song, there's no question about it," Loverboy guitarist Paul Dean says about the Canadian group's anthemic 1981 hit Working For The Weekend. Although they made their U.S. chart breakthrough with their 1980 self-titled debut album, it wasn't until Working For The Weekend was released as the lead single from Loverboy's second album, 1981's Get Lucky, that the band became firmly entrenched in pop culture.
"It became clear to me that we were onto something when we played it at this pub in Nanaimo, on Vancouver Island," Dean recalls. "It was a meat-market type of atmosphere, where nobody cared about the music; they were more interested in hooking up with each other.
"We played our first two sets, all-original stuff, and people were talking and drinking, paying little attention to the band. But when we opened the third set with Working For The Weekend the dance floor was packed by the end of the intro."
Working For The Weekend germinated in Dean's garage practice space, after which he continued to work on it in a Montreal hotel room following one of Loverboy's club dates. "I used a metronome as my drums and had my Strat plugged into a small Walkman-style cassette player," he recalls. "I used it a lot, as it's quiet and I could take it into my hotel room. I also had a small boom box that I used to record with." With this compact demo-recording setup, Dean began improvising riffs and vocals.
"Eventually I had most of the guitar parts and lyrics," he says. "It was missing a couple of things, like the little wah-wah solo in the middle, as I hadn't worked that out yet. And there are lots of parts to that tune — a lot of key changes going back and forth."
With two thirds of the song written, Dean brought it to the band at their next rehearsal session. Despite his work on the tune, "it wasn't flowing and didn't make sense," he admits. "I began stabbing at these random chords, and Doug [Johnson, keyboardist] asked me, 'What are you doing just hitting random chords? There's no progression!' I replied, 'You never know, I might get lucky.' Sometimes that's all it takes. You close your eyes and throw the dart at your fretboard."
Dean really hit paydirt when he came up with the song's distinctive chord changes, which shift from the moody verses to the rousing chorus. It was left to Loverboy vocalist Mike Reno and drummer Matt Frenette to add the finishing touches. "It's thanks to Mike for coming up with the title because I originally had 'Waiting For The Weekend,'" Dean reveals. "I thought that was pretty cool, but in retrospect, I think it was a big deal for him to come up with that."
Once the song was completed, the band entered Vancouver's Mushroom Studios with producer Bruce Fairbairn to record it. "I used my Strat that I built in 1974 and a modified 50-watt Hiwatt," Dean explains. "I double-tracked some parts, but mostly my approach was, 'Whatever I do, can I reproduce it live?' Which is why we recorded it that way.
"A lot of that approach came from when Mike and I were putting the band together with various drummers and bass players in Calgary. We had this big warehouse to rehearse in, and it had horrible acoustics; concrete and glass, a high ceiling. It was just an echo chamber, so that kind of forced me to play simply. Plus, we made our little demos on that same boom box, and it just sounded amazing with all that echo from the room. So that's what dictated our attitude about recording. And it worked!"
Released in October 1981, Working For The Weekend reached number 29 on the Billboard Hot 100, and it remains one of the group's most instantly recognizable songs, turning up in movies such as Zoolander and Charlie's Angels: Full Throttle and television shows such as Scrubs and Family Guy.
"It's unbelievable how it keeps getting placed in movies and TV shows and how it's held up for 40 years now," Dean exclaims. "Our song Turn Me Loose gets a lot of soundtrack stuff too, but nothing like Working For The Weekend. It's a pretty cool one-two punch."
For more info on Loverboy, visit their website
All the latest guitar news, interviews, lessons, reviews, deals and more, direct to your inbox!