Say Wah! 10 of the Best Wah Pedal Songs of All Time
The wacka-wacka moments that made you say 'wow'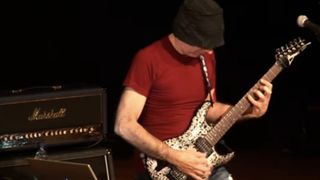 (Image credit: YouTube/Sweetwater)
The wah pedal has played a role in music ever since Vox first brought it to market in the Sixties. Jeff Beck, Jimi Hendrix and Eric Clapton were among the first to put it to use, giving their wah-wahs such a workout that it was impossible to deny the pedal's expressive value.
Since then, the wah pedal has been employed by guitarists like Slash, Joe Satriani, Steve Vai and countless others. And along the way, it's become an essential part of just about every guitarist's rig at one point or another.
We've collected what we think are 10 of the best wah songs from what is arguably a mammoth selection that ranges over nearly 50 years. Got something you'd like to see on our next list? Let us know.
"I Aint' Superstitious"
Jeff Beck: Truth (1968)
Beck turns Willie Dixon's classic blues song into a monster of a rocker. His muscular leads and fills are given an extra dose of aggression with his intense wah-wah work, which at times makes it sound as if his instrument is talking.
"Telephone Song"
Vaughan Brothers: Family Style (1990)
Stevie was known to pull out a wah for his Hendrix covers, and he did it again for this minor masterpiece from the Vaughan Brothers album, Family Style. It's the only album to feature Stevie and brother Jimmie, and it was, sadly, Stevie's last.
"Sweet Child O' Mine"
Guns N' Roses: Appetite for Destruction (1988)
On the extended solo to Guns N' Roses' "Sweet Child O' Mine" (1988), Slash showcases an almost classical-music or film score approach to dynamic tension and release with his savage wah licks at the climax.
"Bad Horsie"
Steve Vai: Alien Love Secrets (1995)
Steve Vai named his signature Morley wah after "Bad Horsie" (1995), and no wonder. His gritty, steel-y, vocal-like melodies from some kind of demonic bad dream - as well as the propulsive noises - are wah madness at its best.
"Presence of the Lord"
Blind Faith: Blind Faith (1969)
The brilliant staccato wah figure (approximately 2:35 into the song) that kicks off Eric Clapton's solo to Blind Faith's "Presence of the Lord" (1969) is stunning, and it's the perfect opening to the soaring and emotional licks to come.
"Wah Wah"
George Harrison: All Things Must Pass (1970)
Well, George Harrison DID write a song about wah pedals for "Wah Wah" (1970) on his sprawling and magnificent All Things Must Pass album. What more is there to say?
"White Room"
Cream: Wheels of Fire (1968)
Eric Clapton's edgy and tasty wah lines dart in and out of the verses of Cream's "White Room" (1968), and punctuate a thrilling solo at the song's finale.
"25 or 6 to 4"
Chicago: Chicago (1970)
When Terry Kath finally takes control of "25 or 6 to 4" (1970) from Chicago's strutting horn section during his solo, he unleashes a near-perfect melodic run that climaxes with a fusillade of wah-driven artillery shots. Take that!
"Voodoo Child (Slight Return)"
Jimi Hendrix Experience: Electric Ladyland (1968)
Perhaps one of the sexiest and most-imitated wah intros ever, Jimi Hendrix's dancing lines on "Voodoo Child (Slight Return)" (1968) brilliantly set up the feral roar that smacks listeners in the face immediately thereafter.
"Surfing with the Alien"
Joe Satriani: Surfing with the Alien (1987)
Joe Satriani's stinging, shredding, soaring, biting, and blissfully saturated lines on "Surf With the Alien" (1987) display how many emotive sounds a true master can derive from a wah.
All the latest guitar news, interviews, lessons, reviews, deals and more, direct to your inbox!
Guitar Player is the world's most comprehensive, trusted and insightful guitar publication for passionate guitarists and active musicians of all ages. Guitar Player magazine is published 13 times a year in print and digital formats. The magazine was established in 1967 and is the world's oldest guitar magazine.
When "Guitar Player Staff" is credited as the author, it's usually because more than one author on the team has created the story.