You'll Want to See This Limited Edition Midnight Purple Rickenbacker 330
This unique guitar is a modern, eye-catching spin on a classic model.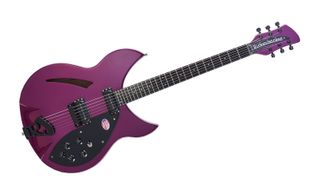 (Image credit: Rickenbacker)
As far as iconic guitar brands go, Rickenbacker is fairly low-key, typically only releasing limited-edition spins on its classic electric guitars and basses here and there.
One of the company's latest limited-edition runs, though, is a particularly spectacular, and daring, one.
It all started when Rickenbacker Production Manager Ben Hall posted a metallic purple 330 guitar to the company's Facebook page (opens in new tab) in May 2021. The guitar – finished in what Hall at the time called "Grape Jelly" – had been commissioned for a limited stateside run, but – as reported by Guitar World (opens in new tab) – was soon expanded to the United Kingdom, after U.K. distributor Rosetti ordered 25 of the purple 330s for distribution overseas.
Aside from the unorthodox finish, the limited-edition model is in many ways a typical 330. For instance, there's the familiar semi-acoustic maple "crescent moon cutaway" body with a "cat's eye" soundhole, and a three-ply maple/walnut neck.
Also carried over from a typical 330 is the two-tier pickguard, and the two Hi-Gain single-coil pickups run via a five-knob control layout (including the (opens in new tab) famous neck pickup-exclusive blend switch).
Image 1 of 2
The purple 330, though, sports a Richlite fretboard rather than the usual lacquered rosewood, with a black pickguard and black hardware replacing the usual nickel hardware and white double pickguards, respectively.
The Rickenbacker Midnight Purple 330 was listed by retailers at $2,799 in the States, but seems to have, unsurprisingly, completely sold out. Unfortunately, UK retailers – who listed the guitar at £2,999 – also seem to be out of stock of the limited-edition instrument.
For more on all things Rickenbacker in the meantime, visit the company's website (opens in new tab).