Watch the Set-Closing Encore from the Monkees' Farewell Performance at the Greek Theatre
By Jackson Maxwell published
Micky Dolenz and Michael Nesmith performed their final show as the Monkees on November 14, 2021, less than a month before Nesmith's death.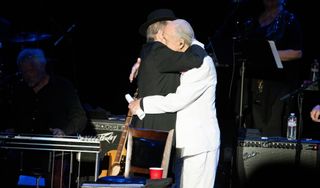 (Image credit: Scott Dudelson/Getty Images)
Michael Nesmith – guitarist and songwriter for the Monkees – passed away last Friday, December 10, at the age of 78.
An underrated, deeply eclectic songwriter, Nesmith was the driving force in transforming the Monkees from a controlled-from-a-boardroom band that didn't play their own instruments, never mind write their own material, to a group that controlled their own destiny and artistic choices.
Though an on-again, off-again participant in the Monkees' scattered studio and onstage reunions from 1986-2012 (the band broke up originally in 1970), Nesmith re-teamed with surviving members Micky Dolenz and Peter Tork to tour as The Monkees following the death of Monkees member Davy Jones in 2012.
Nesmith and Dolenz – before and after Tork's death in 2019 – toured as The Monkees Present: The Mike and Micky Show, playing their final show just a month ago, on November 14, at the Greek Theatre in Los Angeles.
You can watch fan-filmed footage of the set-closing, four-song encore from that evening's performance below.
As he did on the Monkees' original, 1966 recording of the tune, Dolenz handled the vocals for "(I'm Not Your) Steppin' Stone" a Paul Revere & the Raiders song the Monkees took to #20 on the Hot 100. The song would later become an unlikely garage-punk standard, with anti-establishment luminaries such as the Sex Pistols and Minor Threat recording covers of the tune.
Nesmith returned to the stage to assist Dolenz with "Daydream Believer," a song the band topped the charts with in 1967, and turned in a gutsy lead vocal for "Listen to the Band," a minor hit he wrote and sang for the band in 1969.
Appropriately, the Monkees ended the final set of their career with "I'm a Believer," the Neil Diamond tune that shot the band to superstardom, and remains a ubiquitous pop standard to this day.
"Stay safe," a gracious Nesmith told the audience at the song's conclusion. "God bless all of you."
Jackson is an Associate Editor at GuitarWorld.com and GuitarPlayer.com. He's been writing and editing stories about new gear, technique and guitar-driven music both old and new since 2014, and has also written extensively on the same topics for Guitar Player. Elsewhere, his album reviews and essays have appeared in Louder and Unrecorded. Though open to music of all kinds, his greatest love has always been indie, and everything that falls under its massive umbrella. To that end, you can find him on Twitter crowing about whatever great new guitar band you need to drop everything to hear right now.
Get the latest news, reviews and product advice straight to your inbox.
Thank you for signing up to The Pick. You will receive a verification email shortly.
There was a problem. Please refresh the page and try again.