Watch Pink Floyd's Impassioned Rock & Roll Hall of Fame "Wish You Were Here" Performance
David Gilmour and Richard Wright are joined by Smashing Pumpkins frontman Billy Corgan for this heartfelt acoustic rendition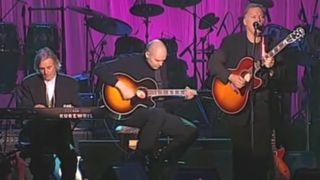 (Image credit: Rock & Roll Hall of Fame/YouTube)
On this day in 1996, Pink Floyd were inducted into the Rock & Roll Hall of Fame by Smashing Pumpkins frontman Billy Corgan.
"Pink Floyd are the ultimate rock and roll anomaly," said Corgan during his speech. "They sold massive amounts of records, have always been a popular live band, and they were never a singles-driven band – a lesson forever needed to be learned in this particular business."
"Everyone is different, everyone has a different approach to the music," said co-founder Richard Wright (1943-2008) as he collected his award. "But we've all touched people, I hope, with our music. And that's all we want to do."
During his acceptance speech, keys player Wright expressed his gratitude for co-founder Syd Barrett (1946-2006) who led Pink Floyd following their inception in the mid-'60s before a severe decline in the guitarist/singer's mental health forced a parting of ways in 1968.
That evening, members of the band along with Corgan performed a poignant rendition of the David Gilmour/Roger Waters-penned Pink Floyd classic "Wish You Were Here."
While absence is the theme of the Wish You Were Here album, the title track's lyrics are open to personal interpretation ("It's a big hit at funerals" Gilmour told filmmaker John Edgington.)
However, in the 2012 documentary Pink Floyd: The Story of Wish You Were Here, Gilmour maintains that he "can't sing it without thinking about Syd."
In the wake of the dizzying global success of 1973's The Dark Side of the Moon album, Pink Floyd began recording its follow-up, Wish You Were Here, in 1975 amidst confusion and bewilderment.
"We were clueless for a long time," Gilmour told Paul Rappaport. "We were faffing about blindly trying to find a way forward. That sort of 'blindly wandering about not knowing what the fuck we were doing' was what helped to create what came: with [the Barrett tribute] "Shine on You Crazy Diamond" and the whole of that Wish You Were Here album."
The opening guitar part on "Wish You Were Here" was recorded using a 1971 Martin D-28-12 Gilmour bought second-hand. Strumming this newly acquired acoustic guitar in the control room of Abbey Road's Studio 3 he suddenly hit on the now iconic riff.
Speaking of the AM radio-style effect used on the recording, Gilmour revealed their vision was to create the sound of a guitar playing on the radio while the listener joined in with a second acoustic.
This lead part was played on Gilmour's once-treasured 1969 Martin D-35 – an instrument he identified during a 2003 Guitar Player interview as being the guitar with the most songs attached to it.
Nevertheless, during his epic 2019 charity auction at Christie's in New York, Gilmour's D-35 and D-28-12 were sold for a massive $1,095,000 and $531,000, respectively.
Following the sales, Gilmour collaborated with Martin on a pair of signature flat-tops inspired by these legendary acoustics, the Martin D-35 David Gilmour and Martin D-35 David Gilmour Twelve String.
All the latest guitar news, interviews, lessons, reviews, deals and more, direct to your inbox!
Rod Brakes is a music journalist with an expertise in guitars. Having spent many years at the coalface as a guitar dealer and tech, Rod's more recent work as a writer covering artists, industry pros and gear includes contributions for leading publications and websites such as Guitarist, Total Guitar, Guitar World, Guitar Player and MusicRadar in addition to specialist music books, blogs and social media. He is also a lifelong musician.