ThorpyFx Squeezes All Tone Bender Variants into One Germanium Fuzz Pedal with the Boneyard
The U.K. pedal brand says this limited run stompbox is "the ultimate Tone Bender."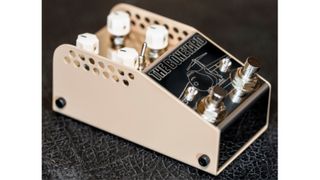 (Image credit: ThorpyFx)
Renowned British pedal builder ThorpyFx has revisited the country's rich heritage of vintage fuzzboxes with a germanium unit that founder Adrian Thorpe has described as "my interpretation of what the ultimate Tone Bender would sound like."
The aim of the ThorpyFx Boneyard fuzz was to encapsulate all Tone Bender variants ('MK I' to MK IV) in one unit while remaining as pedalboard friendly as possible.
Achieving its goal in spades, this fuzzbox allows users to dial in their own flavor of classic fuzz while keeping the unwanted idiosyncrasies associated with vintage fuzz pedals to an absolute minimum.
Germanium fuzz units are notoriously difficult and time-consuming to build, hence the Boneyard is being made in limited numbers.
Getting hold of the right transistors in order to produce a bona fide product is no mean feat (as Boss recently discovered during the development of their limited-run TB-2W Tone Bender compact pedal.)
Similarly, the Boneyard employs the kind of high-quality components we've come to expect from ThorpyFx – including 1% metalfilm resistors, and Wima and Panasonic capacitors – though it took them several years to find the germanium transistors featured in this limited run of units.
Thorpe himself is a lifelong devotee of guitar pedals and the Boneyard is a result of years spent acquiring, playing and testing numerous incarnations of Tone Benders.
Made by London's Sola Sound company since 1965, Tone Benders were one of the first fuzz pedals to appear during the mid-'60s electric guitar boom.
The first iteration of the Sola Sound Tone Bender – later dubbed the 'MK I' – appeared in '65 and was based on the world's first fuzz pedal, the Maestro FZ-1 Fuzz-Tone (released earlier in '62.) With its often choppy character and high output this 3-transistor unit was followed by the so-called 'MK 1.5' Tone Bender later in '65.
Sporting 2 transistors, the 'MK 1.5' Tone Bender is noted for its aggressive and characteristically gated sound. It is believed to be the inspiration behind the Fuzz Face circuit, although Fuzz Faces tend to sound smoother in comparison.
By '66, the first version-branded Sola Sound fuzzbox was released in the form of the Tone Bender Professional MK II. Known for its sweet, sustaining tone and powerful midrange this 3-transistor unit is famed for its association with Jimmy Page.
By the late '60s, MK III and MK IV Tone Benders (essentially the same 3-transistor circuit) had been developed. As demand for fuzz pedals increased, Sola Sound further established themselves as an OEM, supplying Europe's burgeoning hard rock market with fuzz under various other brands aside from their own including Vox, Park and Carlsboro.
For more information, visit ThorpyFx.
All the latest guitar news, interviews, lessons, reviews, deals and more, direct to your inbox!
Rod Brakes is a music journalist with an expertise in guitars. Having spent many years at the coalface as a guitar dealer and tech, Rod's more recent work as a writer covering artists, industry pros and gear includes contributions for leading publications and websites such as Guitarist, Total Guitar, Guitar World, Guitar Player and MusicRadar in addition to specialist music books, blogs and social media. He is also a lifelong musician.