Seymour Duncan Launches Vapor Trail Deluxe Analog Delay
This feature-laden deluxe version of the Vapor Trail analog delay pushes deep into new sonic territory.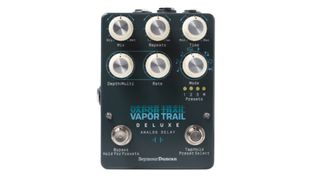 (Image credit: Seymour Duncan)
Having been in the business since 1976, Seymour Duncan are perhaps better known as one of the world's foremost pickup builders. However, for many years now the California firm has also been designing and making high-quality guitar effects pedals, pushing the envelope in recent years with more advanced designs such as the Dark Sun Digital Delay + Reverb pedal.
Released back in 2014, the Seymour Duncan Vapor Trail analog delay pedal is a classic vintage-style BBD/bucket brigade device with standard controls – including Mix (wet/dry signal), Repeats (feedback) and Delay (time) – pimped up with a generous handful of extra features such as Rate and Depth modulation controls and enhanced wet signal options. It is a powerful unit in itself. But its successor – the Vapor Trail Deluxe – takes the world of analog delay to a whole new level.
Seymour Duncan engineer Wayne Rothermich's painstaking research and development involved tweaking the advanced design to perfection over the course of an entire year (including three major redesigns and 23 revisions), resulting in a pedal that is capable of doing far more than your average analog delay, thanks to its unique analog/digital hybrid design. (Wayne also happens to design actual space exploration equipment on the side, so he's right at home building spacey-sounding pedals like the Vapor Trail Deluxe!)
Whereas the original Vapor Trail boasts a very respectable 600 milliseconds of maximum delay time the Vapor Trail Deluxe manages to double that to a whopping 1.2 seconds. By comparison, the original Boss DM-2 features 300 milliseconds maximum.
Offering extended digital control, this analog pedal has also been fitted with a tap tempo function for immediate delay time control (augmented by 1/4 note, dotted 1/8 note, 1/8 note, and 1/8 note triplet subdivision settings), along with four distinct modes (Micro Delay; Pitch Sequence; Pitch Bender; and Runaway), and three preset locations to recall your favorite settings.
While retaining the Wet Insert function of its predecessor this bells and whistles analog delay also features expression pedal control, a dynamic modulation that ranges from subtle undercurrents of movement to stronger, Leslie-style sounds, and the ability to turn delay tails on and off.
All the latest guitar news, interviews, lessons, reviews, deals and more, direct to your inbox!
Guitar Player is the world's most comprehensive, trusted and insightful guitar publication for passionate guitarists and active musicians of all ages. Guitar Player magazine is published 13 times a year in print and digital formats. The magazine was established in 1967 and is the world's oldest guitar magazine.
When "Guitar Player Staff" is credited as the author, it's usually because more than one author on the team has created the story.