PRS Unveils New Limited Edition SE Santana Abraxas 50th Anniversary Guitar
With custom artwork that pays tribute to the hugely influential album, this guitar is limited to 1,000 pieces worldwide.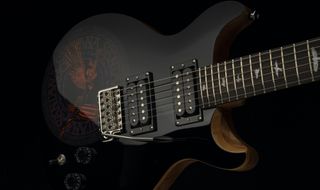 (Image credit: PRS Guitars)
Santana's legendary Abraxas album – which took the band's one-of-a-kind, genre-fusing sound to dizzying heights, winning them legions of new fans in the process – celebrated its 50th anniversary last year.
To celebrate, PRS has unveiled a limited-edition electric guitar celebrating the album and its legacy, the SE Santana Abraxas 50th Anniversary model.
Image 1 of 2
Image 2 of 2
Like its sibling, the stock SE Santana, the Abraxas model features a beveled maple top, plus a mahogany back and mahogany neck. The neck boasts a rosewood fretboard with a shorter 24.5" scale length and 24 frets with bird inlays.
Other similarities include the same two PRS Santana "S" pickups, with the same control set of individual volume and tone knobs plus a three-way toggle pickup switch. A molded PRS tremolo also, just as it is on the original SE Santana, is fitted to the guitar.
The main difference, of course, is the artwork, which – set against the guitar's otherwise black finish – pays tribute to the album's cover.
Image 1 of 2
Image 2 of 2
"It is an honor to co-join with PRS Guitars in celebrating the 50th anniversary of Abraxas with a new Santana SE Abraxas 50 guitar," Santana said in a press release.
"Abraxas represents beauty, power, grace and the mystical, and PRS allows you to access this vocabulary at your fingertips with the universal tone that delivers power and clarity, allowing you to find your own voice in your heart's music. We invite you to spread your wings and find your voice with this beautiful instrument."
The PRS SE Santana Abraxas 50th Anniversary guitar is available now – in a limited run of 1,000 examples, and with a PRS SE gig bag included – for $829.
For more info on the model, stop by prsguitars.com.
Get the latest news, reviews and product advice straight to your inbox.
Thank you for signing up to The Pick. You will receive a verification email shortly.
There was a problem. Please refresh the page and try again.