Orange Reveals Details of First 'Made in USA' Guitar Amplifier – the MK Ultra Marcus King Signature Model
Orange founder and CEO Cliff Cooper and Technical Director Adrian Emsley talk to Guitar Player about this historic amp.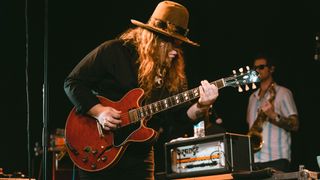 (Image credit: Roberto Finizio/NurPhoto via Getty Images)
Long-admired as one of the UK's foremost guitar amp builders, Orange sits firmly in the pantheon of classic British designers alongside Marshall, Hiwatt, and Vox. And while Orange currently intends to increase the number of products made at home in the UK, the company also stands poised to release their first ever guitar amplifier manufactured on US soil – the MK Ultra Marcus King signature model.
Ahead of this historic amp's limited release next month, we spoke to Orange founder and CEO Cliff Cooper along with Technical Director Adrian Emsley – the MK Ultra's co-designer – to bring you the inside scoop.
Cliff, you founded Orange back in the late '60s in London's West End. USA-built amps have been a long time coming...
Cliff Cooper: All my life I've wanted to make amps in the States, but every time something has cropped up which has prevented it from happening. Ever since I started, I've wanted to get amps made in America, so I'm very excited about it. Marcus King is very happy they're being made in the States as well. He showed us exactly what he wants, and we've built it exactly the way he wanted it. He's got incredible ears.
It's a very simple amp. It's the first time we've used 6L6s, which is an American valve. They have a different characteristic, but that was the sound he wanted. He's very discerning. It was a long road, but he's now absolutely knocked out with the amp.
What are the origins of the Orange MK Ultra's design?
Adrian Emsley: It was based on a design I did ages ago. I did a PCB 1x12 version and took it to Nashville and [Senior Amp Tech] Jon Bailey in the States did a 2x10 point-to-point version (I sent him the schematic). Then we had a few players in to see if they liked it. It was intended as a very simple tube amp (which some players really love) for use with pedals.
How did the design of the Orange MK Ultra evolve?
Emsley: The original design got shelved for a bit and then Jon Bailey did some component tweaks. He voiced it until Marcus King really liked it. There's one volume [control]. The treble is before the volume like on an old Fender, and the bass is after. They labeled the treble control Sing and the bass control is called Deep.
When refining the Orange MK Ultra's design to suit Marcus King's taste, what component changes were made?
Emsley: Some cap and resistor values were adjusted to suit Marcus' taste, and the phase inverter was changed to a concertina. The concertina phase inverter gives it a different take. The original design had a long tailed pair [phase inverter], so it was cleaner. The concertina is a bit more snotty.
There are two 12AX7s and two 6L6s – cathode biased, so it's vintage US flavor. That's what Marcus wanted. It sounds creamy. It's a point-to-point amp (using turret board) made in the USA.
How powerful is the Orange MK Ultra Marcus King signature amp?
Emsley: It's 30 watts. In the end we used a Trainwreck Express output transformer. It's a better load for 6L6s running in cathode bias. Because it's cathode biased, it doesn't stay clean for long and breaks up early. That was Marcus' intention. He cleans up on the guitar volume. He's totally old school like that. It sounds fantastic when you crank it up. And Marcus likes it, which is the main thing. He didn't want effects loops or anything like that – he just wanted those three knobs: Deep, Volume, and Sing.
Marcus King has been using Orange amps for a long time…
Emsley: Marcus' dad's got an early Orange AD15 and that's his favorite amp. That was one of the first amps I did for Orange back in 1998. His dad still plays that so obviously it's been in the family for ages, but Marcus has had his own thing going on with Orange for a while [including the Rockerverb 50 head].
Are there any more US-made Orange guitar amps on the horizon?
Emsley: Although we've made American versions of the cabinets for nearly 20 years, before the [MK Ultra] we hadn't done an amp from scratch in the US. Which is really something because Orange amps aren't the easiest to make. But if this amp works out well, we might look at building another amp in the US. I've got a few more ideas. Simple stuff. Vintage-flavored stuff.
How did the collaboration with Marcus King come about?
Cooper: I've known about Marcus King for years and I've been to see him play. I've personally known a lot of guitarists – from Peter Green onwards – but this guy is a natural, and he's so young. As old as I am, I still love the sound of guitars. And a good guitarist can make a good amp sound incredible.
When will the Orange MK Ultra Marcus King signature amp be available?
Cooper: We're building them now, but we're only doing a limited edition run of 150 to begin with. They should be out in September. I've ordered an [Orange MK Ultra Marcus King signature amp] myself! I can't get number one (because Marcus has it) but I'll try and get number two!
Buy Orange gear here.
All the latest guitar news, interviews, lessons, reviews, deals and more, direct to your inbox!
Rod Brakes is a music journalist with an expertise in guitars. Having spent many years at the coalface as a guitar dealer and tech, Rod's more recent work as a writer covering artists, industry pros and gear includes contributions for leading publications and websites such as Guitarist, Total Guitar, Guitar World, Guitar Player and MusicRadar in addition to specialist music books, blogs and social media. He is also a lifelong musician.