Marcus King: 4 Tips For Great Live Performance
The blues guitar prodigy shares some of his top gigging tips.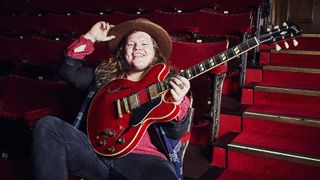 (Image credit: Future / Olly Curtis)
Now just 25 years old, Marcus King is already a veteran of the road and a leading flag bearer for modern blues and blues rock. He sings like an old soul with demons on his tail and gets colossal tones from his grandfather's '62 Gibson ES-345. No less than Warren Haynes – who produced his 2016 album The Marcus King Band (Fantasy Records) – called him "the first young player I've heard since Derek Trucks who plays with such soul and emotional maturity."
We caught up with the blues guitar phenom to find out how he works his magic onstage. Here's what he had to say...
1. Don't write the set list until you're about to go onstage
"I never write the set list the night before. I just can't do it, especially if I haven't seen the venue or know what kind of fan base to expect. We like to walk around and feel the town out – see what kind of vibe the audience is going to bring to us. For festival sets, I like to know how the band performs right before us. If they just ripped everybody's faces off, then we're going to start with something a little more laid back and not try to immediately match that energy level. I'm always writing the set list in the dressing room just before we hit the stage."
2. Be prepared to alter your studio arrangements for a live setting
"We definitely have to road test a song for about a month before it actually feels done. We're just like, 'This one part is shit. We need to get that out of there.' Also, some of the tunes we do in the studio are kind of smooth in an almost R&B sense, and when we play them live, we realize they're dragging a bit. So we'll push the tempo or rough it up."
3. Keep the band growing and evolving when you're on the road
"Wherever we're touring in our van, we keep the music we listen to pretty open so that we can be inspired by different things. We all really love Wu-Tang Clan as well as new artists such as [U.S. folk singer-songwriter] Margaret Glaspy and [neo-soul guitarist] Nick Hakim. Then I always go back to [funk acts] Soulive, Lettuce and bands like that. You never know when those road-listening sessions will creep into soundchecks or rehearsals as new ideas."
4. Don't just take inspiration from other guitar players
"When I was a lot younger, I stopped listening to guitar players pretty consciously for a couple of years. I made the decision that I didn't want to sound like Stevie Ray Vaughan or any of my heroes. Instead, I checked out Coltrane, Miles Davis, a lot of organ players and lots of vocalists. I always wanted to emulate Janis Joplin's screech through an amplifier, so that started my search for a unique guitar tone. I also messed with phrasing from the styles of Etta James, Billie Holiday, Otis Redding and James Brown.
"I don't think there are necessarily any wrong answers here, other than not discovering your own voice. I think as long as you're coming at it from the right mental place – which is to get something out that represents yourself purely – then every choice you make is probably a good choice."
Keep up with the latest on Marcus King here
All the latest guitar news, interviews, lessons, reviews, deals and more, direct to your inbox!