Mithans Unveils New Berlin Single-Cut Models
These well-spec'd electrics come in gorgeous Cobalt Blue and Charcoal finishes.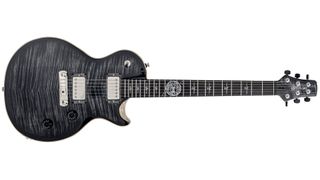 (Image credit: Mithans Guitars)
Slovenian boutique guitar builder Mithans has unveiled two new Berlin singlecut guitars.
The new guitars feature master-grade 5A flame maple tops, master-grade 5A flame maple necks and African ebony fingerboards with stainless steel frets. Other specs include Bare Knuckle humbuckers and permanently lubricated Graph Tech TUSQ XL nuts.
The guitar is available in two finishes - Cobalt Blue and Charcoal - with the Cobalt Blue iteration featuring a walnut body and Schaller Signum bridge and the Charcoal iteration featuring an ash body and Wilkinson wraparound.
The new Mithans Berlin single-cut models are available now for $2,322 (for the Charcoal finish) and $2,669 (for the Cobalt Blue finish).
For more info on the guitars, poke your head on into mithansguitars.com.
Get the latest news, reviews and product advice straight to your inbox.
Thank you for signing up to GuitarPlayer. You will receive a verification email shortly.
There was a problem. Please refresh the page and try again.