Martin's No Limits Challenge Might Just Change The Way You Think About Acoustic Playing
From AC/DC to Destiny's Child, Martin's new challenge is pushing acoustic playing to its limits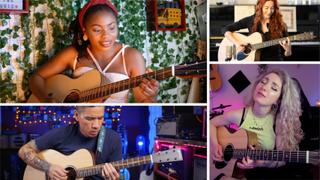 (Image credit: YouTube)
Acoustic playing sometimes gets a bad rep from people who don't get it. They think it's boring. Folky. Old blokey. Those people clearly haven't been paying attention to the Martin No Limits Challenge.
Guitar Player's sister site Guitar World has been playing host to the Martin No Limits Challenge for the past four weeks.
It's an acoustic competition with a difference. It started with eight of the world's most exciting guitar players pitted against each other in genre-based heats. The players can choose their song – but it must be a song that wasn't originally played on an acoustic.
Cue acoustic shredding, frantic finger-picking and some of the most entertaining acoustic performances we've seen in years: AC/DC's Thunderstuck with a guest appearance from Yoda, Nili Brosh playing the guitar solo AND the keyboard solo of Van Halen's Jump? A truly astonishing version of Say My Name by Destiny's Child.
The quarterfinals have ended and the winners chosen by public vote – Gretchen Menn, Sophie Burrell, R.J. Ronquillo and Helen Ibe – will now advance to the semifinals.
The first semifinal lands on Monday, with Ronquillo and Ibe rearranging blues tunes. We can't wait. Until then, here are the winning performances so far.
The semi-finalists
All the latest guitar news, interviews, lessons, reviews, deals and more, direct to your inbox!
Guitar Player is the world's most comprehensive, trusted and insightful guitar publication for passionate guitarists and active musicians of all ages. Guitar Player magazine is published 13 times a year in print and digital formats. The magazine was established in 1967 and is the world's oldest guitar magazine.
When "Guitar Player Staff" is credited as the author, it's usually because more than one author on the team has created the story.