Watch the Official Trailer for New SRV Music Doc, 'Jimmie and Stevie Ray Vaughan: Brothers in Blues'
Featuring previously unseen family photos and insightful interviews with the Vaughan brothers plus Eric Clapton, Billy Gibbons and more, this fascinating documentary is available to watch now on streaming services and DVD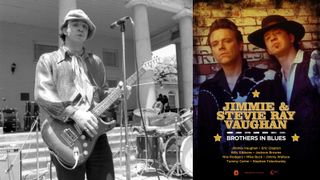 (Image credit: Trans-Pecos Productions/Freestyle Media)
Recently released by Freestyle Digital Media, Jimmie and Stevie Ray Vaughan: Brothers in Blues is the first authorized documentary on the life and times of the Vaughan Brothers, made with the full co-operation of Jimmie.
It's a fascinating and informative film that includes interviews with the Vaughan brothers, as well as with contemporaries from the early days and household names like Eric Clapton and Billy Gibbons.
Using clips from Jimmie's archives, the movie paints the fullest picture yet of how the two brothers started out and went on to transform the face of blues in the late '70s and early '80s.
Jimmie's discussion of the events around Stevie's tragic accident are particularly moving, as he recounts the tension between them prior to Stevie taking his fateful flight.
Essential viewing for any fan of these two titans of Texas blues, Brothers in Blues is a timely reminder of the magic of Stevie and Jimmie, and the unique connection that the two brothers had, both with each other and with the essence of the blues.
A press release says Jimmie and Stevie Ray Vaughan: Brothers in Blues is now available on AppleTV, iTunes, Amazon, Vudu, Sling and YouTube to rent or purchase.
DVD copies of the film may be ordered from Amazon and Walmart.com.
All the latest guitar news, interviews, lessons, reviews, deals and more, direct to your inbox!
Mark is a freelance writer with particular expertise in the fields of '70s glam, punk, rockabilly and classic '50s rock and roll. He sings and plays guitar in his own musical project, Star Studded Sham, which has been described as sounding like the hits of T. Rex and Slade as played by Johnny Thunders. He had several indie hits with his band, Private Sector and has worked with a host of UK punk luminaries. Mark also presents themed radio shows for Generating Steam Heat. He has just completed his first novel, The Bulletproof Truth, and is currently working on the sequel.