"Jeff's Playing Hit Me Hard": Steve Lukather Gives His Take on Jeff Beck's Life, Legacy and Music in Our Latest 'No Guitar Is Safe' Podcast
'GP' joins the Toto/Ringo Starr guitar ace to talk about the profound influence of the electric guitar master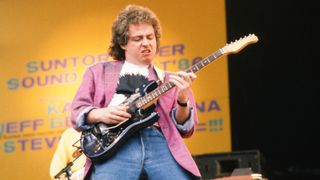 (Image credit: Koh Hasebe/Shinko Music/Getty Images)
If you like in-depth interviews with great guitar players AND you like to hear them play, then you need to listen to our No Guitar Is Safe podcast.
Presented by Guitar Player and hosted by Jude Gold, No Guitar Is Safe is free to listen to at your leisure on iTunes (opens in new tab), Spotify (opens in new tab), Soundcloud (opens in new tab), or wherever you get your podcasts.
With over 150 episodes uploaded there's plenty to get your teeth into.
Just some of the featured artists include Joe Satriani, Nita Strauss, John 5, Robben Ford, Steve Morse, Steve Vai, Paul Gilbert, Lita Ford, Tommy Emmanuel, Zakk Wylde, Ace Frehley, Billy Duffy, Phil X, Celisse, Nile Rodgers and many, many more besides!
For fans of guitar, it's hard to imagine a world without Jeff Beck.
To help us process this unfathomable musical loss, we "land the 'copter" in front of Steve Lukather's house, where we go inside and join the Toto/Ringo Starr guitar ace by a warm fire and get his take on his friend Jeff Beck's life, legacy and music, as well as his thoughts on the profound influence Beck has had on how most of us play electric guitar.
And, yes: Luke has had plenty of exciting adventures with Jeff Beck, which he relives here.
"In particular, Jeff's playing hit me hard," he recalls. "We hit it off as friends. We were really super tight for twelve years or something like that. We saw each other all the time, talked on the phone all the time. Every time he came into town, or when I was over there, we'd always hang. It was always great."
Tip: For a deep dive into Steve Lukather's playing, music and career, go back and listen to him plug in with us on episode 64 of this show, No Guitar is Safe, "the guitar show where heroes plug in."
All the latest guitar news, interviews, lessons, reviews, deals and more, direct to your inbox!