Jackson Debuts New Made-in-Corona American Series With the Launch of the Soloist SL3
SoCal production line Jacksons are go! And the Soloist SL3 is up first, promising a speedy ride, whammy bar thrills, and versatility from its HSS configuration of Seymour Duncan pickups.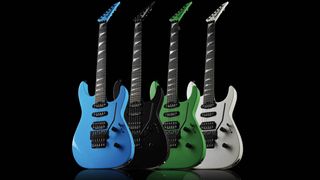 (Image credit: Jackson)
Jackson has announced a return to the brand's spiritual SoCal origins with the launch of the American Series, which it makes its debut with the SL3 Soloist.
Arguably the most iconic electric guitar in the brand's catalog, the SL3 Soloist, like those before it, is an aggressively chiseled S-style with a neck-through design that's built for speed.
It arrives in four colorways. Choose from Riviera Blue, Gloss Black, Platinum Pearl and Satin Slime Green, with each of these colors also reprised on a matching headstock which we are very happy to see has the classic six-in-line profile that has given Jackson such a distinctive aesthetic in the decades following its formation in 1980.
Taking the guitar back to Southern California – where the Fender-owned brand will make use of their parent company's Corona facility for the series' production – Jackson says it will be mining the archives for inspiration to "create an elite tool for the modern player".
The Soloist is certainly that, and is first out the blocks but surely it is only a matter of time when the American Series expands with Rhoads, Kelly and Dinky models. All in good time.
Image 1 of 4
The Soloist is, of course, engineered for speed. It has the Speed Neck profile. Its ebony fingerboard has a shred-friendly 12" to 16" compound radius, and seats 24 jumbo stainless steel frets, go-faster MOP inverse sharkfin inlays, with rolled fingerboard edges and Luminlay side-dot fretmarkers because, well, because it is 2022 and this is a premium instrument.
Much of the promotion of the Jackson brand – from its signature artists to its 'Fast as F**k!' marketing tagline – is targeted at the metal player. That demographic is the brand's bread and butter.
But if that is the case, the Soloist nonetheless splits the difference, opening the American Series' account with a super-versatile HSS platform that is designed to court all kinds of players – and not just hard rock and shred.
Fusion and prog players will enjoy the playability. And lest we forget blues-pop superstar John Mayer's penchant for a hot-pink Soloist, or going further back, Jeff Beck's.
There is not sign as yet that Jackson will roll out a flamingo pink finish option and we can but hope it is only a matter of time.
The SL3 Soloist is the sort of guitar that could find itself in any company, with the five-way blade pickup selector finding plenty of in-between tones as you move from the classic, ubiquitous and ever green Seymour Duncan JB TB-4 humbucker at the bridge through a pair of Seymour Duncan Custom Flat Strat SSL-6 single-coils at the middle and neck.
Volume and tone controls complete the electrics on a guitar that looks like it could be a formidable weapon in the studio for the session pro.
Versatile or not, it would not be quintessentially Jackson if we did not have some hardware to accommodate its base's most pyrotechnic sensibilities and here we find the SL3 Soloist equipped with a Floyd Rose 1500 Series double-locking vibrato, with Gotoh MG-T locking tuners for a belt-and-braces approach to tuning stability amid dive-bombing harmonic whammy bar madness.
Image 1 of 4
One thing about playing such styles is that it invites a sense of pragmatism in its practitioners. You can find that on the Dunlop dual-locking strap buttons that the SL3 Soloist ships with, and to keep the guitar safe it ships with a Jackson foam-core case.
The American Series SL3 Soloist is available now, priced $2,499. See Jackson for more details. You can watch it in action as Japanese guitarist Yas Nomura puts it through the video above, and learn more about the Jackson brand in its Origins of Speed mini-documentary [below] that tells the company's story through the lens of the players who have made it famous.
Jackson die-hard Scott Ian of Anthrax joins the likes of Periphery's Misha Mansoor and Alyssa Day to talk about their love of the brand, while Master Builders Mike Shannon, Louis Salgado, and Adam Ehrig reveal more about their high-performance designs.
All the latest guitar news, interviews, lessons, reviews, deals and more, direct to your inbox!