Heading back to school? Guitar Center is offering 15% off beginner-friendly acoustic guitars and lessons
These epic beginner acoustic guitar discounts will have you top of the class – featuring the likes of Yamaha, D'Angelico, Epiphone, Ibanez and more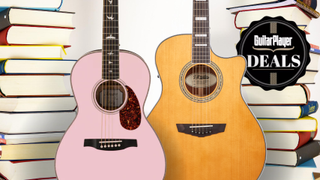 (Image credit: PRS, D'Angelico, Pexels )
Okay, we know you'd rather be thinking about a summer BBQ, but unfortunately, the time has come to start thinking about the return to school. So, whether you're the parent of a young one who is returning to their studies or a college student leaving home to pursue further education, now is the time to take advantage of online retailers' back-to-school sales. Now, obviously, the books, pens and laptops are important, but we think the guitar is pretty essential, too – this is Guitar Player, after all. Luckily, the folks over at Guitar Center are now offering 15% off beginner-friendly acoustic guitars and lessons, meaning you can have your pick of the best acoustics for beginners for an unbeatable price.
We are glad to see that this epic sale features some of the biggest names in the world of budget acoustic guitars, with the likes of D'Angelico, Yamaha, Ibanez, and Sigma all included. Now, don't worry if you aren't sure where to start when it comes to picking an acoustic guitar, as we've listed a few of our top choices below.
Our first pick from this sale has to be the fabulous Yamaha F335, which is down to only $144.49. Yamaha makes some of the finest instruments in the world and for us, their budget line offers the best value for money in this price category. Our second pick would have to be the Epiphone PRO-1, which delivers a wonderful tone despite its modest price tag.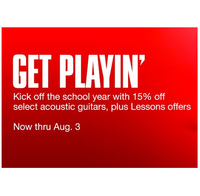 Guitar Center: 15% off acoustic guitars and lessons
We know that every little helps when it comes to saving money around the start of the school year, that's why we are excited to share this fantastic offer from Guitar Center with you. For a limited time, you can bag 15% off a wide range of beginner acoustic guitars, and better yet, if you buy three lessons, you get one free as well.
Up until now, the two guitars we've recommended feature the dreadnought shape, which can be a little large for some of the younger players out there but don't worry, the small-bodied Sigma SIG10 Mini is available for only $186.99 and even features a solid sitka spruce top! If you are thinking about purchasing a premium option, then our pick would be the absolutely stunning PRS SE P20E Parlor, which in our opinion is one of the best small acoustic guitars on the market, and the Pink Lotus finish option is down to only $424.15.
Thankfully it's not only instruments that are on sale, as Guitar Center is offering discounts on their popular guitar lesson service as well. For a limited time, if you buy three lessons, you get one free. All of these back-to-school offers run from now until 3 August, so be quick to make sure you or your little one doesn't miss out.
Explore more options with our buyer's guides
All the latest guitar news, interviews, lessons, reviews, deals and more, direct to your inbox!
First and foremost, I'm a guitar enthusiast – a fanatic, some might say. I'm a firm believer that most of the world's problems can be solved with a Gibson SG and a catastrophically loud amp. Before writing about guitars for a living as a Senior Deals Writer on Guitar Player, I worked in music retail for 7 years, giving advice on guitars, basses, drums, pianos, and PA systems. I also have a passion for live sound; I'm a fully qualified sound engineer with experience working in various venues in Scotland.