'GP' Presents Bill Frisell May 4-7 in San Francisco, CA – Win Tickets!
Jazz great holds residency at Great American Music Hall, special Grace Cathedral show on Friday, May 5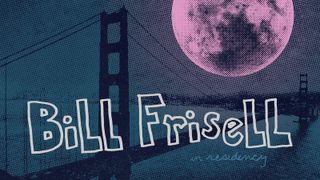 (Image credit: The Great American Music Hall)
Bill Frisell lives at the crossroads of American music. He's got a residency covering a variety of hot spots on the musical map with a gang of talented passengers coming along for the ride at the Great American Music Hall over the first weekend in May with a special performance at Grace Cathedral on Friday night, where GP Presents will be on site.
Frisell is one of the great contemporary jazz musicians with over 40 albums to his credit as a leader and a host of sideman credits in an array of genres. Frisell has worked with the likes of Elvis Costello, Paul Simon, James Taylor, Bonnie Raitt, and Robert Plant and Alison Krauss. Frisell's latest full album, Four (Blue Note), is with pianist Gerald Clayton, saxophonist-clarinetist Greg Tardy and drummer Johnathan Blake. That lineup plays the Great American Music Hall on Thursday, May 4.
GP will be on site the following night, Friday, May 5, at glorious Grace Cathedral for a duo performance with multi-instrumentalist Luke Bergman. He was a member of Frisell's band for the 2019 release, Harmony, so we expect to hear plenty of material from that gorgeous recording. Songs such as the heavenly "Fifty Years" will surely sound extraordinary. Frisell was a looping pioneer and is a master of ambience, so just imagine what he'll be able to do with a natural cathedral reverb.
Frisell says: "During the darkest days of the pandemic we found ways to keep going. We helped one another. My friend Luke Bergman and I love to sit around and play our guitars together. We couldn't do that then. He was in Washington State and I was in Brooklyn. I would send him little bits of music and he'd return them reimagined. Back and forth. He was an angel savior for me during that time. Luke is a master harmonizer, organizer, orchestrator and imaginator. Now we can be back together in the same room again. And what a room, Grace Cathedral!"
Frisell was the focus of GP's cover feature for the February issue, where he dropped all sorts of wisdom such as: "Every note is a question. It's like on a micro scale and on a macro scale. If you take your instrument and just hit one note on one string, it's like, 'Okay, what are you going to do next?' But it will lead you to something else somehow."
Come see where Frisell's questions lead him in the City by the Bay over the first weekend in May. Get tickets.
WIN TICKETS!
For a chance to win a pair of tickets to see GP Presents Bill Frisell in San Francisco, send an email to gp@jimmyleslie.com with "Frisell" in the subject and simply include a sentence about yourself and why you want to go.
Phone contact greatly appreciated for confirmation.
Winner must provide their own transportation to Grace Cathedral in San Francisco, California on Friday, May 5, and have their own accommodations in the Bay Area.
Best of luck!
EVENT DETAILS
Guitar Player Presents Bill Frisell with Luke Bergman
Friday, May 5
Grace Cathedral
1100 California Street
San Francisco, CA 94108
7pm doors; 8:30pm show
Free GP magazines, Martin strings
All the latest guitar news, interviews, lessons, reviews, deals and more, direct to your inbox!
Jimmy Leslie has been Frets editor since 2016. See many Guitar Player- and Frets-related videos on his YouTube channel, and learn about his acoustic/electric rock group at spirithustler.com.