GP Presents Andy McKee & Yasmin Williams this Thursday, May 5, in Berkeley, CA – Win Tickets!
Guitar Player welcomes the YouTube king and the prodigious lap tapper to legendary acoustic hotspot Freight & Salvage.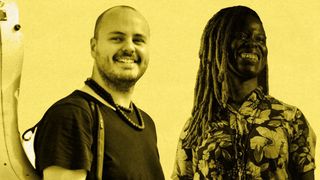 (Image credit: Freight & Salvage)
Andy McKee has been at the forefront of solo fingerstyle acoustic guitar since the YouTube revolution, and his first new studio effort in nearly a decade, Symbol, is a top-shelf tribute to his heroes including Prince and Michael Hedges.
To catch up on McKee, read his Frets feature from the November 2021 issue here.
Yasmin Williams is a new kind of acoustic hero. After mastering Guitar Hero 2 as a youngster, she transferred her finger dexterity into an extraordinary lap-style tapping technique.
We'll have free copies of the January issue with her Frets feature on site. Get the lowdown ahead of time by checking out the Williams interview here.
Make sure to arrive in plenty of time to catch Williams' set.
Heads up: the Freight & Salvage requires masks at all times as well as proof of vaccination.
Get your tickets here.
WIN TICKETS!
For a chance to win a pair of tickets to see GP Presents Andy McKee and Yasmin Williams, send an email to gp@jimmyleslie.com with "McKee" in the subject and simply include a sentence about yourself and why you want to go.
Phone contact greatly appreciated for confirmation.
Winner must provide his or her own transportation to the Freight & Salvage in Berkeley, California on Thursday, May 5, and have his or her own accommodations in the Bay Area.
Click here for COVID info.
Best of luck!
EVENT DETAILS
GP Presents Andy McKee and Yasmin Williams
Thursday, May 5
Freight & Salvage
2020 Addison Street
Berkeley, CA, 94704
7pm doors: 8pm show
Free GP magazines and Martin strings
Buy Tickets here.
All the latest guitar news, interviews, lessons, reviews, deals and more, direct to your inbox!
Jimmy Leslie has been Frets editor since 2016. See many Guitar Player- and Frets-related videos on his YouTube channel, and learn about his acoustic/electric rock group at spirithustler.com.