Gibson and the B.B. King Music Company Set October Release Date for New Epiphone Lucille Model
The two brands have reaffirmed their partnership by way of the B.B. King Legacy Initiative, which will bring new signature guitars, a biopic and more.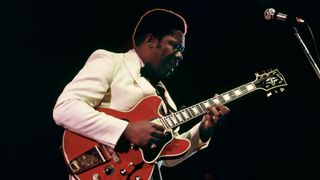 (Image credit: David Redfern/Redferns via Getty)
Gibson and the B.B. King Music Company have announced the reaffirmation of their partnership by way of the B.B. King Legacy Initiative, which aims to preserve the name of the legendary blues guitar player and introduce his repertoire to a new generation.
The news was announced on September 16 – marking King's 96th birthday – and was accompanied by an official release date for the previously announced Epiphone Lucill signature guitar, which is now set to arrive October 19.
Specifications for Epiphone's latest Lucille iteration are mostly unknown, though a handful of features can be discerned by Emily Wolfe's recent livestream, which saw the contemporary blues-rocker play the upcoming guitar.
Those features include a Kalamazoo-style headstock, Varitone switch and a TP6 bridge with fine tuners.
The Epiphone Lucille is the first of many commemorative offerings that Gibson and the B.B. King Legacy Initiative will release. Other upcoming projects include a biopic titled B.B. King – King of the Blues, a 24-hour blues channel dedicated to King and a new documentary series.
Further, a new educational initiative, expanded B.B. King merchandising and a 2022 B.B. King Experience tour will also feature on the Legacy Initiative's agenda.
Of Gibson and the B.B. King Music Company's revitalized partnership, the latter's Chairman Vassal Benford commented, "It has been a pleasure working with the Gibson team in developing a new line of B.B. King Signature Lucille guitars.
"I am especially proud of the forthcoming new Epiphone guitar and delivering a true work of art that will be broadly accessible, awakening B.B. King's life and legacy to new artists.
"Gibson is a tremendous partner and they have demonstrated a sincere alignment with our mission to not only preserve the legacy of B.B. King, but to expose new artists to his music."
Elizabeth Heidt, VP of Cultural Influence-Global, Gibson Brands, commented, "B.B. King is a cornerstone of Gibson's music history, and we are honored to bring his legendary music and persona to a new audience.
"From high-end Gibson Custom Shop guitars to more accessible Epiphone models we will be offering beautiful guitars for every fan to help carry on his vast music legacy."
All the latest guitar news, interviews, lessons, reviews, deals and more, direct to your inbox!