Five Custom-Painted, Commemorative Dead & Company D'Angelico Guitars Raise Over $160,000 for Charity at Auction
The five Deluxe Bob Weir Bedfords – each of which boasts a collage that includes sheet music from original Grateful Dead songbooks – were hand-painted by contemporary artist mister e.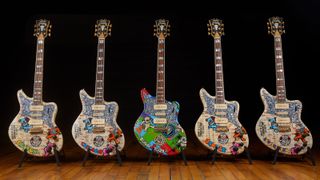 (Image credit: HeadCount)
Back in August, contemporary artist mister e unveiled five custom-painted, Dead & Company-branded D'Angelico Deluxe Bob Weir Bedford electric guitars that celebrated the legendary jam outfit's then-in-progress US tour.
Now, it's been revealed that the quintet of guitars were sold for a total of more than $160,000 at auction, with all proceeds going to HeadCount, Reverb (not to be confused with the online gear retailer Reverb.com), and the "Dead Family" charities.
HeadCount uses the power of music to "promote participation in democracy," while Reverb partners with musicians, festivals, and venues to help events become more climate-friendly.
Four of the customized guitars paid tribute to the band's 2021 performances in Boston, Chicago, Denver, and Los Angeles, while a fifth commemorated the band's tour in its totality. Each of the guitars boasts a collage that includes sheet music from original Grateful Dead songbooks, and is signed by each member of the group.
All five of the guitars also come fitted with a custom-engraved backplate with the lyric "What a long strange trip it's been," taken from The Grateful Dead's 1970 classic, "Truckin'."
"As an artist it's an honor to paint these guitars to raise money for a great cause," mister e said in a statement. "But as a guitar player and fan of the Dead for years, it is truly humbling to be working with Bob Weir and Dead & Co."
These yearly auctions have become somewhat of a tradition for Dead & Company, and they've combined to raise $1.7 million for the group's favored charities since their first tour in 2015.
Get the latest news, reviews and product advice straight to your inbox.
Thank you for signing up to The Pick. You will receive a verification email shortly.
There was a problem. Please refresh the page and try again.