Fishman Launches Signature Fluence Custom Series Humbucker for Riffs, Beards & Gear YouTuber Ryan 'Fluff' Bruce
The Dragged Under guitarist's new signature bridge humbucker offers three voicings, with its active voice offering a high-output tone profile that pairs well with amp modelers.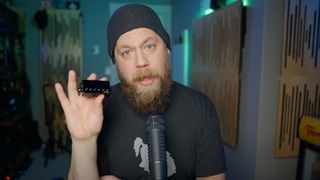 (Image credit: Fishman / YouTube)
Fishman has expanded its Custom Series lineup of electric guitar pickups with a signature bridge humbucker for the host of YouTube show Riffs, Beards & Gear Ryan 'Fluff' Bruce.
Bruce, who plays guitar in Seattle rockers Dragged Under, joins the likes of Trivium's Matt Heafy and Thomas McRocklin in having his own Custom Series 'bucker, and as you'd expect from a Fishman Fluence design it is an active pickup, powered by 9V battery, that offers players multiple voicings.
Voice 1 is Modern Active High Output mode that covers all bases for high-gain riffing – big and bold ceramic magnet tones, solid bottom end and everything feeling pushed, etc – but there's also an optional high-frequency tilt to take off some of that top end for when using amp modelers.
Voice 2 is similarly modern, and taken from the Willie Adler signature Fluence. Indeed, it's described as "Modern Passive Attack", and foregrounds clarity and note definition, but one that Bruce says is a little rounder to complement Voice 1.
Finally, Voice 3 offers overwound single-coil tones that Fishman describes as "muscular" and "beefy" and should work nicely for players who like a little more meat on the bone with their single-coils, with the midrange swelling up and higher output, while retaining clarity.
For Bruce, active pickups were something of a latter-stage epiphany.
"Growing up in the '90s, I think active pickups for me were always the one-trick pony kind of affair," he says. "They did super-crazy metal tones, and that was about it; and for that reason, I have really shied away from active pickups for most of my guitar-playing life."
What changed was Riffs, Beards & Gear, and the cornucopia of gear Bruce has demoed in 10 years of the show. That left him burnt out on pickups, and looking for something different.
"These are dynamic. They are rich. They're immediate," said Bruce. "They are just so clear and so amazing-sounding, and I have toured with just about every set in my guitars, and I have sweated all over them. Night after night, they're consistent. If I order a specific model, I know exactly how it is gonna sound, and that is why I am so excited."
Bruce's pickup ships with a black nickel cover and can be wired up to set and forget, or so that the voices can be selected with a push/pull on your guitar's control knobs. It can be powered by a standard 9V battery or a rechargeable battery, and should over up to 200 hours of playing time before you have to replace/recharge.
See Fishman for more details.
All the latest guitar news, interviews, lessons, reviews, deals and more, direct to your inbox!