Ever Wonder What Bagpipes, Accordion, Banjo and Bassoon Might Sound Like Through a Guitar Rig? Maybe Not. But Mad Professor Did.
Watch these amazing video clips to hear the results of some wild sonic experiments.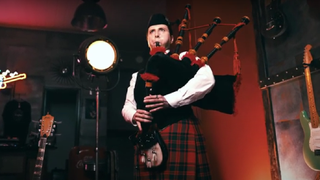 (Image credit: Mad Professor)
"The best thing is to experiment and find your own tone," Mad Professor head honcho Harri Koski once told Guitarist magazine. "You might find something really unique to make an impression with."
While it's true that many of us electric guitar players are seeking interesting sounds with effects pedals, we're far less likely to venture away from our instrument of choice in order to do that.
Of course, a standard approach would be to simply adjust your amp and pedal settings. Or maybe swap them out for another piece of gear. But what would happen if we swapped out the instrument instead and replaced it with something completely different?
It's a far out idea. But not too zany to stop Finland's premier stompbox builders Mad Professor from living up to their name. In true white coat whack job style they have assembled a motley crew of musicians whose instruments are some of the least likely candidates.
Founded in 2002, Mad Professor is currently celebrating 20 years in the business. So what better way to observe such a monumental occasion than to crank some bagpipes through a guitar rig.
The result? Think Paul McCartney, 1972.
Bass guitars are no stranger to an effects pedal or two. But what about a bassoon? Let's just say this guy would probably be first call if a vacancy in the Star Wars Cantina Band came up...
Who would have thought banjo can sound so ferocious? The excitement is palpable as this slick-fingered picker simultaneously channels the spirits of Earl Scruggs and Jimi Hendrix...
Lots of old tube amps have inputs labelled for accordion, but that was long before envelope filter and delay pedals came along.
If anyone ever makes an avant-garde short film about Stevie Wonder on a psychedelic French vacation (you never know) then this could be the perfect soundtrack…
Regularly spotted on pedalboards of pro players the world over, Mad Professor effects have been put to great use in more familiar circumstances by the likes of guitarists Matt Schofield and Devon Allman.
Mad Professor's most popular pedal is the Sweet Honey Overdrive – a medium gain unit prized for its touch-sensitive response.
Speaking of the firm's best-seller, Koski recalled, "While many companies went for lots of gain, compression and sustain, we went the other way by making a pedal that was very dynamic."
Particularly on bassoon, we thought.
All the latest guitar news, interviews, lessons, reviews, deals and more, direct to your inbox!
Rod Brakes is a music journalist with an expertise in guitars. Having spent many years at the coalface as a guitar dealer and tech, Rod's more recent work as a writer covering artists, industry pros and gear includes contributions for leading publications and websites such as Guitarist, Total Guitar, Guitar World, Guitar Player and MusicRadar in addition to specialist music books, blogs and social media. He is also a lifelong musician.