Discover the Dark and Mysterious Past of Fender's Squier Paranormal Cabronita Telecaster Thinline
By Rod Brakes published
We dive deep into Fender's shadowy history to reveal the true origins of this all-star Tele.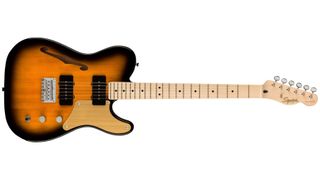 (Image credit: FMIC)
To the uninitiated, the Squier Paranormal Cabronita Telecaster Thinline looks like a perfectly normal guitar. However, as its name suggests, several things about this design are far from normal.
As the sun begins setting on Fender's 75th anniversary year, we go back – way back – for a dig through the vaults to see what we can unearth about the origins of this new model.
Sunburst Finish
The Stratocaster was the first Fender solidbody to be issued with a sunburst finish as standard. And though the regular finish for a Telecaster was blond, back in the day, it was possible to custom-order one in sunburst for a 5% upcharge. However, those Teles are exceedingly rare.
The guitar pictured is a one-off sunburst twin-pickup 'double Esquire' that was built in 1950 at the request of a factory visitor who spotted the experimental work in progress.
This is likely the first sunburst guitar of its type.
Jazzmaster Pickups
Some of Fender's most interesting instruments were highly experimental false starts that eventually morphed into iconic guitars, including this Jazzmaster prototype.
Much like the Paranormal Cabronita Telecaster Thinline, this guitar has a maple fretboard and black pickup covers, rather than the rosewood 'board and white pickup covers of a regular Jazzmaster. Notice the control knobs are lifted from a Telecaster.
Gold Pickguard
When the Jazzmaster was released as Fender's top-of-the-range model in 1958, it came with a gold-colored aluminium pickguard as standard – much like the gold-colored 'guard featured on the Paranormal Cabronita Telecaster Thinline.
By the following year, the gold 'guard had been replaced by a celluloid nitrate type – either a 4-layer (w/b/w/faux tortoiseshell) or 3-layer (w/b/w), depending on finish – making these early Jazzmasters a rare sight.
Thinline Body
Roger Rossmeisl (1927-1979) is an unsung hero of the guitar-building world. Hailing from Germany, he first arrived in the US with a job offer from Gibson, although later found himself developing Rickenbacker's breakthrough designs.
Having jumped ship to fellow Californian firm Fender, Rossmeisl set about creating some of the most innovative designs of the late 60s, including the Telecaster Thinline (released in 1968).
Interestingly, the f-holes on these guitars are exactly the same as those found on the Rossmeisl-designed Rose Morris Rickenbackers.
Click here (opens in new tab)for more information on the forthcoming Fender Squier Paranormal Cabronita Telecaster Thinline
Rod Brakes is a music writer with an expertise in all things guitar-related. Having spent many years at the coalface as a guitar dealer and tech, Rod's more recent work as a journalist covering artists, industry pros and gear includes writing hundreds of articles and features for the likes of Guitarist, Total Guitar, Guitar World, Guitar Player and MusicRadar, as well as contributions for specialist books, blogs and social media. He is also a lifelong musician.
Get the latest news, reviews and product advice straight to your inbox.
Thank you for signing up to The Pick. You will receive a verification email shortly.
There was a problem. Please refresh the page and try again.