"It's My Gain Masterpiece": Pedal Guru Dan Coggins Reveals the Secrets Behind His New Dinosaural Cogmeister
Is this stompbox set to be another modern classic? The renowned Lovetone and ThorpyFX circuit designer evokes the "sublime" sound of classic rock with this uniquely voiced and highly versatile three-in-one gain pedal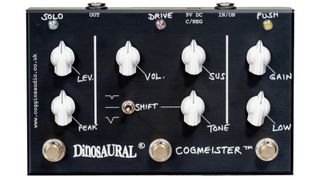 (Image credit: Adrian Thorpe)
A legend in the stompbox world, Dan Coggins is best known for his groundbreaking Lovetone circuit designs that heralded the start of the 1990s boutique pedal boom. Lovetone's Meatball, Big Cheese, Brown Source, Cheese Source, Doppelganger, Wobulator, Ring Stinger, and ?/Flange With No Name have since become collectible modern classics, while Dan's Dinosaural pedals – the brand he started up in 2002 – such as the Tube Bender have also become sought after.
After taking a break from pedal building in 2008, Dan started making Dinosaural pedals again in 2012, at which point a stompbox-obsessed customer by the name of Adrian Thorpe decided to get in touch. Aside from ordering a new Dinosaural compressor, Adrian was also keen to talk about launching his own operation. Now one of the U.K.'s most prominent pedal brands, the fledgling builder would soon become known as ThorpyFX.
"As he was just down the road, I suggested we meet up so I could give him his new Dinosaural OTC-201 Opti Compressor," recalls Dan. "We got chatting and he mentioned he was thinking about starting his own pedal company. I gave him as much advice as I could. I was involved with ThorpyFX from day one and assisted with things like printed circuit boards. I got involved with designing circuits a few years later and in 2020 started working for Thorpy full time."
ThorpyFX pedals chiefly designed by Dan include the Deep Oggin chorus/vibrato, ER-2 Uni-Vibe, Fallout Cloud fuzz (EQ section), Fat General compressor, FLIR buffer, Camoflange flanger, and Scarlet Tunic amp emulator, plus "MKII Lovetone" units the Bunker drive, Field Marshal fuzz, and Pulse Doppler phaser/vibrato/tremolo.
Image 1 of 2
Now, Dan and Adrian are also collaborating on a different venture – one that falls under the Coggins Audio brand Dinosaural: the Cogmeister three-in-one gain pedal. It's an idea that dates back to 2010 when Dan was playing in a covers band ("I wanted a pedal that would fit between my mic stand legs"). Ten years in the pipeline, it wasn't until 2020 when the pedal guru finally decided to put a prototype together. "I was going to open mic nights and fine-tuning it," says Dan. "Eventually I thought, Wow! This is really working!"
The Cogmeister originally got off the ground with Dan crowdfunding the first batch of 50 units via Facebook. Here, a supportive community of likeminded guitarists jumped at the chance of owning what Dan has described as his "gain masterpiece."
Initial runs were hand built by Dan himself, but demand for Dinosaural Cogmeisters soon reached a point where extra help was required. "Thorpy helped me with a bespoke case and the graphics. Before that, I was hand-drilling Hammond cases in my kitchen," remembers Dan. "From day one, his company has been making the circuit boards for me, which I was then assembling by hand."
Having gained a reputation as one of the best pedals of its type, demand for the Cogmeister saw production move from Dan's kitchen table to a commercial production facility. "Thorpy now builds them on a subcontract basis," clarifies Dan. "This means there's no longer a long waiting list; they're readily available. I still test them all individually, however. And I procure all the parts for them – discrete transistors and high-quality resistors and capacitors."
So what is the Dinosaural Cogmeister exactly?
In a nutshell: a trio of compatible booster effects designed for the electric guitar. Arranged in fixed series and running from right to left, they comprise the Push, Drive, and Solo sections – each featuring its own true/hard-wire bypass stompswitch and corresponding LED.
The Cogmeister is unique because of the gain structure and the way the three effects – Drive, Solo and Push – are combined in a particular order. Drawing on decades of knowledge, skill, and experience (Vox AC30 designer Dick Denney once told Dan, "Blimey, cuz, you've got the ears!") the Dinosaural founder has bestowed each of the pedal's three sections with unique sonic attributes – equalization curves that complement without overlapping too much.
"The lower row of controls are all to do with equalization," highlights Dan, "though the Peak knob in the Solo section also controls gain and distortion. The top row of knobs are all to do with gain and level."
Powered using a standard 9-volts DC (12-volts max) center-negative connection or a regular 9-volt battery, the Push, Drive, and Solo sections sport 'traffic light' LEDs. If battery power is running low, an early warning is indicated by the red Drive section light dimming. "I still love using batteries with single pedals," enthuses Dan. "The current consumption is between 7 and 16 milliamps, so they should last a while."
The Cogmeister has received great feedback from pro guitarists since its introduction, with That Pedal Show describing its old-school sound as "sublime." It seems those in the know can't get enough of it. Indeed, Chris Turpin (Ida Mae, Kill It Kid) bought two Cogmeisters while Paul Stacey (Oasis, Noel Gallagher's High Flying Birds, the Black Crowes) owns three!
So does Dan agree the Cogmeister has a distinct retro flavor? "I didn't set out to make it that, but the truth is I'm still devoted to the music of the mid '60s to the mid '80s and, by and large, classic rock is the sound the Cogmeister evokes. But it's a really comprehensive and versatile design. You can get everything from a clean boost to outrageous Big Muff- and Colorsound-style fuzz."
HOW IT WORKS
Push
"This is the only part of the Cogmeister that bares any resemblance to a previous design," reveals Dan. "It's a generic one-transistor treble booster similar to the Dallas Rangemaster and Vox Treble Booster. Out of the old designs it's more similar to the Hornby-Skewes Treble Booster unit famously used by Ritchie Blackmore of Deep Purple and Martin Barre of Jethro Tull. Actually, it's more like an upper-midrange booster.
"The Push boost uses a single transistor to 'triode' clip. It's got a gain control to adjust the AC gain of the transistor. So when you turn it up it gets more and more distorted and clips by itself, but the level is correspondingly huge and will overdrive an amplifier or anything that comes after it.
"When the Low control is fully anticlockwise, the Push section is like an old-school treble booster, and as you turn it up you introduce more of the low frequencies which were otherwise high-pass-filtered out. Then it becomes more of a full-range booster. The input impedance is typical for this sort of circuit (about 20 kOhms) therefore it cleans up really nicely using the guitar's volume control."
Drive
"The Drive section is a reworked version of my old Dinosaural Tube Bender circuit which came out in 2003," explains Dan. "It's a transistor overdrive circuit with a special design that clips very smoothly and sounds remarkably like an overdriven amp.
"The distortion on the Cogmeister Drive section is progressive and natural. It doesn't use diode clipping, rather it employs transistors to simulate tube low-order symmetrical clipping. This means more complex chords such as a 6/9, for example, retain individual string definition. It's a combination of symmetrical and asymmetrical clipping, which is compounded further when you push it with the Push boost. The Push section produces asymmetrical clipping, so the harmonics become more complex.
"The Sustain knob is a gain control and the Vol knob adjusts the output level. I added some compensation equalization to the old Tube Bender circuit so that it has more emphasis in the low frequencies and a bit of a deemphasis in the high frequencies. I did this because I like old-school, weighty drive sounds. It's a bit like simulating an amp and cab.
"The Drive section uses a passive tone circuit with a see-saw tone control – a low-pass filter going anticlockwise, and high-pass filter clockwise (with a mixture of the two in the middle). The Shift switch affects the left-hand side of the Tone knob and adjusts the cutoff frequency of the bass content.
"There are three different grades of mid-dip in the low-mids ranging from around 300-400 Hz up to about 700 Hz, which can make the sound more articulate. The most scooped setting sounds like a silverface Fender amp, while I believe the middle setting [selected with the switch in the upper position] sounds like a Hiwatt. The third position [switch in the middle] is more reminiscent of an early non-master volume Marshall or a Vox AC30 Normal channel."
Solo
"The Solo section uses Zener diode clipping," points out Dan. "I came up with the Solo booster after listening to 'Doctor Robert' from the Beatles' Revolver album and studying the frequency spectrum to see where those midrange-y guitars were coming from. I realized it was all between 1.8kHz and 2.8kHz, so I designed a midrange boost to give the guitar that kind of clang – the clarity and clout, if you like, in the midrange.
"The Peak control has a progressive midrange bell-curve emphasis that is centered between 1.8 kHz and 2kHz, depending upon setting. When the Peak control is at zero the Solo section acts as a straight, non-inverting amplifier with a few decibels of gain. My feeling is that whilst boosters are often advertised with huge amounts of dB, in practice when you're looking to lift a guitar sound then 3 or 4 dBs does the trick nicely. The Level control can be used like a master volume, and it goes from nothing so you can even use it as a killswitch."
Visit Coggins Audio for contact and further information.
All the latest guitar news, interviews, lessons, reviews, deals and more, direct to your inbox!
Rod Brakes is a music journalist with an expertise in guitars. Having spent many years at the coalface as a guitar dealer and tech, Rod's more recent work as a writer covering artists, industry pros and gear includes contributions for leading publications and websites such as Guitarist, Total Guitar, Guitar World, Guitar Player and MusicRadar in addition to specialist music books, blogs and social media. He is also a lifelong musician.