BPMD Premiere "Evil" Playthrough
Guitarist Phil Demmel takes you through this hard 'n' heavy new supergroup's take on the classic Cactus-by-way-of-Willie-Dixon tune.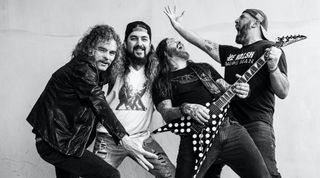 (Image credit: Courtesy of Napalm Records)
Awhile ago, Metal Allegiance songwriter and producer Menghi was listening to Lynyrd Skynyrd's "Saturday Night Special" in his backyard, beer in hand. Suddenly, while listening to the classic, hard-rocking tune, he was overcome with a sudden desire to play the song - and others of its era and style - himself.
Menghi soon called up a few of his buddies - guitarist Phil Demmel (formerly of Machine Head), drummer Mike Portnoy (Winery Dogs, Sons of Apollo, formerly of Dream Theater) and Overkill's Bobby "Blitz" Ellsworth - and formed BPMD, a supergroup currently prepping for the release of their debut album of '70s hard-rock covers, American Made.
Today, GP is delighted to bring you the exclusive premiere of the playthrough video of one of the album's standout cuts, a cover of the classic Cactus-by-way-of-Willie-Dixon song, "Evil."
You can watch Demmel play through the rippin' tune in the video below.
"After Bobby had chosen 'Evil,' I had to do some homework. I'm ashamed to say that not only had I never heard of the song, I had never heard of the band," Demmel told GP.
"Being a West Coast kid probably kept them off my radar for one reason, but after listening to it a few times I could tell why he chose it. Such a rocking tune and I was stoked with the solo section - a pretty wide open area to let loose. It turned out to be my favorite solo section on the record.
"Using my fixed-bridge Jackson Signature Series Demmelition Fury (I had set down the Floyd Rose for most of this record) me and my producer Juan Urteaga just decided to let it roll and let it fly. The result is some of the tastiest bends and most fluid phrasing I've ever done."
To preorder BPMD's American Made, which is set for a June 12 release via Napalm Records, step right this way.
For more on BPMD, follow along on Facebook.
Get the latest news, reviews and product advice straight to your inbox.
Thank you for signing up to TO_UPDATE_FROM_FLEXI_UI. You will receive a verification email shortly.
There was a problem. Please refresh the page and try again.