'GP' Joins Leo Kottke at Sound Check and Discovers No One Is Beyond the Reach of Sonic Gremlins
Learn some invaluable lessons from the acoustic icon as he finds his sound at Bob Weir's Sweetwater Music Hall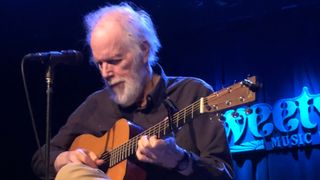 (Image credit: Jimmy Leslie)
Leo Kottke is one of the most road-savvy troubadours of all time, and Bob Weir's Sweetwater Music Hall in Mill Valley, California, is a top-shelf venue, so sound check for such a well-honed solo act should take about five minutes, right? Wrong.
After I interviewed Kottke for an extensive Frets feature that ran in the December and Holiday 2020 issues, he graciously extended an invitation to drop in for his show on February 14. I happened to arrive as he was going through a bit of an ordeal to achieve sonic satisfaction.
Going Single On Valentine's Day
Kottke was sitting in a seat in the fourth row scrutinizing his tone coming over the main house speakers. Surprisingly, he was traveling with one instrument. Even more surprising, it was not his signature Taylor 12-string but rather a six-string Martin 00.
The 77-year-old's brief explanation was simply that playing a smaller, lighter instrument was easier to manage, and that "I don't have any serious back problems yet, and I'd like to keep it that way."
Pickup Lines
Kottke felt that his active magnetic sound hole pickup wasn't providing the right kind of low end. "110 to 120 cycles is frequently a little humpy on magnets, and the low bottom below 60 cycles or so should not be sneezed at," he remarked.
He asked engineer "Chaby" Xavier Merano to mute the signal and said, "I'm going to try the passive version." As he reached into a little black accessory bag, Kottke explained that he didn't have the Sunrise sound hole pickup he's famous for using on hand and instead was trying out a couple of Fishman Rare Earth models.
The passive pickup's low end pleased Kottke, but he was now unhappy with the high end. He made another switch. When consulted, I felt the third option sounded best across the entire frequency spectrum. "Unfortunately, we agree," he quipped. Then he explained that it was an under-the-bridge trio of K&K Pure Mini piezo transducers, and although he's not a big fan of transducers, he was open to the best choice in the moment. (Kottke sent a note after the gig saying he's back with the Sunrise: "It's the only thing that gives me the goddamn note.")
Address Slide Tones Differently
The next challenge was getting a good slide tone, and he didn't have a signature Latch Lake Acousta-Glide Slide on hand either. He explained that his old stalwart had been stolen, and it was made back in the day from a very particular brass alloy that was eventually banned for containing lead. "Brass can sound kind of dull, but as it turns out, lead can actually make it sound better. It acts almost like rosin on a bow. You want a bit of it, but not too much."
Kottke had a few glass slides of various thicknesses, and a thin brass slide. He started auditioning the glass ones, and the grimace on his face reflected the rather harsh tones happening in the speakers. Kottke acknowledged that magnetic pickups generally deliver smoother slide sounds, and since he was now using a piezo transducer, the glass sounded a bit brash. As he slipped the brass on his pinkie, he said, "I don't usually use such a thin slide, but it's worth a try." It was more pleasing to my ears, and he said again, "Unfortunately, we agree."
The tone was still quite bright, so he turned down the treble control on a Red-Eye preamp made by Fire-Eye Development. He'd found a satisfactory slide tone, but having the treble at unity was clearly better for everything else, so the plan was to dial it back only for slide-oriented tunes.
"The Red-Eye helps greatly with body resonance at 400 cycles – the sound of the roof of the mouth – and it is good for the over-the-top bottom you'll get on K&Ks," Kottke says. "Over-the-top as in sound asleep in Oslo when they start dynamiting a new subway tunnel under your hotel at 6 a.m."
Monitor the Situation
Kottke took to a chair to check the sound onstage and was unhappy again. He proclaimed, "I'm in a bass trap up here." The house engineer was essentially helpless because Kottke was listening to the mains. "I don't use monitors," Kottke explained. "I want to hear the sound in the room, and monitors scare me to death."
Kottke moved forward to the lip and was slightly happier, but not fully. We thought the higher perspective from a barstool might help, and sure enough, it did. "I feel like a marionette sitting on this thing," Kottke joked, but as uncomfortable as he was physically, he was finally comfortable sonically.
We can learn many things from watching a situation like this one unfold. The bottom line is to always use your ears first. Consult other ears if it helps. In addition, be flexible. A particular product endorsement, or what worked last night or last year doesn't matter – focus on getting the sound right that night in that room.
And finally, remember that no one is above the fray or beyond the reach of sonic gremlins, and no one has paid all their dues until they've played their final notes. The quest for tone and the compromises one must make for playability are endless and ever changing. Adaptability is the key to survival, always and for everyone, even one of the best to ever pick up an acoustic guitar.
All the latest guitar news, interviews, lessons, reviews, deals and more, direct to your inbox!
Jimmy Leslie has been Frets editor since 2016. See many Guitar Player- and Frets-related videos on his YouTube channel, and learn about his acoustic/electric rock group at spirithustler.com.