A Favorite of Carlos Santana, Al Di Meola and John Frusciante, Yamaha's SG-2000 Was Intended as a Les Paul Killer
Appealing to players fed up with declining U.S. quality, the most successful and acclaimed Japanese guitar of the late '70s wasn't a direct copy of anything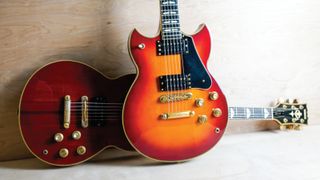 (Image credit: GUITARS COURTESY OF A FLASH FLOOD OF GEAR. PHOTOS BY ALEX BUDNICK)
The so-called lawsuit-era copy guitars made in Japan during the 1970s and '80s have developed a cult following in recent years, seducing today's guitarists for their ability to often surpass the quality of the American-made originals from the same period. But the most successful and acclaimed Japanese guitar of the late '70s wasn't a direct copy of anything. Instead, the Yamaha SG-2000 was a creative and original design – a "Les Paul killer" that proved to be an able assassin in the hands of a long line of big-name players, starting with none other than Carlos Santana.
Flashback, if you will, to the mid '70s, when American-made electric guitars weren't quite what they used to be. The Gibson Les Paul was coming off a run as the rock and blues-rock guitar to own, but everyone was chasing the relatively few versions that were made between 1958 and '60, and those were reaching insane prices for the day: "Two thousand dollars for a used guitar? Are you crazy!?"
Meanwhile, Carlos Santana had segued from Gibson SGs to Les Pauls in a tone quest that was very much still underway when Yamaha approached him to endorse its new guitar, most likely the SG-175, released in 1974 or early '75. Ostensibly a modified Les Paul, its neck was glued into a thick solid-mahogany body – albeit one with pointy dual cutaways – and sported dual humbucking pickups and other Gibson-inspired appointments. Yet, as far as Santana was concerned, it wasn't quite there.
Feeling the effort was a little lightweight and lacking in sustain, Santana told Guitar Player in 1978, "I sat down with them and said, 'Look, I can't play the guitar, man.' I asked them to put a big chunk of metal right where the tailpiece is. You hit it and it's like hitting a grand piano – it really resonates."
Yamaha took these suggestions, and others, and ran with them, initiating an R&D and prototyping period that spanned nearly two years. The final results still looked something like a double-cutaway Les Paul – or a Les Paul Custom, given the elegant adornments – but the guitar was built like nothing else on the planet. Unveiled in 1976, the SG-2000 boasted myriad features and complex construction that seemed destined to define how top-tier electric guitars would be built from then on. That didn't happen, but that isn't to say Yamaha failed in its overall achievement either. Included in this ground-up redesign were:
A neck-through-body construction, with a multi-piece laminate forming both the body core and the neck
A proprietary T-Cross System construction of the body and neck, which used boards of mahogany and maple glued together at opposing vertical and horizontal orientations, plus a three-piece maple top
An ebony fingerboard with mother-of-pearl, split-arrow inlays
Extremely bend-friendly jumbo frets
A brass sustain block sunken into a channel in the top of the body beneath the bridge
Enclosed, permanently lubricated tuners with a highly efficient 15:1 gear ratio
Fully shielded Alnico V humbucking pickups with three-point mounting for easy tilt adjustment
A ribcage contour in the upper back for more comfortable playing
In-house control knobs with fluted sides for easy gripping
Aside from these details, the SG-2000 was just made very, very well, displaying an overall level of quality, fit and finish that put many similar American-made examples of the time to shame. Plus, it had a look that celebrated its intended elitism, with seven-ply body binding, five-ply headstock binding, gold-plated hardware and a decorative scrolling engraved in the tailpiece, along with other upscale details.
Although the model was often compared to the Les Paul it was intended to "kill," Yamaha had clearly taken pride in the design and made every effort to create an entirely different guitar, despite some outward similarities. Back to back, even the body shapes are more different than they might at first appear, the SG-2000's lines describing what would be a more fully rounded upper bout (if the cutaways continued) and a shallower waist.
Big-name players lined up to play it, and the SG-2000 made one of the sharpest ascents into the hierarchy of premium electric guitars experienced by any new model, much less one designed and manufactured in Japan, when the country was still largely known for producing copies.
Santana embraced the new design, playing a couple of custom-made models with abundant decorative inlays (available briefly in 1976 as a Limited Edition Devadip model). He used it widely between 1977 and his move to Paul Reed Smith guitars sometime after 1982, an era that many longtime fans believe features some of his most distinctive and toneful playing.
Standout moments include the live takes of "Europa" and "Let the Children Play/Jugando" from Moonflower; "Well All Right," "Open Invitation" and "Wham!" from Inner Secrets; and similarly juicy SG-2000-meets-Boogie adventures from the albums Zebop! and Marathon.
Scottish new-wave guitarist John McGeoch logged several genre-defining moments playing his SG-2000 with Magazine and Siouxsie and the Banshees, Bill Nelson embraced one with Be Bop Deluxe, and Roxy Music's Phil Manzanera, Little Feat's Paul Barrere, Boz Scaggs and Al Di Meola all frequently played Yamaha's dominant electric.
As memorable as any of these are, some of the most distinctive examples of the guitar in action arguably came after Scottish guitarist Stuart Adamson ported his SG-2000 over from punk band the Skids when he formed Big Country in 1981. Alongside co-guitarist Bruce Watson, who also frequently played an SG-2000, Adamson applied the Yamaha electric to channel Celtic folk modes into hooky high-gain guitar riffs, logging hits like "In a Big Country" and "Fields of Fire" in the process.
Promoted alongside the SG-2000 were the SG-1500 – which initially had a set neck with sustain block before moving to neck-through construction without sustain block in 1981 – and the set-neck SG-1000, plus a handful of lesser variations. The upper-tier SG-3000, less often seen, was adorned with abalone purfling and split abalone and mother-of-pearl position markers, special pickups and other highly decorative treatments.
The SG-2000 itself has occasionally been available from Yamaha in reissue forms, sometimes more prominently so in the domestic Japanese market, while used examples have begun enjoying collectible status.
Essential Ingredients
Gold-plated hardware
Maple and mahogany neck-through-body "T-Cross System" construction
24.75-inch scale length
Dual open-frame Alnico V Yamaha humbucking pickups
Modified Tune-o-matic–style bridge mounted atop a brass sustain block
Multi-ply body and headstock binding
All the latest guitar news, interviews, lessons, reviews, deals and more, direct to your inbox!
Dave Hunter is a writer and consulting editor for Guitar Player magazine. His prolific output as author includes Fender 75 Years, The Guitar Amp Handbook, The British Amp Invasion, Ultimate Star Guitars, Guitar Effects Pedals, The Guitar Pickup Handbook, The Fender Telecaster and several other titles. Hunter is a former editor of The Guitar Magazine (UK), and a contributor to Vintage Guitar, Premier Guitar, The Connoisseur and other publications. A contributing essayist to the United States Library of Congress National Recording Preservation Board's Permanent Archive, he lives in Kittery, ME, with his wife and their two children and fronts the bands A Different Engine and The Stereo Field.