Ultimate Pedal Porn: Inside Eilon Paz's Definitive Book on Classic and Cult Guitar Effects
Eilon Paz traveled the globe to assemble these definitive collections of stompbox photos and stories.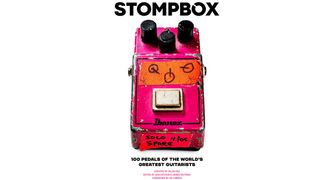 (Image credit: Dust & Grooves Publications)
The pedal boom is thought to have begun around the 2008 recession, when purchase power for high-ticket guitars diminished but a couple of hundred bucks for a boutique pedal remained in the realm of financial possibility.
Since then, the number of new pedal manufacturers has exploded. The fact that many of them began by cloning vintage pedals has increased interest in the original classics as well.
To professional photographer and music enthusiast Eilon Paz, this seemed the perfect time to create the visually stunning Stompbox: 100 Pedals of the World's Greatest Guitarists and its equally gorgeous companion book, Vintage & Rarities: 333 Cool, Crazy and Hard to Find Guitar Pedals.
Both are available separately or in a deluxe boxed set called The Brick. (Full disclosure: I wrote some of the Stompbox entries but don't receive royalties.)
Stompbox features glamour shots of a single important pedal played by each guitar icon, accompanied by the story behind it. Among the artists featured are Jimi Hendrix, Stevie Ray Vaughan, Frank Zappa, Alex Lifeson, Andy Summers, Eric Johnson, Adrian Belew, Joe Satriani, Steve Vai, and J Mascis.
After finishing his previous book, Dust & Grooves: Adventures in Record Collecting, Paz wanted to continue working on his own projects.
Image 1 of 2
"I prefer to be my own boss," he says. "I was again looking for something related to music, with a visual element."
To accomplish his goal, Paz toured the world, photographing pedals in America, Japan, Russia, France, Portugal, England, and elsewhere. In the process of shooting Stompbox, the seed of a second book was sown. "I would go to an artist's place to shoot one effect, but around me might be hundreds of other cool pedals," he explains.
"At first the idea was to do an extended collection feature in Stompbox, but my editor, Dan Epstein, and I decided to do an entire book on just vintage and rare pedals."
Vintage & Rarities features 25 collectors from all over the world, including some in Russia, where they actually have a museum for Soviet-era pedals. "It's one of my favorite chapters in the book," Paz says. "It's an exploration of different design eras, approaches, and cultures as well."
The same could be said of these two volumes that capture in words and pictures the magical attraction that these blocks of metal and electronics hold for guitarists everywhere. Both books are available at stompboxbook.com and select music stores.
Stompbox: 100 Pedals of the World's Greatest Guitarists and Vintage & Rarities: 333 Cool, Crazy and Hard to Find Guitar Pedals are out now via Dust & Groove Publications.
All the latest guitar news, interviews, lessons, reviews, deals and more, direct to your inbox!