Treasured by Neil Young and Billy Duffy, the Gretsch White Falcon Out-Blings Them All
This rare 1962 model delivers a whopping "54 colors and shadings in stereo sound"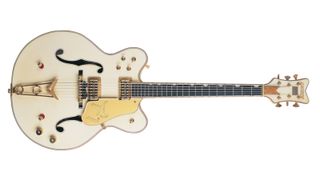 (Image credit: PHOTO COURTESY OF OUTLINE PRESS)
If ever there was one guitar to out-bling them all, it would be the Gretsch White Falcon. Yet, there's also a subtle elegance to this model that somehow allows it to pull off all the bejeweled gold hardware and sparkly plastics with class.
Designed by guitar virtuoso and Gretsch endorsee Jimmie Webster, the White Falcon was developed early in 1954 and released for production later that year or in early '55. Like other Gretsch models of the era, it was born as a single-cutaway, fully hollowbody archtop with dual Dynasonic single-coil pickups.
It evolved into the double-cutaway styling with dual Filter'Tron humbuckers that typified Gretsches of the 1960s, as seen in this example from 1962.
There's more to our featured example, though, some of which does meet the eye. This 1962 is, in fact, the White Falcon Stereo model, with each of its Filter'Tron humbuckers split into two pairs of three pole pieces per coil, and routed to a stereo output jack.
As described in a chart drawn up by Webster himself, the four upper switches deliver a whopping "54 colors and shadings in stereo sound." The stereo craze didn't quite pan out to be what some makers had hoped, though – at least not in the world of guitars – and few such models were ever made. Thus, the standard mono White Falcon is generally more worthy of consideration.
Big in looks, this guitar was also large in physical stature. Unlike the 24.6-inch scale length found on popular Gretsch models, like the 6120 Duo Jet, the White Falcon clocked a full 25.5 inches. Add to that a 17-inch width across the body's lower bout and a depth of two inches, and it's a pretty hefty instrument to sling on your shoulder.
Similar to other hollow Gretsch models, its body was made from laminated maple, with parallel tone bars (a fancy term for braces) supporting the pressed-arch top. As such, the tone is predominantly bright and clear through the low-output Filter'Trons, but also full, round and just a little edgy with some grit dialed in at the amplifier.
The glued-in, multi-piece maple neck wore an ebony fretboard, and by this time Gretsch was using the zero fret, which helps distinguish the company's '60s-era guitars.
More than all of these construction and sonic elements, though, it's the overt esthetics that help the White Falcon make its considerable statement on any stage. Put another way, you don't choose a guitar like this simply because you like its sound; you have to be prepared to embrace the bling, too.
In addition to the kitsch of the white finish (which usually fades to an appealing cream or butter-yellow over the years), this regal six-string sports multi-ply gold-sparkle binding and truss-rod cover, gold hardware with an elaborate G-and-chevron trapeze tailpiece and Grover Imperial tuners, a gold back-painted pickguard with falcon graphic, and faux rubies inlaid into its control knobs.
Our example sports another mechanical "tone enhancer": dual foam-rubber dampers positioned in front of the bridge and controlled by rods attached to the two small gold knobs atop the red felt pads behind the bridge.
These allowed you to selectively mute the three treble strings, the three bass strings or all six. Is palm muting that difficult? Apparently not. Most players ripped these contraptions from their guitars faster than you can say "tuning nightmare."
While they were often found in the hands of a few showboat-inclined jazzers and rhinestone-bedazzled country artists in the earlier years of its release, White Falcons also made their way onstage with the Rolling Stones' Brian Jones, Joe Strummer of the Clash, Neil Young (who still owns a vintage single-cutaway stereo model), and the Cult's Billy Duffy, thereby proving it could rock just as confidently as it could roll.
Essential Ingredients
Fully hollow double-cutaway body made from laminated maple
Arched top braced with parallel "tone bars"
Glued-in maple neck with ebony fretboard
"Thumbnail" position markers
Two Gretsch Filter'Tron pickups, wired for stereo output
Gold-sparkle binding and truss-rod cover
Space Control bridge and chevron trapeze tailpiece
All the latest guitar news, interviews, lessons, reviews, deals and more, direct to your inbox!
Dave Hunter is a writer and consulting editor for Guitar Player magazine. His prolific output as author includes Fender 75 Years, The Guitar Amp Handbook, The British Amp Invasion, Ultimate Star Guitars, Guitar Effects Pedals, The Guitar Pickup Handbook, The Fender Telecaster and several other titles. Hunter is a former editor of The Guitar Magazine (UK), and a contributor to Vintage Guitar, Premier Guitar, The Connoisseur and other publications. A contributing essayist to the United States Library of Congress National Recording Preservation Board's Permanent Archive, he lives in Kittery, ME, with his wife and their two children and fronts the bands A Different Engine and The Stereo Field.