This Department Store-Bought Supro Folkstar is Causing a Stir on the Vintage Market
A plastic whack job that sounds like a true resonator.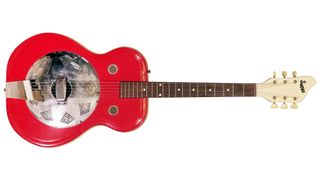 (Image credit: May Yam)
Usually when we see a guitar made of plastic, we assume it's of low quality. But every now and then, we're humbled by the acoustic properties found in fiberglass, acrylics and even carbon fiber. Built by Valco, this mid-'60s Supro Folkstar resonator guitar is partly made with fiberglass – or as the company dubbed it, Res-O-Glas. And it doesn't just sound good – it sounds great!
When it comes to resonator guitars, some players prefer a certain style of resonator (they come in many variations) or a metal body over one of wood. But the fiberglass-bodied Folkstar has a distinct, rich resonance all its own.
Valco (whose founders included former National Dobro Company owner Louis Dopyera) wasn't the only musical instrument company experimenting with plastics. Mario Maccaferri, who built the gorgeous wood archtops Django Reinhardt used in Paris in the '30s and '40s, had great success with his massive plastic guitar, drum and ukulele companies in post–World War II America.
This model was also offered under the Airline and National brand names. It's believed that some were built using resonators made prior to the war, when curtailments on domestic wood use brought guitar production nearly to a halt. Reportedly, Valco secretly squirreled away the metal parts rather than donate them to the war effort, in anticipation of their future use.
Weirdo Factor
It's made of fire truck-red plastic! The headstock is shaped like Gumby, the claymation creation from the same time period, and the guitar's face looks like a droll robot. But what's really weird is how great this cartoonish-looking guitar plays and sounds!
Playability & Sound
Indeed, the C-shaped maple neck with rosewood fingerboard is surprisingly comfortable. There are 14 frets to the body, but due to the flattened shoulders, you have fairly easy access to the higher frets, especially if you're playing slide.
The Kluson tuners have the classic keystone-shaped buttons and still move easily and accurately. Strung with medium-light strings, the guitar is easy enough to fret but rigid enough to play with a slide without getting fret clicks.
The "biscuit" bridge is mounted directly onto the top of the spun cone resonator, and the back features three bolts: two to hold the neck on, and a third to adjust the neck angle. Nice! But the magic here is the sound. The Folkstar is loud, and the tone has a silkiness that's warm and rich, not scratchy like some resonator guitars.
This plastic whack job sounds like a true resonator but with punch and warmth that can only be attributed to the semi-hollow Res-O-Glas body. We are fans!
Value
While it's a whack job to look at, it's also a great-sounding guitar that's versatile enough for strumming, fingerpicking or slide playing. Additionally, the strength of the neck allows for drop tunings with no wobbliness.
Why it Rules
Originally marketed through department stores, these budget-priced guitars have come to be respected by guitarists over the decades, and their allure has affected their resale value. We've seen them selling online for between $800 and $1,500, and even more for a pristine example like this one.
As ever, play before you pay. This model did not come with a truss rod, so make sure you get one with a straight neck. While not exactly cheap, a Folkstar could be well worth the hunt.
All the latest guitar news, interviews, lessons, reviews, deals and more, direct to your inbox!